Claypool resignation only the beginning of the necessary clean up... Chance the Rapper and Gubernatorial candidate J.B. Pritzker supports elected school board...
Susan Hickey - December 09, 2017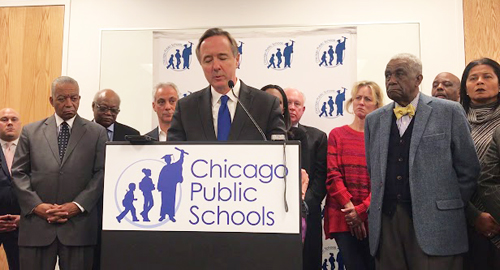 Surrounded by political supporters and many preachers (many of whom had received regular patronage from Claypool and Mayor Rahm Emanuel), Chicago schools "Chief Executive Officer" Forrest Claypool announced on December 8, 2017 that he was resigning effective December 31. Despite praise for Claypool from some media (notably the Chicago Tribune's editors) and political leaders (notably Rahm Emanuel and David Axelrod), Claypool's two and a half years leading Chicago's public schools was characterized by teacher bashing, classroom cuts, and cover ups of data that resulted in statistical "improvements" that will prove as mendacious as his conversations about the ethics issues that brought him down. After a denial of wrongdoing, then an 'apology', Chicago Public Schools Chief Executive Officer Forrest Claypool resigned effective December 31, 2017. In an unusual press conference )with Mayor Rahm Emanuel, the unelected Board of Education members, chosen preachers and principals to act as chief mourners), Claypool was allowed to say how 'proud' he was of his tenure at CPS. The facts of Claypool's claims of improvements in the city's schools have not yet received the close examination that Claypool's ethics have.
There were reactions from the Chicago Teachers Union and Inspector General Nichoas Schuler saying that it was necessary for Claypool to leave but my favorite response was from Chance the Rapper. In a tweet shortly after it was known Claypool was going to resign, Chance wrote: "What happens now that Claypool is out as CEO of CPS? Does the mayor pick the next one or do the people get to decide? Serious question".
Ironically earlier on Friday before Claypool's resignation became public, I was at Manny's Deli and was able to talk with J.B. Pritzker. I asked him what he thought about the CPS IG's report's findings. He demurred saying he did not have an opinion but it was evident he had not been briefed on what it entailed. I pressed further about an elected school board which he said he supports it and thinks the closing of the four schools in Englewood was a disastrous decision.
Wish I could ask Pritzker the same question about Claypool now after the news of his resignation!
The article from the Sun Times is reprinted below on this story:
Under fire, CPS' Forrest Claypool quits; Janice Jackson replaces him
Lauren FitzPatrick, Fran Spielman and Dan Mihalopoulos
https://suntimesmedia.files.wordpress.com/2017/12/claypool-120917-04.jpg?w=763
Photo caption: Chicago Public Schools CEO Forrest Claypool at a news conference at CPS headquarters announcing his resignation. Mayor Rahm Emanuel, behind him, praised him, saying, "He can walk out with his head high because he did the job well, and he will always be my friend. He did a great job for the children of the city of Chicago." | Ashlee Rezin / Sun-Times
Forrest Claypool resigned as chief executive officer of the Chicago Public Schools on Friday, three days after CPS' top internal investigator called for his firing for misconduct.
He will leave the $250,000-a-year post he's held for two and a half years on Dec. 31 and be replaced by Janice Jackson, CPS' chief education officer, Mayor Rahm Emanuel announced at a news conference Friday at CPS headquarters downtown.
Jackson, 40, who will be interim CEO until the Chicago Board of Education confirms her appointment, is a CPS graduate who started her career as a social studies teacher at South Shore Community Academy High School and quickly became a principal, first at Al Raby High School on the West Side and then at Westinghouse College Prep. When Emanuel tapped her to head the education side of CPS, she was working as one of CPS' network chiefs who oversee groups of principals. Her daughter attends a CPS school.
David Axelrod, a longtime political operative who's a close friend of Emanuel and Claypool, said the decision to resign was Claypool's alone.
Mayor Rahm Emanuel discusses the resignation of Chicago Public Schools CEO Forrest Claypool during a press conference Friday afternoon, Dec. 8, 2017. | Ashlee Rezin/Sun-Times
"Ultimately you have to judge what your ability to do your job effectively will be," Axelrod said. "And this is the judgment that he made."
Appearing with Emanuel and others at CPS headquarters for the announcement Friday, Claypool said, "I'm experienced enough to know I have accomplished all I can accomplish here at CPS."
He, Emanuel and Board of Ed members left without taking any questions.
The resignation of Claypool — a go-to guy for Emanuel who previously was his chief of staff and president of the Chicago Transit Authority and before that ran the Chicago Park District and was a Cook County Board member — came three days after CPS Inspector General Nicholas Schuler called for his firing for his conduct during an internal investigation of his top CPS lawyer, Ronald Marmer.
It also came two days after the mayor defended Claypool as guilty of only a "lapse in judgment" and said, "I think we should all take a deep breath before making snap judgments about a man with a sterling reputation and a sterling record of public service."
On Friday, Emanuel defended Claypool, saying people should be "judged by the entirety of their service.
"He can walk out with his head high because he did the job well, and he will always be my friend," the mayor said. "He did a great job for the children of the city of Chicago."
In a 103-page report to the Chicago Board of Education made public Thursday, Schuler said Claypool "repeatedly lied" and engaged in a "full-blown cover-up" during the investigation of Marmer for overseeing work for CPS done by his former law firm while he was receiving yearly $200,000 payments toward a $1 million severance.
"Claypool greatly compounded the severity of his misconduct when he repeatedly lied to the [inspector general's office] through two separate interviews," Schuler wrote.
Schuler said Friday afternoon that he hadn't been informed Claypool was resigning but said "it's the right thing for the district. It's a step toward restoring institutional credibility."
Emanuel had rushed to Claypool's defense after the release of the report. And Frank Clark, the president of the school board — also praised Claypool.
"He would have survived a vote of the board," Axelrod said. "But this would have been a continuing mantra for whatever decisions he'd have to make from this point on. This would be thrown back at him. It would be a distraction…You have to judge what your ability to do your job effectively will be."
Axelrod, formerly a top aide in the Obama White House, had predicted earlier in the week that Claypool would be able to ride out the storm and that the fiercely loyal Emanuel would stick with him.
"The mayor never asked him to" resign, Axelrod said. "The mayor's been a supporter. But it's also obvious that this would be an issue as we enter political season and that would make it hard to do the job.
"There were already gubernatorial candidates outside the school board. Now, you're gonna very soon have mayoral candidates around. Having grown up around in both politics and government, Forrest recognizes that you can become collateral damage and also an unwanted issue."
Though Schuler's investigation exposed Claypool as a liar and the architect of a cover-up, Axelrod called the resignation a "terrible tragedy" for Chicago's schools.
"At a time of fragility, it's important to have leadership that's strong and sure-footed and incorruptible, despite all this," Axelrod said. "Forrest had proven himself to be that."
Schuler began investigating Marmer 16 months ago, prompted by Chicago Sun-Times reporting that "raised the question of whether" Marmer — CPS' general counsel and a longtime friend of Claypool — had violated the school system's ethics code.
The Sun-Times' reporting revealed that Marmer's old firm, Jenner & Block, was still paying him the $1 million severance when the Board of Ed hired the firm to pursue a lawsuit seeking more money from the state.
Claypool said at the time that he saw no problem with Marmer supervising his old firm's work, because he and Clark — not Marmer — hired the firm.
But CPS' ethics rules bar employees from supervising the work of any contractor they have a business relationship with.
Schuler found that Claypool and Marmer ignored legal opinions from six lawyers who said Marmer would violate the ethics code by overseeing the work and instead "searched for an exonerating opinion."
They got that from the seventh attorney whose opinion was sought — J. Timothy Eaton, a Claypool campaign contributor whom Claypool met in college.
Relying on Eaton's "incorrect" opinion, Schuler said, was "manifestly deceptive and disingenuous."
"Claypool failed to adequately inform the board about the six attorney opinions that were in lock-step agreement that Marmer could not have supervisory authority over work performed by Jenner & Block," Schuler wrote.
Before the school board approved hiring the firm last year, Schuler said, the schools CEO "apparently misled" Clark that Marmer wasn't deeply involved in the law firm's work for the schools.
In fact, emails obtained last year by the Sun-Times showed that Marmer had begun overseeing the firm's work for CPS months earlier, with Claypool's knowledge.
Claypool "pushed the matter beyond all bounds" when he was recently interviewed twice by Schuler, the report said. The inspector general said Claypool lied again and again when asked whether he requested a change in the invoices submitted by one of two outside attorneys who were consulted and who agreed with four in-house attorneys that Marmer couldn't supervise Jenner & Block.
At Claypool's request, the revised invoice concealed that the lawyer — CPS' labor counsel James Franczek — had provided an opinion on Marmer. The new invoices from Franczek were labeled "For Forrest Claypool's Eyes Only" in bold letters, the report said.
On Thursday, a day before resigning, Claypool acknowledge he made "mistakes" but said he still had a "strong disagreement" with Schuler's interpretation of the ethics policy.
Claypool also appeared at that time to blame his actions part on the "high pressure" of dealing with CPS' financial problems and teachers union negotiations