Students speak out at CPS budget hearing... 'How can you say we are the future when you are constantly taking our future away?'...
Ed Hershey - September 01, 2017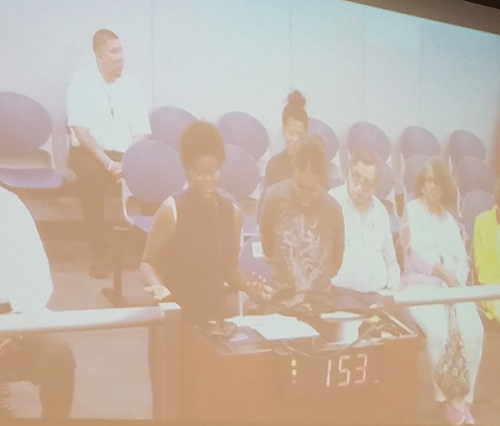 Lindblom High School student Jasmine Curtis speaking at the August 2017 meeting of the Chicago Board of Education. Substance photo by Katie Osgood.Three Lindblom seniors, Nathan Petithomme, Jasmine Curtis, and Alissa James-Anderson, addressed the Board of Education at last Wednesday's (August 21, 2017) budget hearing. The students all criticized Chicago's budget priorities and offered better ways to fund Chicago's public schools. Nathan and Jasmine's prepared remarks follow:
STUDENT. NATHAN PETITHOMME...
Hi, My name is Nathan Petithomme. I am an activist and avid writer. The reason I am those things are because of Lindblom. Lindblom is a selective enrollment school on the Southside of Chicago, but our status of being selective enrollment increases the amount of people who are interested in the school and who enroll, which means an increase in funding.
Lindblom has invested in me so much as in empowering me through my education to advocate for those who don't have the same opportunities as I do. We need to stop relying on property taxes as a way to fund our schools because of the inequities in education that it causes. The home values in Naperville are higher than they are in Chicago, which means that they get funded more than our schools.
We also need to release TIF funds. TIFs essentially take away from our property taxes and that leads to less funding in schools. TIFs are said to not go to schools because they are for economic revitalization. But, economic revitalization is investing in our schools! During the time where the special education teachers were speaking to the board, I was offended because of the lack of respect that was displayed by the Board, but also because the board isn't elected. The board is full of business people who only know how to make profits, but don't actually know what it takes to lead a classroom and to have to pay out of their pocket for school supplies that the school can't reimburse them for. We should all be coming together for the common good, and get an education bill that is for the students and for the teachers who work hard to get us where we need to be.
STUDENT JASMINE CURTIS...
Hello, My name is Jasmine Curtis. I am a rising senior at Lindblom Math and Science Academy. I stand here before you today to say that, being a young black woman, I feel like voice doesn't matter. Funding has repeatedly been cut from predominately black and brown schools, you are actively targeting these groups of people and it's not right.
How can you say we are the future when you take our future away. When you take away our teachers, our arts, our sports, you take away our being. Think of a tree, the roots provide nourishment through the tree helping it to grow into something some and independent. Our teachers are our roots, providing just the resources we need to be strong and powerful beings, but when you take them away, the tree dies. We as student die, our hopes, our dreams, our future, it all dies in your hands. I don't want to see my home or my people die, I plan to go back to my community and help restore it and replant the roots you so viciously ripped up. I did not go the CPS hearing to blow smoke in the board's face by telling them what a good job they are doing, because I don't think they're doing a good job at all. These hearings are supposed to be for the public to experience their concerns, yet it seemed like the board had no interest in what the public had to say, and, in my opinion, they sounded irritated when teachers, parents, other adult community members, spoke against their actions. One board member stated that she gives back to her community all the time and how she likes it when young people want to give back to their community and how much "hope" we gave her. I am not a token case, if the board wants to see "hope" then they have to do their job and give our schools what they need. I encourage the board to do what the people want and ask for, and to do it fully. Work with our teachers, our students, our parents and our community members to create a better, safer learning environment for our CPS students.