The 'RESIST Movement'... Community organizing featured at event at CTU is part of planning for the May Day event...
Jean Schwab - April 14, 2017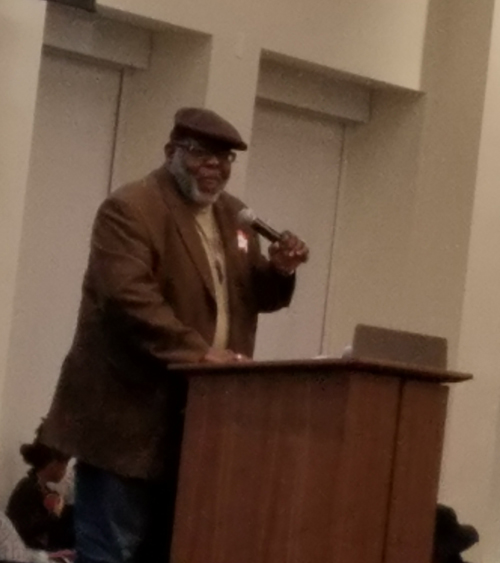 Jitu Brown speaking. Substance photo by Jean Schwab.Community grassroots groups met on April 4, 2017, at the Chicago Teachers Union for a teach-in to prepare for a May 1 2017 rally. The Resist. Re-imagine. Rebuild. rally will occur at Ogden and Roosevelt at 11:00 in the morning on May 1 in Chicago.
The RESIST rally will be sponsored by a network of 32 labor and community organizations. Speakers include Jitu Brown, Rebel Diaz, activist hip hop music, and Tania Unzueta, Legal and Policy Director for Mijente (Not 1 more) anti-deportation policy.
According to the flyer: What do we stand for? No deportation, No Muslim ban, No racist policing, Fight for 15, LGBTQIA/women's rights, No to militarism and imperialism, Black Lives Matter, Invest in our communities.
Speaker Jitu Brown received an enthusiastic welcome from the overflowing audience at the new Chicago Teachers Union Building.
Brown asked, "How do we elevate grassroots power? How to build the type of movement that honors the voices of regular people, regular people of color, regular black and brown people and make sure we are at the forefront of a movement to change our people's lives. The things I learned about elevation struggle is that it is not about titles, positions, not about creating movement superstars but about building institutions that meet the basic needs of your people."
Brown continued: "The Kenwood Oakland Community Organization was designed to create leaders that are able to build organizations. So, in 2012 I was taken out of my comfort zone and pushed to become director of a group called Journey for Justice Alliance which is a national network of grassroots organization in 25 cities fighting for community control of education and equity in public education. Chicago has been the center of the education justice movement in big cities. There are folks all over the cities and country fighting, swinging and winning. There are young folks in Philadelphia walking in to theaters and shutting down screenings of Walk Back Down. There are mothers in Camden, New Jersey, creating a charter - free zone in their neighborhoods, and keeping K-12 education system in their neighborhoods. There are parents in New Orleans shutting down charter school board meetings and demanding charter school accountability. There are 80-year-old women in Detroit sitting and sleeping in front of the Governor's house which is why Governor Snyder refused to close the 38 schools that he had previously closed in Detroit. There are the Chicago twelve mothers and fathers who waged a 34-day hunger strike to save Dyett High School..."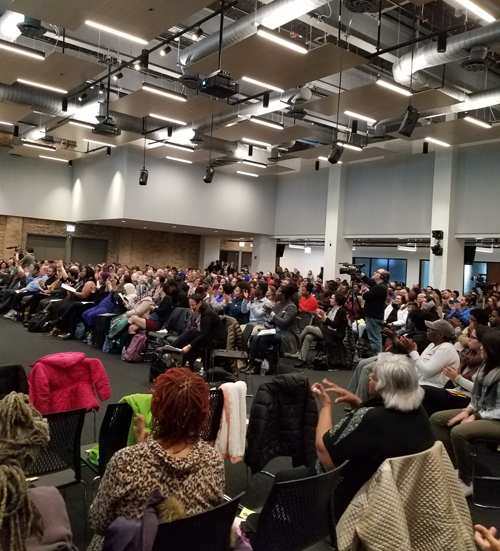 The crowd was larger than at some recent House of Delegates meetings. Substance photo by Jean Schwab.The audience was following his every word as he issued a thank you to the young. "I'm going to say something to the young people in the room," Brown continued. "We couldn't have done that without you. On the 32nd day, I was dead out at Costco, and I got a phone call and it was young people who marched from the police station to Dyett High School. What they understood, better than us that are a lot older, that these issues are not about the issue it's about the police system we are fighting against, so whether you are talking about ICE raids, police who murder black people like we garbage, a school system that could educate our children because today ,today, in Chicago on Diversy and Ashland there are white babies that receive a world= class education, and they should, they should, there is no acrimony toward those babies, you see, we are loving people, we don't destroy human beings but at the same time there is a school at 44th and Martin King Drive, there are 45 kindergarten babies in one class. My message is, 'We are building a multi-racial education campaign called We Choose.' The We Choose campaign is led by us and is multiracial, and we have each other's back. When you see a black child or a Mexican Child not have access to a world- class education, it should enrage you as though it was your own baby."
Jitu Brown ended reading poetry about "Mother Africa" -- which was the birth of language, chemistry, algebra, phonics and channeling your energy "and how in most literature Africa is not portrayed that way."
Fight for Fifteen and several other speakers spoke of economic justice regarding income, gender, racial and sexism in the system. Fight for Fifteen talked about how 60% Latino and 52% black workers make less than $15 an hour which is a living wage. Large Corporations, like McDonalds, makes billions of dollars in profits but pay their workers minimum wage.
A very detailed report by another person who participated in the April 4 rally was posted as a comment at Substance and is being added below here so that our archive history is more complete:
Report on April 4th Rally
A REPORT ON THE APRIL 4TH TEACH-IN
ORGANIZED BY THE RECENTLY- FORMED RESIST, REIMAGINE, REBUILD-- CHICAGO NETWORK.
THE TEACH-IN SERVED TO INSPIRE THE MOVEMENT AGAINST THE TRUMP OFFENSIVE --PROVIDING GLIMPSES INTO THE BETTER WORLD BEING FOUGHT FOR, & CALLING ON EVERYONE TO GO ALL OUT FOR THE MAYDAY DEMONSTRATIONS.
At least 500 progressive people poured into the Chicago Teachers Union headquarters for a 2 ½ hour teach-in, with at least 16 speeches unfolding the story of the fights that are being waged and the perspective for change that is emerging.
Starting off with a small group which met in November, 32 organizations have now joined together and organized the gathering-- including 4 African-American groups, Latinos, Arab-Americans, Muslims, CTU and other unions, etc. This is part of the powerful movement developing across the country.
Angry but upbeat poems and hip-hop presentations punctuated the program. Everyone joined in to sing "We who believe in freedom cannot rest until it comes," with new words reflecting the present moment.
The opening set the stage for what was to come. The teach-in was held on the anniversary of the assassination of Dr. Martin Luther King--and focused not on the "respectable Negro" beloved by the establishment, but on his 1967 speech "Beyond Vietnam." A brief excerpt was played. He was defying the boundaries being imposed on the Civil Rights Movement by denouncing U.S. imperialism and militarism. He was criticized for his stand both by the mainstream media and even by some inside the Civil Rights Movement.
Barbara Ransby, retired professor of African-American history, gave a sharp analysis of the significance of this giant step forward that MLK took to present the struggle for justice inside the U.S. as inextricably linked to the violence imposed by the U.S. ruling class on people abroad. And she spotlighted his decision to participate in the struggle of sanitation workers at the time of the assassination--linking racism and the economic injustices of capitalism.
This example of courageous resistance and refusal to stay within the bounds set
by the ruling class provided the context for the rest of the teach-in.
Fittingly, speakers were overwhelmingly young, Black and Latinx-- some of those particularly being targeted by the Trump regime. And most were women. They provided a sense of the new world that is coming into being, where those who are most oppressed are empowering themselves to offer leadership in the resistance/ to all forms of injustice.
Speakers drew on the strength from experiences of struggle under previous administrations--such as the unrelenting fight against the police murders of African-Americans. An indigenous woman spoke of the historic resistance at Standing Rock in the face of massive police threats with drones threatening overhead.
Throughout the evening, slides were projected, giving statistical information about the scope of injustice against Blacks and Latinx.
There was moving testimony from a single Latina mother--a worker at McDonald's-- who is a leader in the fight for a $15 minimum wage and union rights. There will be a march on May 23rd on these issues at McDonald's Oak Brook headquarters. All are encouraged to participate.
A representative of Organized Communities Against Deportation denounced the criminalization of immigrants, especially undocumented workers. He told his story of being kept forever on the books as someone who was once convicted of DUI--- as if that is his permanent identity, as if people who make mistakes cannot be rehabilitated as full members of society, as if immigrants--and not the government-- are THE danger to society. He ended with the slogan: "Undocumented, unafraid, unashamed and unapologetic."
Another speaker brought out how Chicago police are giving ICE justification for seizing people for deportation by providing lists of gang members, including many who are not actually in gangs. The audience learned of the escalating violent raids on the homes of immigrants, including those who are not undocumented.
The use of state violence was highlighted, bringing out that all the hype about youth violence diverts attention from the massive violence of all kinds imposed by the government--racism, poverty, unemployment, mass incarceration, denial of health care and mental health treatment, lack of affordable housing, gentrification, the starving of public education, closing neighborhood schools and siphoning money to privately run charter schools ….
-----------------
The audience expressed its love and admiration for Rasmea Odeh, a Palestinian-American leader who was persecuted first by the Israeli Zionists and then by the U.S. authorities who back the apartheid state. Rasmea has decided to accept exile over further imprisonment, and everyone wished her well as she continues the fight for freedom in another place.
Speaker after speaker celebrated our growing unity in struggle-- with reference to the union slogan--"An attack on one is an attack on all." An example of this was shown when thousands of people from all backgrounds rushed to airports to oppose Trump's ban on Muslims from 7 countries.
The following points of unity that the Coalition has developed were expressed throughout the teach-in:
No to deportations
No to Anti-Arab racism and Islamaphobia
No to privatization
No to imperialism and militarism
No to racist police and state violence
No to the criminalization of black, brown, Asian-American, Arab- American, indigenous and immigrant communities
No to all forms of anti-black racism
No to violence and marginalization of LGBTQIA folks
No to sexual violence and harassment as we envision a world without sexism & patriarchy
Yes to support for schools and teachers
Yes to living wage jobs/ $15 minimum wage
Yes to affordable healthcare and housing
Yes to accessibility in all forms – disability services with dignity
Yes to a peoples budget
Yes to accountability and transparency in politics
Yes to workers' rights
Yes to the rights of indigenous communities
Yes to climate policies that protect and sustain the environment
People left the teach-in encouraged and invigorated-- feeling that the people's movement is developing from strength to greater strength.
The evening ended with the call to GO ALL OUT TO PARTICIPATE IN MAY DAY RALLIES. The Resist, Reimagine, Rebuild Network will assemble for a rally at 11 am at Roosevelt & Ogden (across from the Juvenile Justice Center and next to FBI headquarters) on Monday, May 1st. It will then be a feeder march, going to Union Park to join the larger demonstration to defend the rights of all and a march downtown.