Federal prosecutors seek seven years in prison for Rahm's corrupt former schools 'Chief Executive Officer' Barbara Byrd Bennett... while Tribune still supports Rahm's power over the public schools against an elected school board!...
George N. Schmidt - April 08, 2017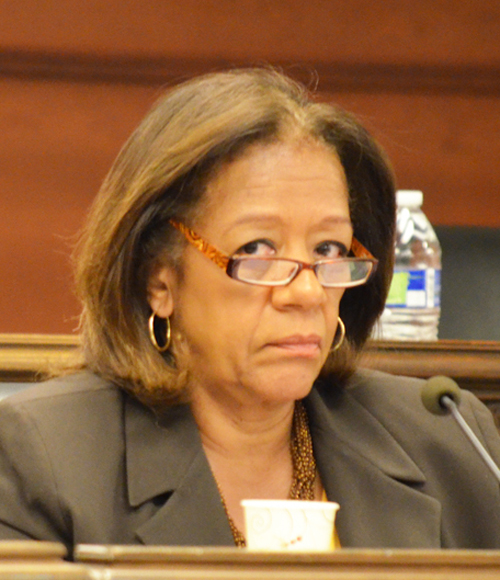 Barbara Byrd Bennett was brought to Chicago on orders from Mayor Rahm Emanuel six months before she was moved into the "Chief Executive Officer" position in replacement of Jean-Claude Brizard, Emanuel's first CEO. Within two years after she had achieved executive power in the nation's third largest schools system, she was conspiring to enrich herself through a kickback scheme with "SUPES Academy." The North shore consulting firm ultimately received a $20 million no bid contract with Chicago Public Schools on orders of Byrd Bennett. SUPES officials and Byrd Bennett were later indicated on federal corruption charges and are finally in April 2017 facing prison for their crimes against the children and teachers of Chicago. Substance photo by George N. Schmidt. By April 7, 2017, nearly two years after she was ousted as "Chief Executive Officer" of Chicago's public schools, former CEO Barbara Byrd Bennett was finally facing her federal prison term. On April 7 news reports noted that prosecutors were asking for a seven year prison term for Byrd Bennett, who was part of a $20 million privatization scam for principal training involving a corrupt suburban firm called "SUPES Academy." Left out of some news reports is the fact that SUPES Academy helped Mayor Rahm Emanuel find Byrd Bennett after Rahm felt that his first choice for "CEO" of CPS, Jean Claude Brizard, had failed to work a deal to prevent the Chicago Teachers Strike of 2012.
Another irony in all this is that despite Rahm's woeful record in selecting people to run the city's massive school system, the Chicago Tribune's editor have still come out in opposition to replacing the mayoral control model of corporate "school reform" with an elected school board for Chicago.
TRIBUNE NEWS UPDATE ON BYRD BENNETT SENTENCING...
Prosecutors seek 7 1/2-year prison term for ex-CPS head Barbara Byrd-Bennett, by Juan Perez Jr., Chicago Tribune
Former Chicago Public Schools CEO Barbara Byrd-Bennett knew how troubled the district was when she came to the city in 2012, prosecutors said in a court filing on Friday.
"She knew her victims, she knew their weaknesses and struggles, and she chose to defraud them anyway," prosecutors wrote in recommending a sentence of nearly 7 1/2 years for the disgraced educator when she goes before a judge later this month.
Byrd-Bennett, Mayor Rahm Emanuel's handpicked schools chief, pleaded guilty in October 2015 to taking part in a kickback scheme with two education consultants who won more than $22 million of no-bid contracts from the cash-strapped district.
"She sold her integrity and sold out the students of the Chicago Public Schools, and then she worked to enrich herself and her co-schemers at the expense of CPS, its students, its teachers, its administrators and the city of Chicago," prosecutors said.
The recommendation from prosecutors was more than twice the 3 1/2 years in prison that defense attorneys asked U.S. District Judge Edmond Chang to consider for Byrd-Bennett. The defense filing acknowledged she was guilty of an "extraordinary breach of trust and the obligations she owed the city of Chicago and its public school children."
"Nothing we offer on Barbara's behalf is intended to downplay her wrongdoing, misdirect the court's focus, or encourage anything other than a fair sentence, which Barbara knows will and should result in incarceration," attorneys for the disgraced educator wrote in a competing memo made public on Friday.
Byrd-Bennett, 68, and former education consultant Thomas Vranas are scheduled to be sentenced April 28 at the Dirksen U.S. Courthouse in Chicago for their roles in the bribery scandal that rocked the already unstable school district.
In a filing Thursday, Vranas' attorneys asked a judge to consider a sentence of three years of probation. Prosecutors will ask that Vranas instead serve a 39-month prison sentence.
Gary Solomon, who prosecutors called the "mastermind" of the bribery scheme, was sentenced last month to seven years in prison. Solomon and Vranas, who co-owned SUPES Academy and Synesi Associates, also entered guilty pleas.
Friday's court filings portray Byrd-Bennett as a devoted educator and grandmother who late in her career took part in a brazen kickback scheme despite being professionally accomplished and financially secure — prosecutors note that "she had multiple pensions."
Byrd-Bennett hired her friends at CPS and exploited her knowledge of the city's school system to enrich herself and secure college and wedding funds for her twin grandsons, prosecutors said.
Byrd-Bennett had Vranas run errands for her and at one point asked Solomon to "acquire anti-surveillance equipment to debug her office" because her predecessor, Jean-Claude Brizard, had believed the mayor had bugged his office, prosecutors said, attributing that information to a proffer from Vranas.
"Obviously it's not true," mayoral spokesman Adam Collins said Friday of the bugging allegations. "It's got to be one of the nuttiest things I've heard in a long, long time."
Prosecutors said Byrd-Bennett "expected to receive hundreds of thousands of dollars" when she went back to work for SUPES after leaving CPS. Solomon and Vranas received payments of more than $2.9 million, the government said.
Byrd-Bennett came to Chicago "with and for SUPES" and soon grew dependent on her close relationship with Solomon, which her attorneys said she viewed as essential to surviving at CPS but also important to her financial well-being.
"Barbara also harbored a very real and greedy sense of entitlement — a belief that she was earning something she deserved (future employment and meaningful income) by helping SUPES succeed with CPS. This mindset became entrenched over time," her attorneys said.
Defense attorneys said the 3 1/2 years behind bars they are requesting meet the needs for "punishment and general deterrence." Her attorneys also said their client would perform community service that could include helping public school districts "adhere to complete integrity and transparency, particularly in procurement processes."
"What Barbara did was wrong on many levels — legal, moral, professional and personal — and her actions brought with them the hardest imaginable end to a career spent educating and bettering children, especially underrepresented children," her attorneys wrote.
"She knows all of this and is terribly sorry, overwhelmed by fear and shame, and prepared to accept the sentence the court determines is fair and warranted."
Prosecutors said their recommendation of 89 months in prison is 66 percent of the low end of the advisory guidelines range.
They acknowledged Byrd-Bennett's cooperation in the case, and also noted that she "dedicated her life to public service, spending her career in public education" but ultimately made "decisions that were rooted in greed."
"Within the city of Chicago, it is hard to conceive of an institution as important or serving a community as vulnerable as the Chicago Public Schools," prosecutors wrote in their memo. "Byrd-Bennett was hired to lead CPS, to start a new chapter in its efforts to educate Chicago's students. Instead, hers is yet another story in the long history of corruption, graft and greed in Chicago."
SUN TIMES STORY FROM APRIL 7, 2017
Prosecutors seek seven and an half years in prisong for Barbara Byrd Bennett by Lauren FitzPatrick, Chicago Sun-Times
Former Chicago Public Schools CEO Barbara Byrd-Bennett believes she deserves far less prison time for an audacious kickback scheme than the seven-plus years the government is seeking, asking the judge she'll soon face for three and a half years tops.
Justice could be served by a shorter prison term, her attorney wrote Friday, if accompanied by "very substantial community service that would harness her unique expertise at school districts and private consulting companies alike for the benefit of public education everywhere.
"Barbara wants to help others learn from her mistakes," defense attorney Michael Scudder wrote in a 27-page sentencing memo published Friday. "She believes that superintendents and school districts across the nation need to redouble their efforts to avoid conflicts of interest with consultants and providers."
And, laying out her storied history as an educator, he said she's in a "position to uniquely reach such officials," and to "help sound the alarm of the necessity for caution and transparency."
But Scudder added that Byrd-Bennett is not in a financial position to pay her share of $254,000 in restitution to CPS, unless the others who actually saw profits from the scheme can't pay the whole thing on their own. "Only if those defendants cannot make full restitution should Barbara be responsible for any remaining portion," Scudder wrote.
Mayor Rahm Emanuel's second chosen schools chief was busted for agreeing to take kickbacks from educational consulting companies owned by her former employers, to whom she'd steered some $23 million in no-bid contracts in 2012 and 2013. She never pocketed any of the millions made by those companies' owners. She was not going to collect any of the kickbacks until leaving CPS to return to their employ; she intended to use the money for her twin grandsons' college funds.
"I have tuition to pay and casinos to visit (:" read the email that secured her a place in Chicago corruption history.
Among the proud accomplishments Byrd-Bennett promoted to Judge Edmond Chang were the mass school closings finalized a month before the largest $20.5 contract was awarded. And several of the 91 letters written on her behalf came from high-ranking CPS employees Byrd-Bennett hired or promoted — testing czar John Barker, college chief Aarti Dhupelia and academic chief Annette Gurley. Staffers she brought to CPS from past stints in Cleveland or New York also submitted character letters, including one woman named in the federal subpoenas that rocked CPS in April 2015.
When Byrd-Bennett pleaded guilty within days of her October 2015 indictment, offering a tearful apology to the children of CPS, prosecutors said they'd recommend a reduced sentence of 89 months — about two-thirds of the low end of the sentencing guidelines.
Assistant U.S. Attorney Megan Church held to that number, saying: "She knew her victims, she knew their weaknesses and struggles and she chose to defraud them anyway. … Their corruption was sophisticated and it was nearly undetectable."
Church noted that Byrd-Bennett also deleted incriminating emails after the CPS inspector general opened a probe.
But even after she initially lied to investigators, Byrd-Bennett's haste to admit her own guilt and eventual cooperation against her two co-defendants, Gary Solomon and Thomas Vranas, should count for something, Church said. The men were co-owners of The SUPES Academy and Synesi Associates.
Church had also argued that Solomon "must get a higher sentence than Barbara Byrd-Bennett" as the scheme's "mastermind." Last month, Chang gave Solomon seven years.
Solomon and Vranas, who ran the principal training firm and school "turnaround" company, promised to set aside money they called a "signing bonus." Solomon also was a "steady source of personal support and reassurance when stress levels peaked," her attorney wrote.
Church detailed the extent to which they had served her: "In his proffer, Vranas explained that Byrd-Bennett had assembled a list of items she needed from a Target store. Solomon obtained the items, which he and Vranas paid for, and then delivered them to Byrd-Bennett's driver. Vranas also explained that Byrd-Bennett asked Solomon to acquire anti-surveillance equipment to debug her office because Jean-Claude Brizard had believed that the mayor was listening to his conversations via a surveillance bug hidden within his (Brizard's) office. Vranas purchased debugging equipment but never used it within Byrd- Bennett's office."
The mayor's office denied any such surveillance.
Prosecutors again Friday recommended a 39-month sentence for Vranas, 36, who owned a third of the companies with Solomon, 49. That sentence was unchanged from what prosecutors had advised when Vranas pleaded guilty last April to federal program bribery.
Vranas lobbied for probation instead of prison in a memo his attorneys filed Thursday, arguing that he was taken along for a ride. His sentencing is scheduled for April 28.
"While he did not operate from a position equal to that of Solomon or Byrd-Bennett, Vranas was not a passive participant in the honest services fraud scheme and he knew better," Church wrote, detailing how Vranas flattered her with emails and gifts as well.
"If you need ** ANYTHING** let me know. A cocktail, some laughing, a quick run to the casino, we're here for you!!!" he wrote her in September 2012.
"You guys are my family away from home," she responded. "CASINO….hmmmmm (:"