Chicago's Women's March Exceeded the Organizers' Expectations... 250,000 Shut Down the Loop... 'It was a cheerful crowd and the signs were poignant...'
Susan Hickey - January 22, 2017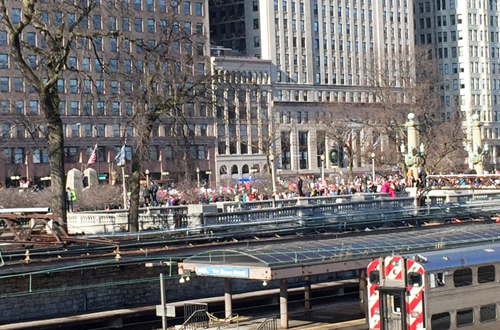 Part of the crowd that stretched across Chicago's Loop on January 21, 2017, can be seen from across the Illinois Central tracks from Grant Park, as the crowd stretched along Michigan Ave. near the Art Institute. Substance photo by Susan Hickey.Going to the March on Saturday, January 21, 2017, in Chicago gave us a sense of hope after feeling despair the day before with the swearing in of a person that has been epitomizing all that the wrong in America. I felt I was part of a larger movement that was encompassing the world with close to 700 marches on every continent, even the Antarctica.
The fact that the Chicago March organizers had severely underestimated the number was mind blowing both when I was there and afterwards watching the television reporting. I have been a skeptic of social media, even though I do like to tweet, but the large number of participants happened because of Twitter, Facebook and having a website people could go to to find out where they were near a Sister March. It was a diverse crowd in Grant Park and in other gatherings globally.
My Daughter, Julia, who lives in the US Virgin Islands, was involved in the Sister March there and with her boss made 'pussy cookies' the day before. They sold out quickly!
As a veteran of the anti-war movement in the late 60's, it was heartening to see the sheer numbers. I kept thinking 'I wish we had social media back then! The Vietnam war would have ended much sooner. I will be looking back at this event and hope that it will produce a movement that will last and not fail apart as others have done in the past. I have reprinted two articles; one from the Tribune and the other from the Reader. One can tell that both reporters were moved by the event they were witnessing:
TRIBUNE ARTICLE...
Thousands fill Loop after Women's March rally in Chicago draws estimated 250,000
The women of Chicago would not be stopped.
An estimated quarter-million demonstrators poured into downtown on Saturday, so many that organizers of the Women's March on Chicago told the throngs that the event would only be a rally because there wasn't room to march. But people marched anyway.
"Michigan Avenue is flooded with marchers," event co-chairwoman Ann Scholhamer told the crowd at Jackson and Columbus drives a little before 11 a.m. "Wabash is flooded with marchers. State Street is flooded with marchers. People are still waiting for trains in Oak Park. We called, and you came."
So what was supposed to be a pre-march rally, with a lineup of more than 30 speakers, turned into the main event. City officials would echo organizers' decision a short while later, saying there would no longer be a "pedestrian component" to the march, and that Grant Park had reached capacity.
"There is no safe way to march," Scholhamer told the Tribune. "We are just going to sing and dance and make our voices heard here."
But white-haired grandmothers and bearded and burly fathers, mothers with infants held close to their chests, and teenagers in pink knitted hats marched anyway. They shut down parts of the Loop, splintering off in every direction. They raised their signs above their shoulders and chanted, "This is what democracy looks like" and "No Trump. No KKK. No fascist USA."
Lee Hart, who took the train in from Evanston with her wife and twin boys, was among many who said she had not heard the announcement calling off the marching, but when informed by a reporter, she continued to make her way down Jackson.
"You can't say you're stopping the march," she said. "It's too powerful."
Chicago's march was one of hundreds that took place globally in solidarity with the Women's March on Washington. Planned for the day after President Donald Trump's inauguration, the demonstrations aimed to draw attention to women's rights, as well as other issues including civil rights, immigration and racial justice. Hundreds of thousands of demonstrators on Saturday packed the streets of several cities, from New York to Los Angeles and Paris to Sydney.
Organizers initially projected that the Chicago march would draw 22,000, but by week's end the projection had jumped to 50,000.
An estimated 250,000 people gathered to rally in downtown Chicago as a sister event to the National Women's March taking place in Washington, D.C., on Jan. 21, 2017.
Bryan Goettel, spokesman for the Women's March on Chicago, estimated the crowd numbered 250,000. City officials would not comment on the crowd estimates.
As in Chicago, the Washington turnout was so large that the original march route — alongside the National Mall — was impassable. Protesters headed toward the White House using several different streets, resulting in a chaotic scene that clogged downtown Washington.
Officials estimated the crowd in Washington could be more than half a million people. The march appeared to have attracted more people than Trump's inauguration on Friday, based on figures from transportation officials.
While some people who remained at Chicago's rally said they were disappointed at the change of plans, Corey Escue said she was unfazed because it meant more people could witness history and have their voices heard.
Nancy Bishop, a 77-year-old grandmother from Glenview, who used a walker, said she hadn't planned to march. For her, it was about being counted. "Marching for me is really an oxymoron now," she said. "When you gather like this, it makes you more likely to actively participate in our democracy."
Marikah Davin, 27, ran into demonstrators marching through the Loop was she was getting off the Blue Line at Jackson with her friends. They joined the crowd marching through the Loop without ever making it to the rally.
"We voted, but we still feel a lot of anger and worry," Davin, of the Ukrainian Village neighborhood, said as she held up her sign, which read "Love trumps Trump." "I didn't realize how warm and loving (this march) would be."
Throughout the day, demonstrators stopped to read and admire the hundreds of signs that floated above the crowds. They were diverse and abundant, with messages that read, "I will not go quietly into the 1950s" and "Proud my daughter fights like a girl." Some demonstrators carried tasseled banners, while others held cardboard diagrams of vaginas.
Nine-year-old Josie Schenk enlisted help from her brother and sister when she colored a sign that read, "Your generation will build a wall. (Ours) will knock it down!" Her mother, Kate Schenk, said she was initially disappointed that she couldn't make it to the march in Washington, but that feeling vanished after she marched alongside her family and the massive crowd in Chicago.
"This is so much better," Kate Schenk said.
The unseasonably mild weather seemed to fuel excitement. The sequins sewn into some women's pink "pussyhats," which have become a symbol of the movement, glistened in the sun.
Husband and wife Robin Harris and Mark Michaels, who are both retired and live in Arlington Heights, held hands as they walked. Harris remarked at how many times she heard "thank you" and "excuse me" throughout the day.
"Everyone is so positive," she said.
City officials said in a statement that the rally and "spontaneous march" were largely "peaceful," with only limited disruption.
Before the rally officially kicked off, 39-year-old Mary Hurtt began leading the thousands of women behind her in a chant. "Women of Chicago!" she cried, asking the crowd to repeat her words. "Fired up! Ready to go!"
The rally began with lighthearted music but quickly moved into difficult discussions on racism, homophobia, xenophobia and gun violence.
Samantha Marie Ware, a Chicago cast member of "Hamilton," became emotional onstage recalling how she, as a black woman, once felt as though she couldn't accomplish her goals because of her race. She encouraged the women before her to stand up.
Rachel Ellison, 32, is heading to Washington, D.C., from Chicago on Jan. 19, 2017, to celebrate her bachelorette party with friends during the Women's March on Washington. (Chris Sweda/Chicago Tribune)
"We must equip ourselves with the wisdom of MLK, that the time is always right to do right," Ware said. "We must stand up for fear and speak up when we hear prejudices against our brothers or sisters. We must and will hold those in power accountable."
Also addressing the crowd was Cleo Pendleton, the mother of 15-year-old Hadiya Pendleton, whose shooting death nearly four years ago made her a national symbol for the city's struggle with violence. Pendleton talked to the crowd about how women's rights — and mothers' rights — speak to the core of Chicago's gun violence problem.
"We are here because we are women. Because we have rights. And we do not — do not — agree with this administration's perspective on guns. Yes, are you entitled to the Second Amendment? Absolutely," Pendleton said. "But (what about) my basic human right to build my family and for my family to survive?"
Demonstrators took to the streets in Washington, D.C., other American cities and also around the world as part of marches calling for equality and inclusion for women.
As the speakers took turns onstage, thousands of demonstrators fanned out, spilling on to the side streets, where they kept marching. A man played "The Star-Spangled Banner" on his saxophone.
By early afternoon, throngs of marchers had descended on Federal Plaza; some continued to cluster around downtown into the evening.
Eldeib, D., & Eltagouri, M. (2017, January 21). Thousands fill loop after women's march rally in chicago draws estimated 250, 000. Retrieved January 22, 2017, from http://www.chicagotribune.com/news/ct-womens-march-chicago-0122-2
READER ARTICLE...
The women's marches showed America at its best
There's absolutely no way I'll be able to describe the Chicago Women's March today in any authoritative fashion. The closest I could get to the stage was still a quarter of a mile away, so I didn't see or hear any of the speeches or speak to the organizers. I couldn't get Internet access on my phone, so I didn't learn the march part had been canceled until I'd marched with the crowd for several blocks up the middle of Michigan Avenue and a stranger with better service told me. Her husband was watching the news at home and said that 250,000 people had come out and that it was the largest march in the country outside of D.C. It was bigger than the speakers, bigger than the organizers, bigger even than the Chicago Police Department who originally said the crowd was too large to march from Grant Park to Federal Plaza safely and then let us march anyway.
But here's the beautiful part: a quarter of a million people had come down to Grant Park on a Saturday—fighting traffic and riding on el cars that were so packed the windows started to steam up—because they were angry at the man who was sworn in as president yesterday. They stood together in a crowd that was so vast and dense it was sometimes hard to move and impossible to see unless you were standing on something. These are ordinarily very trying circumstances, when things get nasty very quickly, but nothing like that happened today. Everyone was polite and kind. They passed around doughnut holes on the train. They had impromptu sing-alongs of "This Land Is Your Land," and the man who brought those doughnuts told everyone that the final verse—"As I was walkin', I saw a sign there / And on the sign it said no trespassing / But on the other side, it didn't say nothin' / That side was made for you and me"—was written about a plot of land owned by Fred Trump, Donald's father. (This may not be true. It is a fact, though, that Guthrie wrote a protest song called "Old Man Trump" when Fred Trump was his landlord.) The only yelling was a chant of "What does democracy look like? This is what democracy looks like!" and "Black lives matter!"
Near Trump Tower, a line of mounted police blocked the marchers from continuing onto North Michigan Avenue. People stopped to stroke the horses' noses and ask their names. (The one on the end was named Casper, and he apparently was more excited about his next feeding time than the march.) Even the overflow of garbage was stacked in neat piles around the bins.
I don't think he had a worldwide series of demonstrations against himself in mind. But then again, you could look at the marches today as demonstrations of the things people are for: peace, justice, equal rights, women's sovereignty over their own bodies, freedom of speech, belief in science, the notion that everyone matters. This is the children's book version of America—or rather the version of America I was taught to believe in when I was really little, and then was dismantled bit by bit as I learned about all the injustices in the world. But today it was real.
At the time, I thought it was a jukebox troll too. But now that I think about it, maybe it was sincere. Yes, we live in an America where Donald Trump is the demagogue in chief, but we also live in one where people line up to donate money so women can have birth control and reasonably priced healthcare and where they get up on a Saturday morning and go downtown to stand up and march together. God bless this America.
Levitt, A., & Kwong, S. (2017, January 21). The women's marches showed America at its best. Retrieved January 22, 2017, fromhttp://m.chicagoreader.com/Bleader/archives/2017/01/21/the-womens-marches-showed-america-at-its-best
ORIGINAL ARTICLE BY SUSAN HICKEY, WITH ADDITIONS FROM OTHER MEDIA...
If there was any doubt that Trump does not have a majority, all you needed to do was to come down to Grant Park on Saturday morning, January 21, 2017. The crowd was way more than the organizers of the 'Sister March' held here to complement the Women's March in Washington. There were close to 700 marches around the world and on every continent (yes, even Antarctica!).
By the time I had arrived, I was four blocks away from the main stage and therefore could not hear any of the speeches or instructions. I was impressed with the diversity of those who were there and spend time talking to those around me. It was a cheerful crowd and the signs were poignant. I have reprinted the Sun-Times article reporting on the event. I welcome to hear those of you who were there especially those who were able to here the speeches. Late Saturday morning, it appeared as though the Women's March on Chicago might have been too successful.
Organizers had planned for as many 60,000 people to flock to Grant Park for a rally to demand equal treatment of women and to preserve their access to healthcare. Then, according to the plan, they would march down Jackson Boulevard to Federal Plaza.
A crowd of at least five times that number showed up, organizers said, prompting them to formally cancel the march altogether.
But even without an officially sanctioned march, much of the throng — organizers said there were 250,000 people — was not content to leave, taking it upon themselves to take to downtown streets. Some marchers eventually snaked snaking north toward Trump International Hotel and Tower, then back south, snarling traffic along the way.
"We planned on marching to Federal Plaza, but there wouldn't be anywhere for people to go when we got there," said Kaitlin Marron, a march organizer. "We talked to the police, adjusted and moved it to Daley Plaza."
With Grant Park at capacity, "facilitating a march would not have been in the interest of the public safety or participants," Melissa Stratton, a spokeswoman for the Office of Emergency Management and Communications, said in an emailed statement Saturday afternoon.
The Women's March on Chicago was part of a network of marches taking place in cities worldwide Saturday, all advocating for women's rights and protesting the presidency of Donald Trump. Besides Washington, D.C., which drew an estimated 500,000, there were similar marches in New York, Los Angeles, Paris and London, as well as many smaller cities. Attendance worldwide exceeded 1 million — at least, according to organizers' estimates.
"While there was no longer an official pedestrian march facilitated by the organizers, the Chicago Police and supporting City agencies worked to ensure the safety of some participants that took to the streets for a spontaneous march," Stratton said. "The event and ensuing march were peaceful and with limited disruption."
Instead of stopping in front of the Richard J. Daley Center, organizers led the thousands of marchers back down Washington Street, where they were greeted by the cheers of thousands of additional demonstrators on Michigan Avenue.
With chants including "No Trump, no KKK, no fascist USA," the group then turned east on Randolph Street before some opted to head back south on Columbus toward the initial rally site.
Several thousand demonstrators opted to make their voices heard across the Chicago River from the tower with Trump's name in giant — and controversial — letters. Chicago Police blocked access to Wabash to make sure no marchers got near the building.
From there, the groups splintered again, with some choosing to march north on State Street to Chicago Avenue. Eventually, there was a reunion on Dearborn, with large congregations — one featuring a brass band — at both Jackson and Adams.
"I personally came as a Latina immigrant, and I came here to fight for our rights," said Jessica Hernandez, a 23-year-old Lake View resident. "Everybody is united and ready to fight in a peaceful way. Everybody is ready to make a change."
Hernandez, who marched with her fiance, said although the entire crowd might not have been optimistic, she felt the thousands who filled the streets were happy as a united voice.
Nature was on the side of the demonstrators, too. The official high temperature reached an unseasonable 61 degrees, just 1 degree shy of the record for Jan. 21, according to the National Weather Service.
Thousands had waited hours for the start of a rally in Grant Park which was intended to kick off the march, part of a nationwide series of protests, all set to be held the day after Donald Trump took the oath of office to become the 45th President.
Cast members from the Chicago production of the hit show "Hamilton" — which has played its own role in the aftermath of the election of President Trump — took to the stage in Grant Park Saturday morning to sing "Let it Be" to the gathered masses.
(Vice President Mike Pence saw the play in New York soon after the election, prompting a cast member to address him from the stage after the show — and prompting Trump to slam the hugely successful musical as "overrated.")
Women's rights advocates and supporters gathered to support of women's access to healthcare and to denounce President Trump.
"A chorus of thousands cannot be ignored," one of the organizers declared from the stage, not long after another speaker, Aislinn Pulley of the Black Lives Matter movement, reminded the crowd of how protesters had helped lead to the cancellation of a Trump rally last summer that had been planned for the UIC Pavilion.
The downtown area was the scene of protests the day and night before, and there were instances of property damage and violence. Sixteen people were arrested Friday night, compared to no arrests recorded during Saturday's events.
Carol Benson, 51, said despite the march's name, Saturday's rally and march weren't only about women.
"We have friends of all races, genders [and] creeds. It's not just women's rights, it's human rights," Benson said.
Jody Jewell and Becky Vizzone, both lifelong Chicagoans from the Northwest Side, were downtown by 7:30 a.m. and were able to stake out a spot against a barricade at Jackson and Columbus.
"It's real, so we have to make people understand that this is real, this is happening," Jewell said. "They're trying to repeal our rights."
"The climate has gone from rhetoric to real," Vizzone added. "We're not having it."
Charles, S., & Issa, N. (2017, January 21). Chicago march canceled, rally goes on but many still fill streets. Retrieved January 22, 2017, from http://chicago.suntimes.com/news/big-womens-march-crowd-assembling-in-downtown-chicago/amp/