The charter school profiteers... Updates from Detroit as America contemplates the installation of Betsy DeVos as U.S. Secretary of Education...
Joanne Cairo - January 01, 2017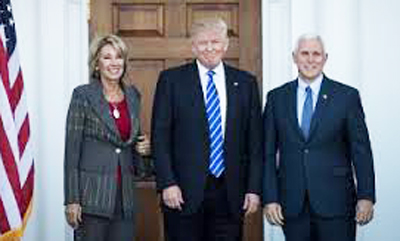 Betsy DeVos (left) will be U.S. Secretary of Education if confirmed. Her millions of dollars helped undermine public schools in Detroit and elsewhere in Michigan as she pushed for massive charter school proliferation in her home state. [Note for Substance readers. The following article was forwarded to me by a friend and is rrom JACOBIN, a new magazine. "The appearance of Jacobin magazine has been a bright light in dark times," notes Noam Chomsky. "Each issue brings penetrating, lively discussions and analyses of matters of real significance, from a thoughtful left perspective that is refreshing and all too rare. A really impressive contribution to sanity, and hope." https://www.jacobinmag.com/2014/07/the-charter-school-profiteers/... Joanne Cairo, Substance reporter].
The Charter School Profiteers... In Detroit charter schools, mismanagement and opportunistic "education entrepreneurs" thrive.
By Allie Gross
Jenay* crouches on the carpet, her spine curved into a lowercase "c" as she concentrates on the flimsy picture book in her lap. Every few minutes her fingers slide off the page, tapping the floor until she locates a bottle of purple soda. She never breaks eye contact with the book.
It's 4 PM on a Monday in Detroit, and the fifth grader is staying after school to work on her reading. Jenay is reading at a second-grade level. She has been placed in summer school each June since the third grade, and every September she is promoted to the next grade. It is the unspoken truth all students know: Getting held back is an idle threat. It could lead to families switching schools and the loss of thousands in per-pupil funding - mutually assured destruction for the school and the student.
Stumbling from word to word, Jenay carefully mouths each letter before whispering what she hears in her head. It is 5:30 when she finishes the twelve pages. Exhaling, she closes the book. A smile spreads across her purple-stained lips, but her eyes evince something else: frustration.
In 2009, Detroit Public Schools (DPS) made national headlines. According to the National Assessment of Educational Progress, the majority of DPS fourth- and eighth-graders scored "below basic" on the national exam. Detroit kids had the lowest scores in the assessment's history.
Exacerbating the negative results was video testimony of the district's failure. The same year, journalist Dan Rather went "inside" DPS. His two-hour documentary, A National Disgrace, highlighted wasted instructional time, a dysfunctional school board, and, due to financial disarray, the appointment of a district emergency manager by the state governor. The system was fraught with corruption, leaving some of the most vulnerable and marginalized in society - black youth like Jenay - far behind. [Emphasis by JPB]
Jenay, however, is not a product of DPS. Since third grade she has attended a charter school in Detroit's Midtown area - the charter school I taught at from 2010-3.
I moved to Detroit as a Teach for America corps member and, like many of the organization's recruits, I was idealistic about what I could offer students. But beyond just experience, I lacked a contextual understanding of the system I pledged to fix. The DPS brouhaha was the extent of my crash course in the city's education landscape; it was my perception that charter schools were not just an alternative but the better alternative.
What made charter schools so different from traditional public schools was unclear, but the consensus seemed to be that charter schools were somehow immune to the failings of conventional districts.
See https://www.jacobinmag.com/2014/07/the-charter-school-profiteers/ for the remainder of this very revealing article.
* Jenay is not a real name.
[[Allie Gross is an investigative journalist, a former TFA corps member, and a graduate of Northwestern University's Medill School of Journalism. She is in the process of developing a website aiming to bring accountability, transparency, and coherency to the city's education landscape.]
This is the second installment in our two-part series looking at charter schools in New Orleans and Detroit. The juxtaposition is no accident -- these two cities have the highest percentage of charters in the country.
In New Orleans, charters have almost entirely replaced traditional public schools; in Detroit, about half the schools are charters. Both cases show the perils of privatization and the way in which elites manipulate crises to transform social goods. [Emphasis by JPB]
Similar themes are explored in Class Action: An Activist Teacher's Handbook, a joint project of Jacobin and the Chicago Teachers Union's CORE. The booklet can be downloaded for free, and print copies are still available.]