CPS Security Chief, the 'Crisis Team,' and the real world... A Bizarre Takeaway from the December 7, 2016 Chicago Board of Education meeting...
Susan Hickey - December 16, 2016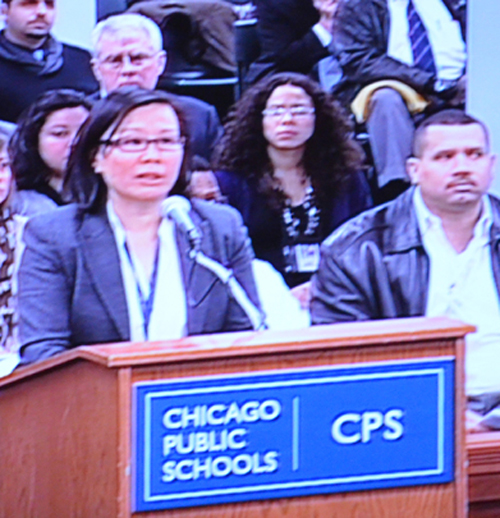 Jadine Chou is chief of security and safety for the Chicago Public Schools. Above, she is seen speaking to the December 2012 meeting of the Chicago Board of Education. Substance photo by George N. Schmidt.The Chicago Board of Education meeting of December 7, 2016, had a number of bizarre facets to it, but for me none was as bizarre as the conversation I had with Jadine Chou, Chief Safety and Security Officer of CPS. Ms. Chou asked to speak with me as I was leaving the Board room. When we got outside, she showed me a Tweet I had made calling the CPS "Crisis Team" a joke. This was in response to the fact that teachers and others at Saucedo Elementary School had wanted to hold a memorial for a student who had graduated from there and was murdered.
But the Saucedo people were told the official CPS "Crisis Team" would not help them and the acting principal refused to allow them to have the memorial in the building.
As it turned out, there was one held at Curie High School, where the student had attended, and the Crisis Team help facilitate it. I did follow up to explain my Tweet was not about the Curie event, but the fact there was none to be done at the elementary school where he had long been a student. The problem is that students from elementary schools do not go only to their neighborhood high school where they would have daily contact with their friends. Those friends that did not attend Curie, but, just as important, the elementary teachers and staff needed to mourn and come together to express their grief. The student's friends and elementary teachers put on a memorial late last week which I was there as a seasoned social worker who attended too many of these type of memorials The students did a touching tribute to their friend.
From Wednesday until the end of the week of the Board meeting, Jadine Chou and I had sent a few emails back and forth. What struck me about her emails is that she was not willing to admit that she and the Crisis Team should review its procedures. During our face to face conversation, I mentioned Lourdes Afable, the original Crisis team manager -- and Jadine did not know who she was. It struck me that she and the personnel on the Crisis Team have not looked over what was done in the past, which was excellent for the most part.
What's changed? Instead of the Crisis Team in the same department as counselors, social workers, and psychologists, there are now three departments that can deal with trauma. Crisis is under Safety and Security; counselors along with social and emotional learning personnel are in the Office of College and Career Success; social workers and psychologists are in the Office of Diverse Learners. There is little collaboration between the departments. Often the social workers and psychologists are not told about the trauma. Schools do not have access to the Crisis Manual or have emergency plans to deal with such circumstances.
In our emails, it became obvious that Jadine wanted me to report individual concerns in schools rather than cast a critical eye on the citywide procedures. Here is an excerpt from one of my emails to Jadine on Thursday, December 8th: "I am glad we had the chance to begin what I hope will be a continuing conversation about how to help students, staff and families deal with the loss of a loved one no matter what the circumstance are. First of all, thank you for letting me know of Monday's memorial at Curie for student. I am sure the students and faculty needed that but the hard work is still to come. Maybe you and I can have a chance to talk about what happens next in the schools as it is a very long process that a memorial only begins to address. Thank the Crisis team that went there for it. Secondly, I know that the acting principal at Saucedo refused to have a memorial there not only in the school but on the premises. The problem in CPS now is that students do not go to their neighborhood schools where most of their elementary school friends can gather for the memorial. That is why a 'neighborhood' one is very important as well. I believe there is one planned possibly today for that purpose. I plan on helping out if I know venue and time. Thirdly, a teacher from Saucedo set up a GoFundMe page to help the family with funeral costs. It appears she has close contact with the family and maybe should have been included in any arrangements. I am aware that since he died on Saturday and you had the memorial on Monday, there was no time to look at what others were doing. Did you have contact with the family? Also, I had mentioned that not so long ago there was a fund set up by CPS to help families to defray funeral costs. I know that the drastic funding problems of CPS, that it had to go. I will be willing to get involved to help you to find a way to get this up and running again. Lastly (for the moment), there needs to be better communication with CPS social workers and psychologists, in dealing with crises. We know how this has become too big for your small team of four! As I mentioned, Dr. Lourdes Afable initiated the Crisis Department which was under the same department that social workers, counselors and psychologists were in and she would regularly contact us direct even after hours and on weekends to get a heads up. Everyone that was on her team came from the ranks of CPS which meant they had good rapport with their colleagues. I received a grant from AFT to develop a bereavement PD for teachers. Unfortunately, I am sure it has not been in use since the initial roll-out. I was able to get Dr. Schonfeld, a leader in handling trauma to come and address clinicians in one of the August PDs in 2014. It was considered one of the best that year. Afterwards, we saw the leader of the Crisis Team (I do not remember the person in charge at that time) but she was dismissive of the approach. She said she would contact me afterwards to help incorporate the presentation in their work but she never did. If I can assist with developing better communication or give suggestions on how, I would be more than willing".
Jadine's response did not address the points I made with the exception of the fund for burial needs for students but I do not think schools are aware of that fund!
With the rise of violence in Chicago, there needs to be a better way to help students and school staff to deal with trauma. Going in and doing a memorial is only a start of the process. Departments of CPS need to do a better job of talking to each other.
On another matter, there is very little explanation of how schools should deal with abuse/neglect and when students should a mental breakdown or suicidal/homicidal ideation. With the fact, social workers and psychologists are spread very thinly in the city and counselors may or may not know how to handle the latter condition of students, teachers are finding themselves not knowing what should be done.
I developed a Handbook to explain both DCFS Hotline and SASS ( a centralized Chicago number for mental health crisis) SASS stands for Screening Assessment and Supports Services program.. I had put together for the schools I worked at as a social worker. I did it when I started at Mile Davis Academy in 1994. A second grade teacher had one of her students disclose that she was being sexually molested by her mother's boyfriend. The disclosure happened on a Friday and I happened not to be there. The teacher told me on the following Monday that she told the child to talk to me. I said "I hope the student will disclose and if she does, I will make a DCFS, let them know she told you first and spell your name correctly". Luckily the girl did, I went to court with her and later I had to get DCFS to take protective custody -- she was placed with her paternal grandmother (who was a CPS teacher).
The one thing that stood out for me is that the girl asked me to go into the judge's chambers -- not her mother, and I took her back to school. When she walked into the classroom, her classmates stood up and cheered! I will never forget her words: "I told the truth, and they believed me". It could have had a bad outcome if I was not a Chapter 1 social worker which meant I was there every day!
HERE IS THAT HANDBOOK:
GUIDELINES FOR CALLING THE CHILD ABUSE HOTLINE
Mandated reporters and other persons should call the Hotline when they have reasonable cause to suspect that a child has been abused or neglected. The Hotline worker will determine if the information given by the reporter meets the requirements to initiate an investigation.
Criteria needed for a child abuse or neglect investigation:
· The alleged victim is a child under the age of 18.
· The alleged perpetrator is a parent, guardian, foster parent, relative caregiver or any person responsible for the child's welfare at the time of the alleged abuse or neglect.
· There is a specific incident of abuse or neglect or a specific set of circumstances involving suspected abuse or neglect.
· There is demonstrated harm to the child or a substantial risk of physical or sexual injury to the child.
· Information the reporter should have ready to give to the Hotline:
· Names, birth dates (or ages), races, genders for all adult and child subjects.
· Addresses for all victims and perpetrators, including current location.
· Information about siblings or other family members, if available.
· Specific information about the abusive incident or the circumstances contributing to risk of harm. The reporter should have information about when the incident occurred, the extent of the injuries, how the child says it happened, and any other pertinent information.
Child Abuse Hotline
1-800-25-ABUSE or 1-800-252-2873
MAKING A REPORT
Most mandated reporters know that they are required to report suspected incidents of abuse, but they not sure to whom they are reporting or what happens as a result of reports they make. It is helpful to know some key terms as they are used by DCFS:
Allegation of harm: The content of the reporter's concern about a child is coded by the Hotline worker into one or more allegations which define the nature of the harm or the risk of harm to the child. (List of DCFS allegations to follow)
Report: If the Hotline worker concludes that the allegation is one the Department is legally empowered to investigate and that there is sufficient information to warrant an investigation, a report will be taken. This means that DCFS will initiate an investigation of the allegation. Every call to the Hotline does not necessarily result in a report.
Credible evidence: means that the available facts viewed in light of surrounding circumstances would cause a reasonable person to believe that a child may have been abused or neglected.
Indicated: cases are called 'indicated' when an investigation has determined that credible evidence of the alleged abuse or neglect can be documented,
Unfounded: cases are called 'unfounded' when an investigation has determined that credible evidence of alleged abuse or neglect cannot be documented. The reports made by mandated reporters (allegations in priority I or II) are kept by SCR for a period of 12 months. You may request a review of an unfounded report within 10 days of notification if they have concerns about the adequacy of the investigation or if they feel that specific information has been overlooked.
SCR number: When a report has been taken the investigation is given a number. You need to ask for that number and there is a system of letters after the number that signify the number of previous reports taken (for example a D indicates the new report is the 4th one taken by DCFS)
All calls to report suspected abuse or neglect must be made to the statewide Hotline. The toll-free number is 1-800-252-2873 (1-800-25-ABUSE). It is available 24 hours a day, 7 days a week, 365 days a year.
If a report is taken by the Hotline worker, an investigation is commenced with 24 hours. If the Hotline worker does not take a report, there is a paper record filed and maintained for 6 months at SCR. If you disagree with the worker's conclusion of not accepting it, you may request to speak to the supervisor to explain why you feel it is necessary for an investigation.
DCFS Allegations System
Abuse Neglect
#1 Death #51 Death
#2 Brain Damage/Skull Fracture #52 Brain Damage/Skull Fracture
#3 Subdural Hematoma #53 Subdural Hematoma
#4 Internal Injuries #54 Internal Injuries
#55 Burns/Scalding
#5 Poison/Noxious Substances #56 Poisons/Noxious Substances
#7 Wounds #57 Wounds
#9 Bone Fractures #59 Bone Fractures
#11 Cuts, Bruises, Welts #61 Cuts, Bruises, Welts
#12 Human Bites #62 Human Bites
#13 Sprains/Dislocations #63 Sprains/Dislocations
#14 Tying/ Close Confinement
#15 Substance Misuse #65 Substance Misuse
#16 Torture
#17 Mental Injury #67 Mental Injury
#18 Sexually Transmitted Disease
#19 Sexual Penetration
#20 Sexual Exploitation
#21 Sexual Molestation
#22 Substantial Risk of Physical Injury
#74 Inadequate Supervision
#75 Abandonment/ Desertion
#76 Inadequate Food
#77 Inadequate Shelter
#78 Inadequate Clothing
#79 Medical Neglect
#81 Failure to Thrive
#82 Environmental Neglect
#83 Malnutrition
#84 Lock-out
#85 Medical Neglect of Disabled
Infants
NOTE: DCFS no longer takes reports on Educational Neglect which was formerly listed as a neglect allegation.
SCREENING. ASSESSMENT, AND
SUPPORT SERVICES PROGRAM (SASS)
What is SASS?
The metropolitan area of Chicago has a grid set up to take referrals for children and adolescents that are experiencing a psychological crisis; e.g. Substantial risk of harming themselves or others. SASS provides 24 hour, 7 day crisis intervention services to children and adolescents and their families. The target population served is children and adolescents age 17 or younger who are severely emotionally disturbed and whose ability to function adequately at home, school, or in the community is greatly impaired.
How does one make a SASS referral?
If a child seems to be out of control to the point of harming others or themselves, the staff must determine whether there is a need for an emergency psychological/ psychiatric assessment. The phone number is a centralized one and it is: 1-800-345-9049. It is necessary for the child's parent to be notified immediately so that they can be present and give permission for the referral. CPS has a procedure about suicidal/homicidal ideation. If the parent refuses to come or refuse to agree, police need to be called. They can take protective custody as well as the hospital emergency room staff.
What can SASS do?
A SASS worker will determine the type of service needed to stabilize the child in his/her surroundings. The services may include: written SASS assessment, recommendation for immediate crisis intervention (outpatient or inpatient hospitalization), individual, family, group therapy, school monitoring. Some additional ancillary services include, but not limited to, the following: a comprehensive mental health assessment, multidisciplinary staffing, individualized treatment planning, psychiatric examination, psychological evaluation, medication assessment and re-commendation. Services are provided as often as needed with a minimum of eight (8) contact per month (with at least one face-to-face contact per week) for children and adolescents in the SASS program. Ninety percent of SASS services are performed out of the office and in the community or home of the children served. SASS services may be provided for up to a year.