Humboldt Park meeting demands progressive revenue solutions to Chicago Public Schools financial problems...
Jean Schwab - August 03, 2016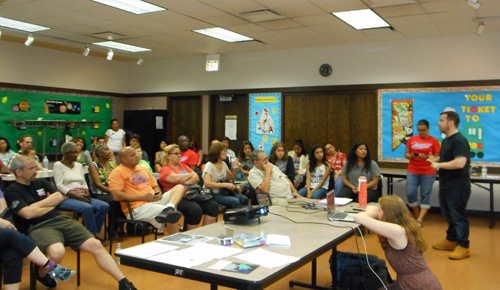 Chicago Teachers Union organizer Marty Ritter talks to the crowd at the Humboldt Park meeting. Substance photo by Jean Schwab.The flyer entitled "Fighting for the Schools our Students Deserve" arrived in my mailbox on Friday, July 29, 2016. It said that there was going to be a meeting August 1, 2016 at the Humboldt Park Library, 1605 N. Troy at 6 p.m. to discuss schools and school finances. The sponsors were the Chicago Teachers Union and Grassroots Illinois Action.
The flyer stated that it was "essential to find ways" to pay for improving CPS with progressive revenue, so the burden isn't on working families."
As a retired teacher, Substancenews reporter, resident of 1st ward, living right by the 606 and grandmother of six children at Moos School, I wanted to find out more. The meeting was even more than I'd expected. More than 50 people were in attendance in a very small room.
The meeting centered on the 26th ward and the 1st ward which covers Wicker Park, Humbodt Park and Logan Square. The public Interest was high. The presenters were Martin Ritter, Chicago Teachers Union organizer, Lori Torres, CTU, and Ryan Kelleher, Grassroots Illinois Action.
Using a power point as a visual, the first presenter was Lori Torres. Torres, stated that the communities are under attack because of gentrifying neighborhoods causing people to move out because of higher taxes and increased rents for rental units.
She added that the local schools are underfunded. Torres also repeated the claim that CPS needs almost $1 billion because of a "deficit" -- the money required just to keep the schools running until the end of the year. The recent cuts are not equally distributed, she said, adding that the cuts are often justified by what she called "racist logic." Torres showed a map of schools the have been closed since Rahm Emanuel became Mayor of Chicago in 2011. It was obvious that most of them were in African American neighborhoods. Using the Power Point, Torres continued to explain that budgets have two sides -- revenue coming in and expenses, which is money going out. Who benefits from underfunded schools and a CPS BEING BROKE?
Benefactors:
-- Ken Griffin benefits. Illinois billionaire Ken Griffin is the top donor to Rahm Emanuel and Bruce Rauner. She told the audience that Griffing got an estimated tax break of $16 MILLION which could fund a Social Worker in every school.
-- She said that tax rates have dropped below 25% for the rich people especially since Ronald Reagan came in office in January 1981.
Today teachers are expected to do more with less. Corporations benefits considering that 70 years ago Corporations paid the majority of taxes and now pay only 15% of the taxes, leaving the rest for us to pay.
-- Banks benefit. She noted that because school districts go to the banks for loans and then have to pay interest, the banks are benefiting from the financial problems of CPS. The same people that force us to cut and borrow then tell us to live within our budgets are not paying their fair share.
-- She said that Jim Reynolds and other benefited because they supposedly received $68,522,362 from CPS "toxic swaps." Cuts are used to avoid asking the rich to pay their fair share.
Illinois is the 15th wealthiest state but we are the 47th in spending on child care, education and human services.
Martin Ritter, another CTU organizer, reported that the contract negotiations are still going on and that teachers are being asked to take a 7% decrease in salary and benefits (because of the so-called "pension pickup").
Teachers still want more control of lesson plans and curriculum. Teachers want less paperwork and not to have to pay more for medical insurance. Ritter stated that teachers are now working longer days for less money.
Using the Power Point, Ryan Kelleher, Grassroots Illinois talked about housing. Kelleher stated that Gentrification is causing property taxes to rise because of 606 being built and luxury buildings costing over $1 million are being built.
[As a resident of Humboldt Park, according to my husband, our taxes have gone up a couple of thousand dollars this year.] This is causing people to sell their houses and move out of our neighborhood. Data shows that from 2000-2014 our neighborhood has shown a decrease of 20% African Americans, 30% decrease of Latinos and an increase of 40% white.
This makes our neighborhood less diverse and drives up the cost of land. The three most prominent benefactors are real estate developers' Wilmot Properties, Mark Fishman and Associated Bank who have made money by buying the land for less and building luxury houses.
Also noted was that Donald Trump, now the Republican candidate for President of the United States, benefited with the help of Alderman Ed Burke. Using Burke to appeal his property taxes, Trump saved $11.7 Million on Trump Towers by appealing his property taxes.
These taxes, as suggested by the audience, could have gone into affordable housing, schools, the opening of more mental health clinics. Also people mentioned that there should be no more privatization of public services, a moratorium on Charters and no Charter School expansion, more rent control, freeze for people who have lived in their houses for a long time.
Changes that need to be made are forcing our elected people to do what they don't want to do. Force rich to pay their fair share.
We need to Reinstate and increase the Corporate Employer Expense Tax ("Head Tax"), the Corporate Head tax.
We need to convince Ed. Burke to bring the Chicago Public Education Revitalization Ordinance to a vote. The Ordinance provides the City of Chicago a process for directly aiding the Chicago Public Schools by declaring TIF surplus and providing a supplement grant from the City's share of TIF surplus, according to a hand-out, in addition to the CPS receiving its proportional share of TIF surplus distribution (approximately 53%), the proposed ordinance would require the City to contribute its Public School Revitalization Grant to pay for CPS operating costs.
The speakers asked everyone to please call your alderman supporting this ordinance.
There was also good news. Humbolt Park Beach will be open this Saturday, August 6. Also, TIF funds have been returned to Chicago by CME ($15K) and United Airlines ($5.6 Million).