LaRaviere's decisive victory adds to challenges facing the Emanuel administration... And will raise questions about the Chicago Teachers Union's research and political activities...
George N. Schmidt - May 19, 2016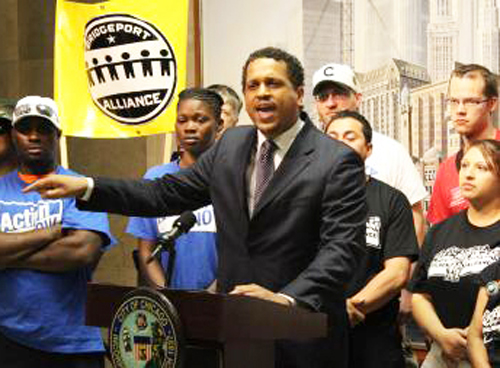 Blaine Elementary School Principal Troy LaRaviere was photographed (above) speaking at Chicago's City Hall against the anti-public school policies of Chicago's Mayor Rahm Emanuel. Although the policies had begun attacking the city's real public schools under Emanuel's predecessor, Richard M. Daley, they escalated with a corrupt and mendacious vengeance under Emanuel. As soon as he was inaugurated, Emanuel began proclaiming that CPS had the "shortest school day" in the USA, a lie. During his campaign for the "Longer School Day," Emanuel even deployed paid protesters, first exposed by Substance, to attend public meetings carrying pre-printed signs attacking the supposed shorter school day in Chicago. Emanuel's attacks on the city's real public schools continued despite his failure to stabilize the school system's top administration. Emanuel's "business model" of corporate school reform has resulted in four administrations leading the school system in five years. Emanuel's first CEO was Jean Claude Brizard, who was followed by Barbara Byrd Bennett, then (interim) Jesse Ruiz, and currently Forrest Claypool.The decisive victory of Blaine Elementary School Principal Troy LaRaviere in the election to head the Chicago Principals and Administrators Association (CPAA) not only comes as a stunning blow against the reactionary education policies of the administration of Mayor Rahm Emanuel, but will also add to the pressures for the Chicago Teachers Union (CTU) to end its strange series of compromises on research and membership rights of late. On May 19, 2016, the CPAA announced that LaRaviere had defeated his opponent, Ken Hunter, by a significant margin. This victory came despite the attempt by CPS administrators to invalidate LaRaviere's candidacy, and the support for Hunter from some of those at the top of the Emanual administration's CPS executive staff, including Janice Jackson and Denise Little.
The CPAA announced that LaRaviere had gotten more than 69 percent of the votes, but refused to tell reporters [see Tribune story below] how many people voted in the important election. CPAA has also refused to officially tell the press its total membership, but Substance had earlier learned that the group had been losing members because of dissatisfaction with its tendency to collaborate with whatever administration was running Chicago's massive school system, rather than speaking out against the escalating mendacity and outright corruption at the top.
LaRaviere's victory comes after decades of crass collaboration between the leadership of the CPAA and the top administrators at CPS. The collaboration became obvious after Paul G. Vallas became the first "Chief Executive Officer" (CEO) of the nation's third largest school system. Despite the claim by corporate school reformers that the chief of the school system should have "business experience," Vallas had been a political hack his entire career. Immediately prior to his appointment as CEO of CPS in 1995 by then Mayor Richard M. Daley, Vallas had been budget chief for Daley at Chicago's City Hall. Daley also appointed a City Hall person, attorney Gery Chico, as President of what for a few years was called the "Chicago School Reform Board of Trustees." Chico's legal experience had all been in political jobs. At the time he was picked to head the school board, Chicago was Daley's Chief of Staff at City Hall.
TRIBUNE REPORT MAY 19, EARLY EVENING...
Ousted Principal Troy LaRaviere elected to top post at administrators group, by Juan Perez Jr.
Troy LaRaviere, the outspoken educator who was ousted as principal of a Lakeview elementary school for insubordination and faces being fired, was elected president of the Chicago Principals and Administrators Association, the organization said Thursday.
LaRaviere won just over 69 percent of the vote, the organization said in results posted on its website. His opponent was retired Principal Kenneth Hunter.
The association did not disclose how many of its members voted in the election, but outgoing President Clarice Berry said "only a little more than half" of the ballots that were delivered to members were returned.
The election brought rare attention to the low-profile association because of the baggage brought to the campaign by each candidate.
LaRaviere has been a regular critic of Chicago Public Schools and Mayor Rahm Emanuel. After being removed from his post at Blaine Elementary School last month, LaRaviere revealed that the district had accused him of insubordination over his handling of a controversial standardized test and of conducting personal business and political work on district time.
Hunter was arrested on criminal harassment charges as ballots were being cast after he was accused of contacting a woman "multiple times after being told by the victim to stop texting."
Before the election results were announced, LaRaviere promised to make it a more potent force on behalf of its members.
"It needs to harness the power of its members, it needs to get their voice heard in the formation and endorsing of policy," he said. "It needs to be effective at ensuring that principals' time is respected. ... It hasn't done that."
SUN TIMES STORY...
Troy LaRaviere, facing firing, wins principals' group election, By Lauren FitzPatrick, CHICAGO...
A Chicago Public Schools principal who is among Mayor Rahm Emanuel's fiercest critics won an election Thursday to head a CPS principals organization, though he's currently suspended without pay and faces possible termination.
Former Blaine Elementary School Principal Troy LaRaviere won 69.1 percent of the vote to become president of the Chicago Principals and Administrators Association, soundly defeating a lone opponent, retired Prosser Career Academy Principal Ken Hunter.
"Until now, I've represented my own voice. On July 1, I will have the honor and responsibility of representing yours. Please know that I do those two things quite differently," he wrote on his personal blog. He also launched a new website for members where he laid out his strategies for tackling a lack of school funding and reducing burdensome paperwork.
The election of the typically quiet organization was filled with drama as the Chicago Sun-Times first reported online Thursday that Hunter, who was recently arrested on phone harassment charges, had been formally warned by CPS for "conduct unbecoming a principal" after letting two problematic coaches into his school, one accused of sexually harassing a female student, and the other who videotaped a locker room hazing incident.
Outgoing CPAA president Clarice Berry even called the antics a "zoo of an election."
She said members had called her to ask whether the race could be postponed or re-started given the troubles of both candidates, but the bylaws of the 117-year-old organization permitted neither option.
Members "heard the worst of both and made a choice," she said Thursday.
CPS CEO Forrest Claypool also dodged questions about which candidate he would prefer to work with. Nor would he comment on why two top CPS officials supported Hunter's campaign to run against LaRaviere, a longtime critic of the mayor's education policies who even campaigned against Emanuel.
Hunter declined to comment on his case. When asked about the election, he would say only: "Best of luck to Troy."
But the warning documents the Sun-Times obtained laying out Hunter's 30-day suspension raised questions about why CPS chief education officer Janice Jackson and Denise Little, a
special adviser to the mayor's handpicked CEO, supported his campaign to run against LaRaviere.
CPS filed several charges against Hunter in early 2013, and warned him he would lose his job if he didn't make specific improvements. Then they told him to stop lying in a directive that read: "When interviewed in official inquiries, investigations, or other official proceedings, you shall not make false, inaccurate, or deliberately incomplete statements."
Last week, Hunter, 63, was charged with misdemeanor electronic harassment after police say he kept texting a woman dozens of times a day after she told him to stop.
Chicago Police said they didn't know the content of the text messages, but a source who saw several of them told the Sun-Times they were sexual in nature.
Through a CPS spokeswoman on Wednesday, former principals Jackson and Little both said they had nothing to do with Hunter's past suspension, nor did they know about his troubles when they signed his petition, as LaRaviere had reported on his blog.
"Dr. Jackson and Mrs. Little withdrew their support from Mr. Hunter last week, after learning of his arrest," CPS spokeswoman Emily Bittner said in an email.
She wouldn't say whether the women should have checked out Hunter before endorsing him.
In January 2013, Hunter was issued a formal Warning Resolution by the Board of Education, an early step in CPS' termination process. He started a 30-day unpaid suspension the previous August, according to CPS.
Hunter had failed to instruct his staff about background checks required for anyone who had "direct daily contact with students," according to personnel documents, which the district does not release.
CPS found out about the lapse only after a female Prosser student complained she had been sexually harassed by an assistant coach at Prosser who had not been cleared by human resources, according to the document signed by CPS' then-general counsel and CEO.
The district also accused Hunter of downplaying a 2011 student hazing incident in the boys locker room that was videotaped by another assistant coach — telling CPS it was merely a student conflict instead of a situation involving potential employee misconduct.
"When questioned by the Board's Law Department, you made false, inaccurate, or deliberately incomplete statements in an effort to minimalize the situation and hide your own culpability," the warning resolution continued.
The boy who was hazed sued and won a $25,000 settlement, court records show. He said in his lawsuit that he "endured pain, embarrassment, depression, fear, anxiety, difficulty sleeping, psychological damage, and sustained severe emotional shock and distress, and left" the school.
Following his arrest, Hunter emailed members of the CPAA alleging it was "politically motivated," by a woman with whom he claimed a nearly two-year relationship. He said the same woman, who works for an alderman, organized an event where LaRaviere spoke.
"I am certain that when the facts are known, I will be cleared of this charge," Hunter wrote. "Please know, this woman is an ACTIVE SUPPORTER of my opponent, and though I hold him in no way responsible, please know that her actions were designed to help his campaign and destroy mine."
The woman Hunter is accused of harassing declined to comment and referred all questions to her attorney, who said she did not yet know details of the case.
Meanwhile, LaRaviere awaits a state hearing to find out if he will be fired. He is suspended without pay, accused of failing to complete district paperwork and opposing district policy on standardized testing. He has characterized the charges against him as "politically motivated."