Rahm Emanuel schedules April 11 media event at Whitney Young High School as he slowly emerges from hiding back into the public eyes... No longer a visible part of the 'Clinton Team,' Rahm hasn't cringed from power despite months of theatrics aimed at him...
George N. Schmidt - April 11, 2016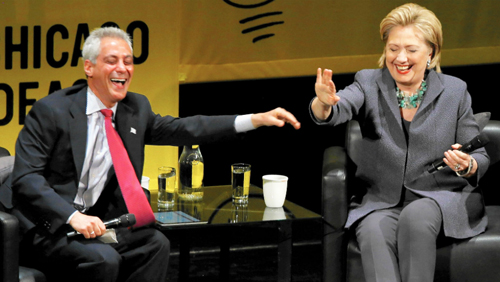 Before Rahm Emanuel's career was upended by the current wave of scandals, he was a favorite of the Clintons. Above, Emanuel and Hillary Clinton at "Chicago Ideas." Many of Emanuel's supporters believed, before he was upended, that Rahm was aiming at the possibility of being Hillary Clinton's running mate. By early 2015, when Rahm was on the eve of re-election despite the opposition from Chuy Garcia, people were talking up Rahm's future -- including a well orchestrated campaign by Rahm's own family.Although Chicago Mayor Rahm Emanuel saw his hopes to join another Clinton administration dashed when scandals over police corruption and murders derailed his schedule, by early April 2016 Rahm was emerging from hiding. On April 10, 2016, the "Mayor's Press Office" announced that Rahm would make an "appearance" (topic undisclosed) at Whitney Young Magnet High School at 8:45 in the morning.
Students and teachers at Whtiney Young have long made it clear that Rahm is not popular at the famous West Side school.
The press release reads as follows:
FOR PLANNING PURPOSES ONLY:. April 10, 2016. CONTACT: Mayor's Press Office
312.744.3334. press@cityofchicago.org
The Public Schedule for Mayor Rahm Emanuel – April 11, 2016
Mayor Emanuel will attend a meeting at Whitney Young Magnet High School. Time: 8:45 A.M.
Location: Whitney Young High School, 211 S Laflin Street
Chicago, Illinois
*There will be no media availability following this event.*
It's not that Rahm Emanuel hasn't been active and periodically appearing in media events. Most of Rahm's public appearance in the past five months have either been unannounced (only to be reported later) or controlled ("no media availability..."). A look at the past month of the mayor's public schedule shows that most of his activities have been corporate propaganda.
Since April 1, 2016, Rahm has done a number of media events with corporate America, as well as several public events to announce administration changes. He rarely takes questions from reporters at these events, and most are announced at the last minute so that the mayor can avoid the angry protests that have followed him since the release of the Laquan McDonald video in November. And while State's Attorney Anita Alvarez has suffered politically for her role in the McDonald affair and Rahm's often praised police chief was thrown under the bus by the mayor, Rahm shows no signs of making an exit, graceful or otherwise. And this month is the first anniversary of his re-election, following the grueling battle with Chuy Garcia that forced a runoff. Worth noting is that Rahm's April 2015 re-election victory came about because he won a majority of the votes in every ward where most of the voters are African American.
Rahm's corporate agenda and the unverified claims about "job creation" every time the mayor does a corporate publicity stunt have been pushed during the few days so far of April 2016:
On April 7, Rahm issued a press release touting CNA, which is building a new building:
"MAYOR EMANUEL, CNA AND THE JOHN BUCK COMPANY BREAK GROUND ON NEW GLOBAL HEADQUARTERS BUILDING…151 North Franklin Will Create More Than 2,000 Construction Jobs and Support 3,000+ Employees; Will Join 23 Tower Cranes Already Operating Across Chicago
"Mayor Rahm Emanuel and representatives from The John Buck Company, CNA and Hinshaw & Culbertson today broke ground on 151 North Franklin Street. The 35-story building will create 2,700 construction-related jobs and serve as CNA's new global headquarters. The company has been based in Chicago for 116 years and the new building will pave the way for it to stay for generations to come."
On April Fool's Day, April 1, 2016, wile more than ten thousand people were protesting the policies of the mayor and the ruling class, Rahm was touting Ulta Beauty:
That press release also include a large share of corporate propaganda, as has been typical of Rahm's media activities since May 2011 when he was inaugurated for his first term.
FOR IMMEDIATE RELEASE. April 1, 2016
CONTACT: Mayor's Press Office 312.744.3334 Ulta Beauty Public Relations, 630.410.5457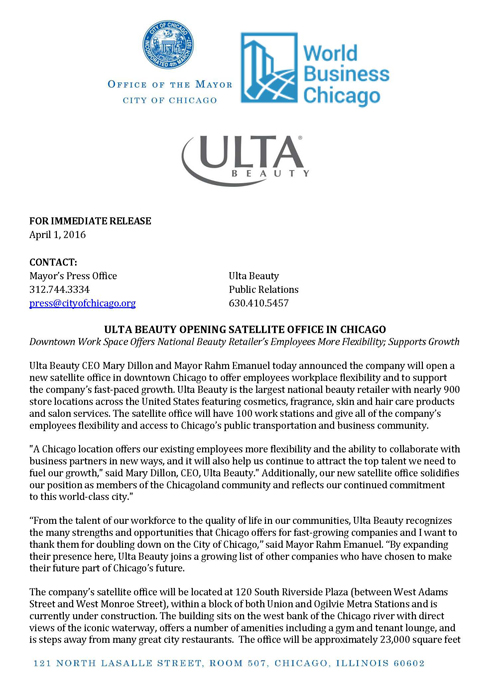 Several times each month since his inauguration for his first term in May 2011, Chicago Mayor Rahm Emanuel has joined with corporate executives at public expense to promote corporate claims of "job creation" in Chicago and add to corporations' public relations bins. Above, the logos of Ulta and Chicago proudly proclaimed that the suburban corporation was going to put a few jobs into Chicago -- while maintaining most of its corporate jobs, including PR, in the "630" area code.ULTA BEAUTY OPENING SATELLITE OFFICE IN CHICAGO… Downtown Work Space Offers National Beauty Retailer's Employees More Flexibility; Supports Growth…
"Ulta Beauty CEO Mary Dillon and Mayor Rahm Emanuel today announced the company will open a new satellite office in downtown Chicago to offer employees workplace flexibility and to support the company's fast-paced growth. Ulta Beauty is the largest national beauty retailer with nearly 900 store locations across the United States featuring cosmetics, fragrance, skin and hair care products and salon services. The satellite office will have 100 work stations and give all of the company's employees flexibility and access to Chicago's public transportation and business community.
"A Chicago location offers our existing employees more flexibility and the ability to collaborate with business partners in new ways, and it will also help us continue to attract the top talent we need to fuel our growth," said Mary Dillon, CEO, Ulta Beauty." Additionally, our new satellite office solidifies our position as members of the Chicagoland community and reflects our continued commitment to this world-class city."
"From the talent of our workforce to the quality of life in our communities, Ulta Beauty recognizes the many strengths and opportunities that Chicago offers for fast-growing companies and I want to thank them for doubling down on the City of Chicago," said Mayor Rahm Emanuel. "By expanding their presence here, Ulta Beauty joins a growing list of other companies who have chosen to make their future part of Chicago's future."