State Rep proposes law to block Chicago school closings, phase outs, consolidations, and turnarounds (February 3, 2009)
George N. Schmidt - February, 2009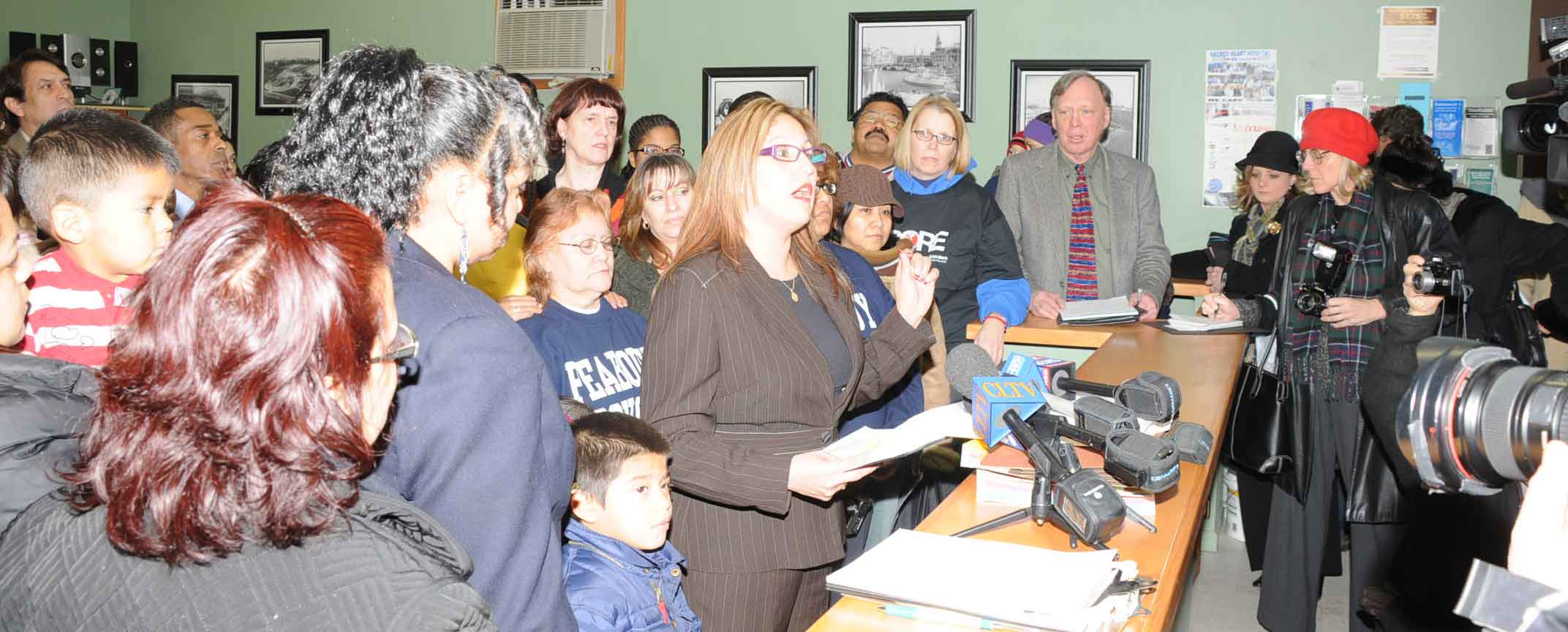 State Rep. Cynthia Soto (above, center) explains HB0363 to reporters and supporters gathered at her north side office on February 3, 2009. Soto told the group that Chicago Public Schools officials had reneged on a previous agreement not to close or otherwise transform schools without six months' warning (a deal that was made after a previous bill had passed the Illinois House unanimously two years ago). She said that HB 0363 would rescind any action the Chicago Board of Education might try to take this school year -- including current actions targeting 22 schools -- and would hold back further actions until the 2010 - 2011 school year. Substance photo by George N. Schmidt.State Rep. Cynthia Soto (D, Chicago) told the media and an office packed with supports that she is again introducing legislation in the Illinois General Assembly to block further school closings, consolidations, phase outs and so-called "turnarounds" in Chicago until a full investigation can be held into the city's current activities and long-range notification be given to everyone associated with an affected school.
Rep. Soto announced the bill at a morning press conference held at her north side Chicago office on February 3, 2009. More than 80 parents, teachers, students and community leaders surrounded her while she made the announcement.
The new bill, (HB 0363), follows an prior attempt by Rep. Soto and other lawmakers to address the issue of school closings and other disruptive changes with prior legislation and a compromise with Chicago Public Schools officials.
Rep. Soto's new bill will do the following:
-- Place a moratorium on school closings, turn-arounds, consolidations and phase-outs for one year and nullify any action that the Board takes during the current school year. "If this bill becomes law," a Soto press statement said, "these actions will all be halted until the 2010-2011 school year, even if such decisions are approved by the Chicago Board of Education."
-- Appoint a committee of six State Representatives and State Senators to develop a new set of fair requirements to all school repairs, school construction, school closings, school turnarounds, school consolidations, school phase outs, and school boundary changes in Chicago. "These new requirements will be developed with major involvement of parents, teachers, and the community -- and with expert outside help," Soto said.
Widespread support among parents across Chicago
An unusual aspect to the February 3 announcement was the large number of parents, teachers, and community leaders who gathered at Rep. Soto's office to provide support for the bill and inform the media of the problems they are facing as the Chicago Board of Education moves to radically change 22 schools this school year, after having changed 18 during the 2007-2008 school year and dozens in each of the previous years.
More than 80 people -- including parents, teachers, students, and community organizers -- were gathered in the small offices on Chicago's Grand Ave. for Rep. Soto's announcement.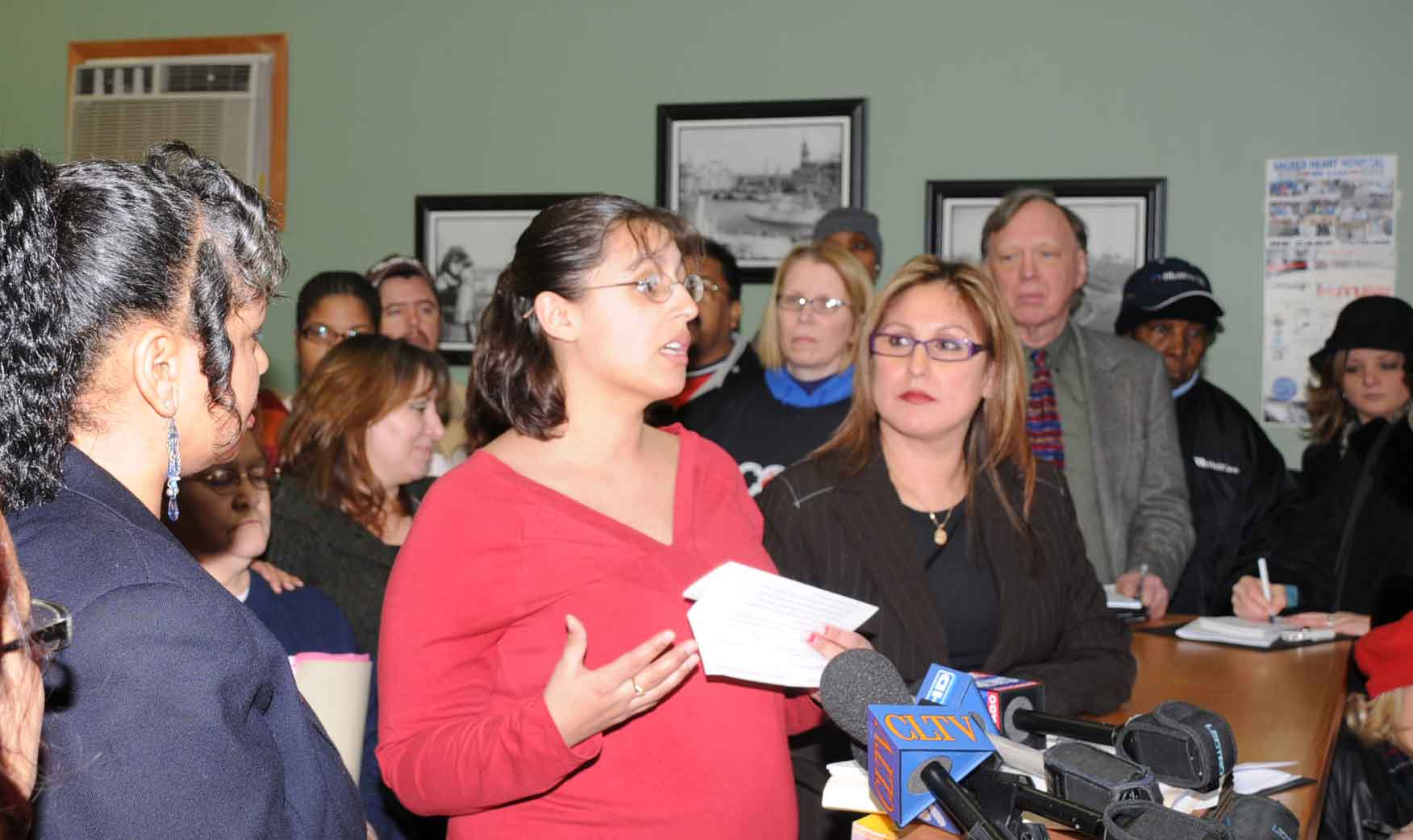 Jessica Contreras, parent of a child at Carpenter Elementary School, explains why the Board of Education should not be allowed to close her child's school during the February 3 press conference at the offices of State Rep. Cynthia Soto (to Contreras's left). Contreras and others from Carpenter pointed out that the Chicago Board of Education is planning to remove neighborhood children from the school despite its exemplary record, small class sizes, and services to the community. One year ago, on the advice of former Chicago Schools Chief Executive Officer Arne Duncan, the school board voted to create and "Ogden High School" for students from the Ogden Elementary School. Ogden, which serves children from one of the wealthiest communities in the USA, is only one mile from Carpenter, but a world away on Chicago's "Gold Coast." Rep. Soto's legislation would bar such changes in community schools unless there had been a thorough study done and widespread community input. Substance photo by George N. Schmidt."We were shocked when we learned that our school was slated to be closed this year," said parent Jessica Contreras, from Carpenter Elementary School (1250 W. Erie St.), a few blocks from Rep. Soto's office and in her district.
Ms. Contreras told reporters that Carpenter school serves a student population that is officially 87 percent "low income." According to Contreras, the school has been showing measurable improvement each school year (even by the stilted measure of the Board of Education's use of standardized tests). At both public hearings on the proposed closing of Carpenter and at the February 3 press conference, Contreras attributed the improvements in the school to the fact that Carpenter is able to provide much more attention to individual students because of its size. CPS also has an official policy promoting what are called "small schools," but critics of the current closings have noted that the policy seems only to apply to charter schools, and not to regular public schools that achieve serious improvements because they are able to make more creative use of space as the pressures of large populations ease.
The reason for the proposed closing of Carpenter is that the school is "underutilized," according to CPS officials, Contreras told the press. Dozens of parents and teachers from Carpenter gave testimony in opposition to the closing of the school at a January 29 hearing at CPS headquarters. At the hearing, CPS demographer James Dispensa provided charts and other materials which he stated supported the CPS position that Carpenter was what CPS calls "underutilized."
Contreras and others noted the suspicion in the community that the real reason is that the Board of Education wants to give the entire Carpenter building to the Ogden Elementary School to create a "New School. The New Ogden would use the Carpenter building as a high school. Students from Ogden have been using the upper floor of Ogden this school year. Last school year, then Schools Chief Executive Officer Arne Duncan proposed that the Board of Education create an Ogden High School to serve students from the Ogden attendance area. Ogden, and State and Oak streets adjacent to the city's Rush Street areas, serves on of the wealthiest populations in Chicago -- the Gold Coast and "Streeterville" communities.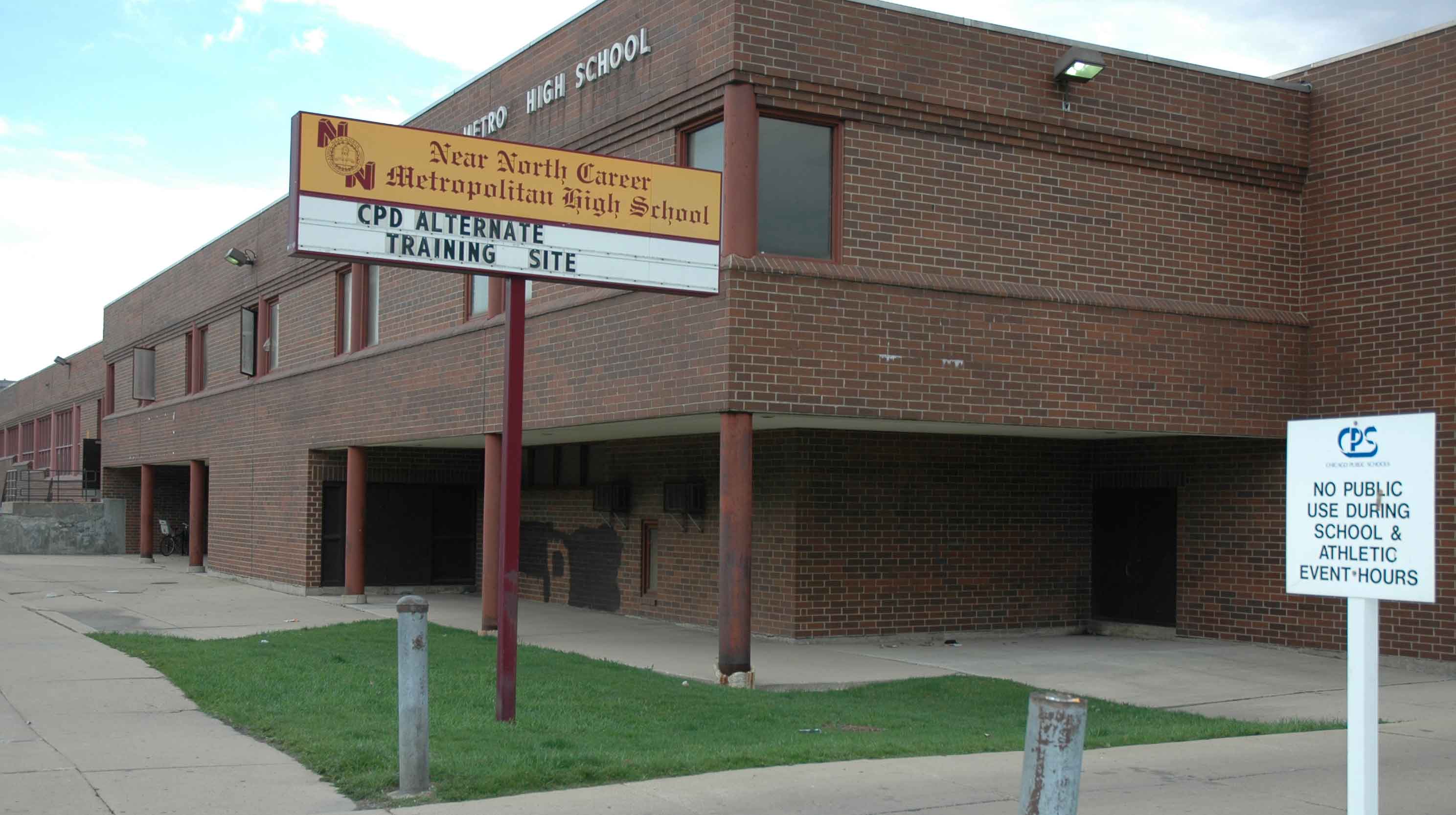 CPS officials are insisting that the new "Ogden High School" has to be placed inside the Carpenter Elementary School building at 1250 W. Erie St. At no time during the discussion of the need for the "Ogden High School" have CPS officials informed the members of the Chicago Board of Education that CPS already owns a high school building (Near North Career Magnet, above, at 1450 N. Larrabee St., adjacent to the Cabrini- Green area). Near North (shown above in a Substance photograph taken in 2007) served as a high school both during its days as a vocational high school and more recently, three years ago, as the site of the Jones College Prep High School during renovations on the Jones building (which is located at 606 S. State St.). Massive renovations are necessary over time when CPS attempts to convert a small elementary school (such as Carpenter) into a "high school." Everything from washroom sinks to commodes have to eventually be changed. The prohibitive cost is never itemized when CPS officials discuss such things as the closing of Carpenter as an elementary school and the creation of an entity such as "Ogden High School." Substance photo by George N. Schmidt.Other critics also noted that the Ogden High School could have been placed in one of two vacant Chicago Board of Education properties -- the Near North Career Magnet High School building, or the Mulligan Elementary School building. Why the Ogden High School was placed inside a successful elementary school has not been explained by school officials.
Peabody school being forced out to give more space for Noble Street charter?
Lillie Gonzalez, a grandparent of students at nearby Peabody Elementary School, raised similar criticisms of the attempt by the Chicago Board of Education to close Peabody this year.
THE COMPLETE TEXT -- WITH ALL GRAPHICS -- OF THIS ARTICLE WILL BE PUBLISHED IN THE FEBRUARY 2009 PRINT EDITION OF SUBSTANCE. THE PRINT EDITION WILL BE MAILED TO ALL SUBSCRIBERS ON FEBRUARY 17, 2009.