TRUMPING OUT: A major question on March 12, 2016 to Donald Trump is why he lied and slandered the Chicago police about his 'postponement' of the March 11 rally... FACT: Trump did not speak to the Chicago Police Department before he chickened out of going into the Pavilion...
George N. Schmidt - March 12, 2016
Why did Donald Trump lie about the Chicago Police Department? Although there are many questions to ask Donald Trump following his decision to hide away from the massive protests against him in Chicago on March 11, 2016, a big one is why this "law and order" guy decided to lie about the Chicago Police Department. And that's precisely what he did when he announced he was "postponing" his UIC Pavilion rally.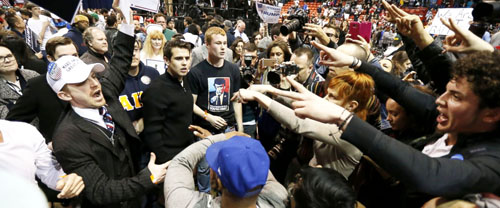 Trumpsters -- supporters of Donald Trump -- are seen clashing with opponents of Trump and his fascist message inside the University of Illinois at Chicago Pavilion on March 11, 2016. There were virtually no arrests despite the heated exchanges, yet Trump claimed that he had spoken with "law enforcement" about his desire to "prevent violence" before he announced that he was "postponing" the event. The photo above was circulated by the Associated Press.The more dramatic facts are well known internationally at this point. Trump scheduled one of his massive Trump rallies in a public building -- the University of Illinois at Chicago Pavilion -- just southwest of Chicago's Loop. It was supposed to take place on the evening of March 11, 2016. (Apparently Trump's people had become so overconfident -- or crazily macho -- by then that they didn't realize that all the public has the right to go to a public event in a public building, as do members of the media (ALL the media, not just the few still approved by The Donald and his minions).
As a result, almost all the media were able to get into the Pavilion for the Trump event, if they wanted to, even if Donald Trump was going to encourage his mobs to attack reporters and camera crews like Chicago were some Third World place where reporters routinely face the wrath of dictators like Trump trumpets. Also inside (and even more outside) were hundreds (perhaps thousands) of people who don't like Trump. Those people were also eligible to get inside the Pavilion. And contrary to what Trump's campaign and security staff tried to do, Trump couldn't stop "unapproved" people from going to a public event in a public building in Chicago.
The result was that after fights broke out and the protesters and their protest chants were clearly not going to run away, Donald Trump ran away. After months of macho blustering and encouraging violence against protesters and reporters, Trump ran away from the confrontation. Apparently, his version of "Make America White Again" was not up to the challenge of the facts of America today...
But that wasn't all.
Trump also lied about the Chicago police. Hundreds of Chicago police officers were, as usual, doing their jobs keeping the protesters outside the huge (capacity 7,000) hall separated from those trying to enter the hall and, in some cases, hear Trump.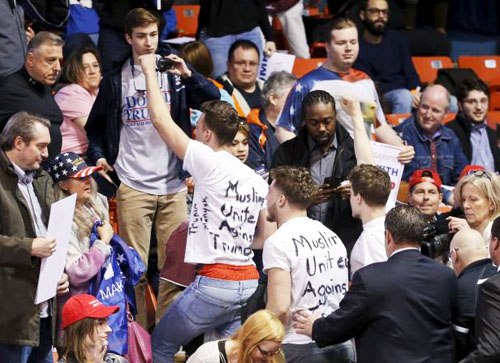 Trump's supporters were encouraged to bring their signs and cheers to the Trump rally, but many of those organized to protest decided to wear their signs -- on shirts -- under their other clothings. Above, news photographers caught "Muslims United Against Trump" during the Chicago confrontation.Trump told The New York Times and other media after he "postponed" his March 11 Chicago rally that he had spoken with "law enforcement" and decided in the interest of preventing "violence" he was "postponing" the rally. When his minions took the stage to announce that Trump wasn't coming, the Trump supporters inside were angry, saddened, or confused, while Trumps opponents were gleeful, chanting, singing and celebrating.
But if Trump has some direct line to "law enforcement" in Chicago, it's not to the commanders of the Chicago Police Department. Shortly after the Trump announcement, the head of Chicago's police told the press that Trump had not -- as in NOT -- spoken with him or any representative of the Chicago Police Department.
So, like so many other questions raised about the things Trump says, by March 12, 2016 the question was not whether Donald Trump lied about his decision to "postpone" his Pavilion rally, but why. Did he want to insult Chicago's 12,000 police officers, some of whom were injured trying to protect the same First Amendment rights that Trump has been trying to trample on for months, escalating his calls for violence against those who disagree with him at rally after rally after event.
CHICAGO POLICE DEPARTMENT PRESS RELEASE ISSUED AT 6:30 p.m ON MARCH 11, 2016...
Shortly before 6:30 pm, the Chicago Police Department was notified by officials that the Trump campaign had cancelled their scheduled event. We are continuing to work with our partners in the United States Secret Service and the University of Illinois at Chicago Police to protect people's First Amendment rights and ensure everyone is able to disperse the area safely
Chicago Police Department
Office of News Affairs
(312) 745-6110
Fax (312) 745-6999
Those who cover news in Chicago know that the Chicago Police Department's Office of News Affairs is a "24/7" operation, and that there is always someone available to speak with the press, or with others. According to Trump's own words, however, he "spoke with law enforcement" -- but not with the Chicago Police Department?! Whiskey Tango Foxtrot, as is often said about Trump.
The Chicago police had gone out of their way to protect the First Amendment rights of everyone, which is more than Donald Trump has done with protesters and reporters who try (often in vain) to get answers to serious questions. Prior to the rally, for example, the police issued a statement to every media organization (including Substance) outlining how media could park for the event:
Chicago Police will stage local vans (mini cam) trucks on Harrison going east from Racine, along the north curb. Print and other media in vehicles, east of the vans, on Harrison. Satellite trucks will be staged by UIC on Congress. CPD will have a supervisor on scene to direct them but they need to be in place before 5:00 p.m. on Friday March 11th.
Chicago Police Department
Office of News Affairs
(312) 745-6110
Fax (312) 745-6999