With Cawley gone, will CPS end the major Cawley programs -- the corrupt Aramark 'dry zamboni' school cleaning deal, and, as corrupt, the 'Free lunch for millionaires' kids (and increase Aramark's numbers!)' program...
George N. Schmidt - September 18, 2015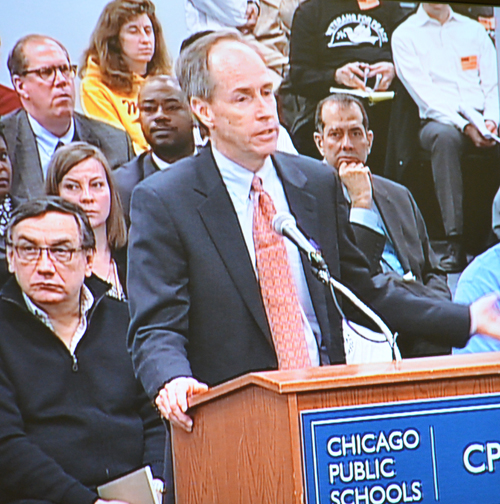 When Chicago Public Schools "Chief Administrative Officer" Tim Cawley touted his proposal to give a huge contract to Aramark for school custodial services at the Board's February 26, 2014 meeting (above), the Board members as usual provided Cawley with puff ball questions enabling Cawley to tout the program beyond the silly limits of his Power Point slides. Substance photo by George N. Schmidt.The Friday afternoon news leak that Chicago Public Schools "Chief Administrative Officer" Tim Cawley was being removed from his $215,000-per-year job came as no surprise, given the fact that the latest CPS management, under the fourth "Chief Executive Officer" in five years, Forrest Claypool, is determined to churn things a bit more, while claiming that these changes are a sure-fire way to make things better, and, as they say, "improve outcomes." Of course, "improved outcomes" have been happening every day at CPS, at least if CPS propaganda since Rahm Emanuel took over in May and June 2011 is to be believed. But by the end of the day on September 18 2015, it was clear that Cawley was on his way out the door. And so the first place we checked about our coverage at Substance was a piece we posted in May, before the Claypool coup d'etat, about the Cawley era of corruption. The URL is: http://www.substancenews.net/articles.php?page=5622.
Attention at least late on Friday, September 18, has been on the Cawley deal that brought Aramark into Chicago's schools, at an unprecedented price, supposedly to make schools cleaner for less. Like most privatization deals touted by the Emanuel administration, the Aramark cleaning contract was worse than reported or touted in the Power Point presentations that Cawley offered the Board of Education at its February 2014 meeting. Supposedly, Aramark was going to make everything more efficient, cost less, and give the kids cleaner schools. And Cawley continued with that particular lie every time a principal, parent, or other person brought out the fact that the schools were dirtier and the price higher since the Armark deal was voted on by the Board of Education. The only thing that really happened under that Aramark deal was the custodial workers were fired, staffs reduced, and principals found it more and more difficult to deal with the routine cleaning of their buildings, let alone with the routine emergencies that happen in any school in the real world. Cawley's Power Point abstractions and unctuous rhetoric notwithstanding, the cleans deal with a corporate coup d'etat that only furthered the Board's objective -- to privatize as much as possible as quickly as possible before everyone got caught.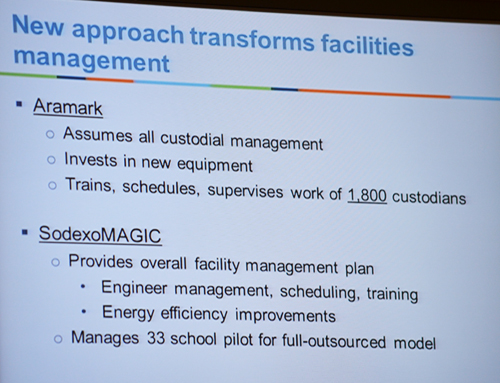 Despite Tim Cawley's claims (above, one of the February Power Point slides) that the massive privatization of custodial services was going to improve performance and "outcomes" in keeping the city's schools clean, by June 2014 the transition had collapsed and principals and union leaders were gathering photos (and other evidence, such as rodent droppings) demonstrating that the claim that Aramark was doing a "better" job was nonsense. Substance photo from the slide at the February 26, 2014 Board meeting by George N. Schmidt.But equally dangerous, and even more stunning, was the other deal that Cawley gave to Aramark. Shortly after Aramark got a near monopoly on school food services (the other contractor is Sodexo-Magic, which is run by Rahm Emanuel contributor Magic Johnson), CPS began its program of providing free lunch for everyone, including the children of millionaires (and possibly even a billionaire or two) by proclaiming that the nation's third largest school system would not longer provide free lunches only to those children who qualified under federal law. It was, so to speak, a lunch free for all, with few parents refusing to allow their middle class and more affluent children to participate. By the 2014 - 2015 school year, every child in Chicago's public schools, from the wealthy Black families of Pill Hill to the sons and daughters of the millionaires (and more) along the Gold Coast got free lunch. Thanks to a Cawley proposal and a Board of Education decision.
When the stunning free for all program was first announced, Cawley and CPS administrators tried to claim that it would reduce paperwork and free principals to do other things that review free lunch applications. But the deal was really a behind-the-scenes way of increasing Aramark's numbers. When the food services company was fired hired by CPS, it was not really able to show that its food services were capable of providing for such a huge system as Chicago's. By increasing the number of "free" lunches, CPS helped the corporation goose up its numbers.