BOARDWATCH: Chicago Board of Education meeting of August 26, 2015, Neal Resnikoff speech, highlighted by large public protests against budget lies before the Board doubles down and votes to approve its $6.8 billion budget for the 2014 - 2015 school year
Neal Resnikoff - August 29, 2015
[Editor's Note: The following speech was delivered to the August 26, 2015 meeting of the Chicago Board of Education. During the next two days, Substance will be publishing the remarks by various people who spoke at that Board meeting. Those who haven't provided us with their materials should email them to Csubstanc@aol.com. George N. Schmidt, Editor, Substance].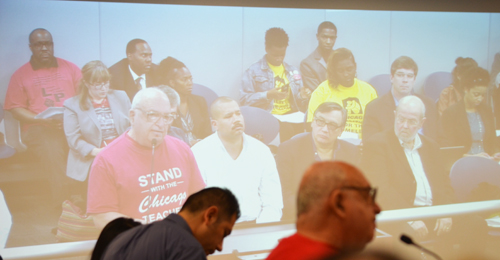 Neal Resnikoff (right, and on the screen) speaking to the Board of Education on August 26, 2015. Substance photo by George N. Schmidt.Hello, I am Neal Resnikoff from Albany Park,North Park,Mayfair Neighbors for Peace and Justice.
I would like to ask you why you aren't serious about seeking revenue for the schools from one place where billions of dollars are readily available? Why aren't you advocating to get money from-- the two out of three corporations in Illinois that do not pay taxes on profits? How about advocating to have the millionaires and billionaires pay a higher tax rate on their income? How about urging a tax on financial transactions at the commodities exchange and other changes? Being successful in doing this would wipe out the deficit for the Chicago schools, for the City, and even for the State.
Will you respond to my question about you actively seeking revenue from these sources, for Making the Rich Pay? What do you think? We the people do not feel it is just or fair to pay one more single penny in property taxes or other forms of taxes for the financial hole the Board of Education is in, a hole of the Board's own making, when you haven't worked to get money from those who have it. Will you answer my question: Why aren't you actively seeking to Make the Rich Pay?
[There was no reply from anyone connected to the Board of Education, even though there was ample time left under my two-minute speaking time, let alone time after that. ]