BOARDWATCH: Ed Hershey
Ed Hershey - November 22, 2014
[Editor's Note: Substance's BOARDWATCH is publishing the remarks prepared and delivered by the speakers at the monthly meeting of the Chicago Board of Education. The meeting of November 19, 2014, held in the wonderful auditorium at Westinghouse High School, saw more than 500 people in attendance -- with 60 people signed up to speak Many more people would have signed up and spoken, but the Board of Education censors the number -- as well as the speakers with which Board members disagree. As regular readers of Substance know, the Board forbids more than 60 speakers to even sign up to speak at each of its once-a-month meetings, no matter how many people wish to try and exercise their rights under the First Amendment to "petition the government for a redress of grievances." The following material was prepared by Ed Hershey and provided to Substance by him. In addition to being a teacher at one of Chicago's finest high schools, Ed Hershey is a candidate for alderman of the 25th Ward. George N. Schmidt, Editor, Substance].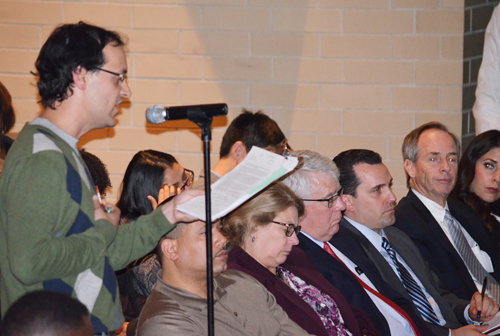 Above, Lindblom High School physics and robotics teacher Ed Hershey confronts the Board over the waste caused by the Aramark contract, which was touted at the January 2014 Board meeting by "Chief Administrative Officer" Tim Cawley (a right smirking). Substance photo by Nate Goldbaum.Hello, my name is Ed Hershey, I am a physics teacher and Robotics coach at Lindblom High School.
As we all know, we need more money. It is unacceptable, it is criminal, that while we teach under the rigors of a steady stream of budget cuts, that the City diverts money away from the schools to private interests.
For example there's the Aramark contract. Aramark received hundreds of millions to clean our schools, with the result that we all know well –- our schools, our classrooms, hallways and restrooms, are filthier, not cleaner.
The Kelly students did a good job of documenting that earlier.
Tim Cawley told us that the District would save money –- and they have –- by making hundreds of layoffs, removing important members of our school communities. So what is Aramark doing with our students' money? A custodian today told me that Aramark has been flying in managers from Boston, and from Texas. So that's where our money is going –- adding a whole new layer of management, and flying them in from around the country.
The building engineers were already doing this work. Aramark shareholders stand to reap fat dividends out of money that ought to go for our students' education, while our students deal with filthy schools. You, as members of the Board, are charged as stewards of our students' education. If you take that task seriously, you will stop asking us to accept cuts, and cut the money for Aramark.