CTU: 'Karen Lewis underwent successful surgery.'... Sharkey will head union during Karen's recovery
George N. Schmidt - October 10, 2014
The Chicago Teachers Union issued a press release prior to its October 9, 2014 press conference that state as below. No additional information was provided at the press conference. The news has been covered on every major media in Chicago, with fewer facts provided than in the following press release...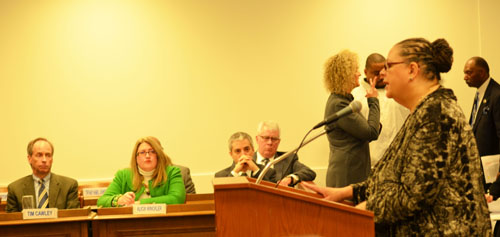 Above, Chicago Teachers Union President Karen Lewis spoke to the April 23, 2014 meeting of the Chicago Board of Education, while several of the Board's highest paid executive sat in the background. In the photograph above, Lewis is the only person who actually has classroom teaching experience in Chicago. The others, from left to right, are "Chief Administrative Officer" Tim Cawley (who came to CPS from Motorola and AUSL), "Chief Talent Officer" Alicia Winckler (who came from Sears Holdings), Chief Transformation Officer Todd Babitch (who came with an MBA and experience in consulting), and "Chief Repurposing Officer" Tom Tyrell, who was hired by CPS after he retired from the United States Marines. Substance photo by George N. Schmidt.Chicago Teachers Union Statement, Medical Update on President Karen Lewis
IMMEDIATE RELEASE. CONTACT: Stephanie Gadlin, 312-329-6250
October 9, 2014 CHICAGO—Chicago Teachers Union (CTU) President Karen Lewis underwent successful surgery yesterday for a serious illness and is recovering well.
During President Lewis' recovery, CTU Vice President Jesse Sharkey will assume the duties of the president according to the rules set forth in the CTU Constitution and By-laws.
"Out of respect to President Lewis' wishes, the wishes of her family, and their privacy, we cannot provide details on her condition, but we wish her all the best and pledge all of our support—both in aiding her recovery and in carrying on the work of the CTU about which she cares so deeply," Sharkey said.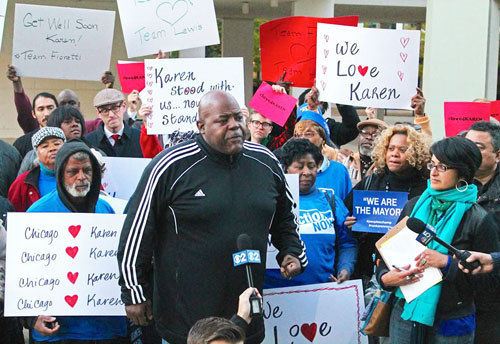 Jitu Brown (above speaking) was one of several speakers who gave their love and support to Karen Lewis during a rally at her old school, King HS, on October 9, 2014. Photo by Bob Simpson. The Chicago Teachers Union represents 30,000 teachers and educational support personnel working in the Chicago Public Schools, and by extension, the more than 400,000 students and families they serve. The CTU is an affiliate of the American Federation of Teachers and the Illinois Federation of Teachers and is the third largest teachers local in the United States and the largest local union in Illinois. For more information please visit CTU's website at www.ctunet.com
CORPORATE NEWS STORIES BELOW HERE...
CHICAGO TRIBUNE OCT 9
By Juan Perez Jr. and Hal Dardick,
Chicago Tribune
UnionsElectionsEducatorsKaren LewisRahm EmanuelChicago Teachers UnionToni Preckwinkle
Mayoral campaign's future unclear, as surgery prompts Karen Lewis' temporary removal as CTU head
Chicago Teachers Union President Karen Lewis' illness is serious enough for her to temporarily relinquish leadership of the union, officials said Thursday, but a lack of details on her condition makes it difficult to determine if her health will derail a much-anticipated challenge to Mayor Rahm Emanuel.
"I understand that many people in this room, and many people in this city, want to know about Karen Lewis' health status because they care about the mayoral election in this city," CTU Vice President Jesse Sharkey said at an afternoon press conference. "I think that's fair enough. But please be aware that's a question that I can't answer."
Annie Harris, from left, and Katelyn Johnson watch Saniah Sutton sign a get-well card for Karen Lewis at a rally in her support at King College Prep High School on Chicago's South Side on Thursday. The teachers union chief and putative front-runner to unseat Mayor Rahm Emanuel in February's... (Armando L. Sanchez, Tribune)
Four days after Lewis, 61, was hospitalized after feeling ill at her South Side home, the union offered a bit more information on her condition, saying she had undergone surgery and is suffering from a "serious illness." Sharkey said he is stepping in as the CTU's leader in her absence.
Sharkey said he could not provide more specific information, at the request of Lewis' family.
"I'm not privy to the detailed information between her family and her doctors," Sharkey said. "And her family has been very explicit and extremely clear about their desire to keep the details of her health matters out of the public eye."
The lack of information leaves in question whether Lewis will recover in time to enter the race by the Nov. 24 deadline for filing nominating paperwork. Even with Emanuel suffering from low poll numbers, Lewis is widely seen as the one candidate who could spark a real race.
Ald. Roderick Sawyer, 6th, who has supported a Lewis candidacy, said Thursday that it's too early to speculate on what the union's statement on Lewis' illness means for a potential mayoral run.
lRelated Memo to Karen Lewis: Until we tussle again ...
EDITORIALS
Memo to Karen Lewis: Until we tussle again ...
SEE ALL RELATED
8
"Fioretti is still in the race. Amara Enyia is still in the race. But Karen made it exciting," said Sawyer, son of former Mayor Eugene Sawyer. "I'm less concerned about that right now. I just want to make sure she's OK."
Ken Snyder, a political consultant who does work for Cook County Board President Toni Preckwinkle, said Lewis still has time to make an announcement either way.
"She has a whole month to figure this out," Snyder said. "She can't conceivably be expected to be wheeled out of the recovery room and make an announcement. She has to be given some time."
Jhatayn "Jay" Travis, who heads Lewis' exploratory committee, said Thursday that she spoke to Lewis before the surgery and found her "in good spirits and doing quite well." But Travis said they have not spoken since the surgery.
OPEN LINK
Travis said that Lewis will at some point make an announcement "on her own volition." She said he didn't know when that might happen.
Meanwhile, the exploratory committee continues to circulate candidate petitions for Lewis. "We haven't been told to stop doing what we are doing, so we are moving forward," Travis said.
If Lewis opts not to run or is unable to do so, Emanuel faces a significantly easier path to re-election. The mayor's approval rating had dropped to 35 percent in an August Chicago Tribune poll, and Lewis scored 43 percent to 39 percent in a head-to-head matchup with Emanuel.
The only other major Emanuel challenger is 2nd Ward Ald. Robert Fioretti, who entered the race last month. Fioretti faces a bigger challenge than Lewis in raising money and putting together the campaign operation and support needed to give Emanuel a strong challenge. Emanuel and Fioretti both issued statements Thursday sending get-well wishes to Lewis.
cComments
Boring.....
DWAYNE HOOVER
AT 7:55 AM OCTOBER 10, 2014
ADD A COMMENTSEE ALL COMMENTS
2
Former 44th Ward Ald. Dick Simpson, a political science professor at the University of Illinois at Chicago who has contributed $5,000 each to Lewis and Fioretti's campaign funds, said Lewis will have to explain her medical condition to voters if she plans to enter the race.
"Health is always an issue," Simpson said. "Voters would want to know that she would be well enough to be mayor and serve out the four-year term. She doesn't have to do that today or tomorrow, but certainly before she makes an announcement to run, much as Fioretti has."
Fioretti was exploring a mayoral race four years ago when he announced he had throat cancer and would instead run for re-election as alderman. He now says his health is fine.
Preckwinkle said the latest news on Lewis' health would not affect her earlier decision not to enter the mayoral race.
Union: CTU president has 'serious illness'
Union: CTU president has 'serious illness'
Juan Perez
"Karen's presence or absence in the mayoral race had nothing to do with this. It had to do with the agenda that's in front of us in the county," Preckwinkle said.
Lewis, a fierce critic of Emanuel who led her union on a contentious seven-day strike in September 2012, has started raising money and formed an exploratory committee for a possible challenge to the mayor.
She has yet to declare her candidacy. But those steps elevated Lewis to become a major political figure in Chicago beyond her role as union president, and cast a spotlight on questions about her health and the lack of clarity surrounding it.
Lewis could secure a spot on the ballot by the Nov. 24 filing deadline and then decide to drop out any time before the Feb. 24 election. The mayor's race is unlikely to take center stage here until after a Nov. 4 statewide election that features top races for governor and the U.S. Senate.
Lewis swept to the union presidency in 2010, unseating two-term President Marilyn Stewart with a margin of more than 3,700 votes a runoff election. The chemistry teacher at King College Prep High School on the South Side immediately promised a more vigorous stand against job cuts and class-size increases, days before the Chicago Board of Education held an emergency meeting to grant layoff and class-size authority to the district's chief executive.
She's taken on a string of CPS executives since, condemning many of the fiscal austerity measures promoted by Emanuel and district officials and leading a stormy round of labor contract negotiations that led to Chicago's first teachers strike in a quarter-century and gained her widespread respect among membership and in many corners of the city.
Following Thursday's news conference, CTU officials gathered in a circle back inside their office, joined hands and bowed their heads. A staff assistant then lowered a shade over the window.
Tribune reporter John Byrne contributed.
jjperez@tribune.com
jebyrne@tribune.com
hdardick@tribune.com