OPT OUT NEWS: New Labor Beat video shows the growth of the Chicago ISAT Opt Out and boycott
Larry Duncan - March 15, 2014
A new 17-minute video from Labor Beat gives the story of the current Chicago ISAT Opt Out campaign. The video "Chicago ISAT Opt Out" is available on YouTube at: http://youtu.be/ixx-Y-5EKzQ and is also archived at: www.laborbeat.org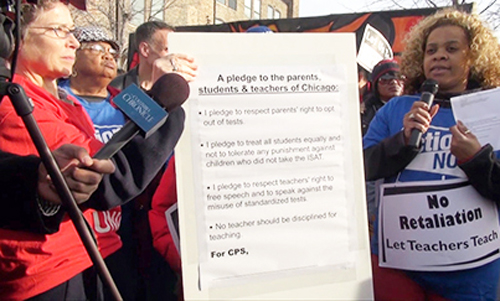 Chicago Teachers Union organizing coordinator Norine Gutekanst (left) and Saucedo parent Zerlina Smith (right) during the March 10 action at Saucedo. Labor Beat photo by David Vance.In late February 2014, plans were announced that community groups, such as More Than A Score, in collaboration with the Chicago Teachers Union, would begin organizing resistance to taking and giving the ISAT (Illinois Standard Achievement Test). Main reasons were: one, the scores won't matter in school ratings, or grade advancement for students, or selective enrollment admission and teacher evaluations; and two, the ISAT is part of a national plague of excessive testing, taking away teaching time and providing a cynical and distorted metric to use for racially-biased school closings.
We show in this video various stages of this campaign: a CORE organized discussion among students, parents and teachers on Feb. 22; a More Than A Score press conference on Feb. 24; a test opt-out organizing meeting by CORE on Feb. 26; a press conference in front of Saucedo Scholastic Academy on March 4 announcing the first successful opt out day there; and a big rally at the Network 7 CPS offices on March 10 to protest the bullying by CPS of students, parents and teachers who opted out. The March 10 rally also reasserted the rights of opt-out resisters to carry out their actions.
We can see here the growth of the opt out campaign in Chicago from discussion, planning, execution, and riposte to CPS's attacks. What becomes evident from CPS's going "ballistic" is that this resistance is not only exposing the ISAT test as an absurd waste of time and money. It is also opening a Pandora's Box for the ruling class, exposing how capitalism today is engineering class and race exploitation on the bedrock level of ideological and psychological control of the youngest members of society.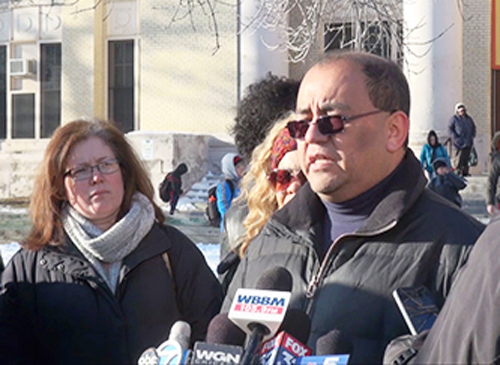 David Navarro, Adams school parent, who opted out his daughter. "After the test, her class was given treats, but she and the two other students in her class were told [they] couldn't have any because they didn't take the test." Photo: David Vance / Labor Beat.
Appearing in the video are: Cassie Creswell (More Than A Score); Julia (Saucedo student); Katie Osgood (Special Education Teacher); Dr. Monique Redeaux (Co-chair, CTU Black Caucus); Carol Caref (Research Assistant, CTU); Nate Goldbaum (Member Communications, CTU); Sarah Chambers (Teacher, Saucedo); David Navarro (Parent, Adams School); Norine Gutekanst (Organizing Coordinator, CTU); Thomas Tulley (former teacher at Clemente HS); Zerlina Smith (Parent, Saucedo); Craig Cleve (Teacher, Columbia Explorers Academy); Ann Carlson (Teacher, Drummond); Sandra Posadas (Teacher, Saucedo). Length - 17:43
Labor Beat is a CAN TV Community Partner, and member of the Evanston Community Media Center. Labor Beat is a non-profit 501(c)(3) member of IBEW 1220. Views are those of the producer Labor Beat. For info: mail@laborbeat.org, www.laborbeat.org. 312-226-3330. For other Labor Beat videos, visit YouTube and search "Labor Beat".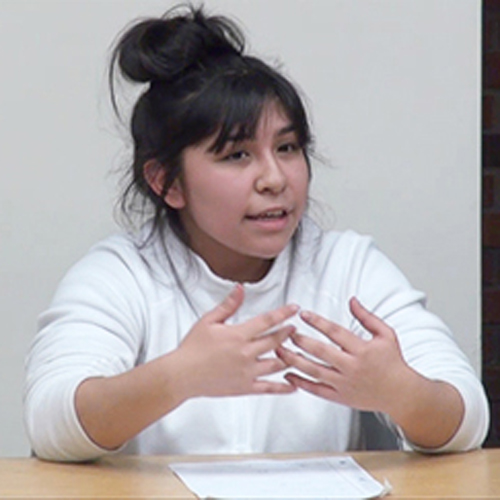 Saucedo student Juliana calls ISAT pointless. "It is basically coming out of your tax money...We can use your tax money to put that money into the schools and books and put us into what level we actually need." Photo: David Vance / Labor BeatOn Chicago CAN TV Channel 19, Thursdays 9:30 pm; Fridays 4:30 pm. Labor Beat has regular cable slots in Chicago, Evanston, Rockford, Urbana, IL; Philadelphia, PA; Princeton, NJ; and Rochester, NY. Visit our Web Site:
http://www.laborbeat.org
Labor Beat's facebook page:
http://www.facebook.com/pages/LABOR-BEAT/167503422257
To order this dvd from Labor Beat (Committee for Labor Access):
(Put title of DVD, "Chicago ISAT Opt Out" in Description box. Put $15 in Unit Price box. $20 for Canada, and $25 for other countries outside the U.S. NTSC format only.)