REIGN REVIEWS: Jim Horn's review of 'Reign of Error' welcomes Diane Ravitch to the ranks of The Resistance... America's Education Whistleblower... Diane Ravitch and the Reign of Error... other reviews....
Jim Horn - October 03, 2013
In 2007 when Diane Ravitch descended from her 20,000-foot view of the education reform landscape to examine what was going on at ground level, she did not like what she saw:
-- children suffering nose-bleeds and vomiting from test anxiety;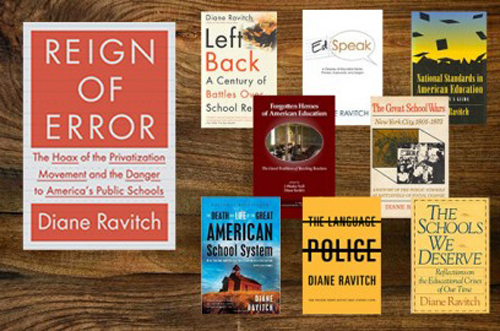 By the time Diane Ravitch broke with the corporate masters of "school reform," she was one of the most prolific and respected historians of public education in the United States. Her books, going back to the 1970s (with "The Great School Wars") had influenced generations of students of education, but she remained well into the 21st Century a partisan on the side of corporate "reform." With the 2010 publication of "The Death and Life of the Great American School System" she broke with the corporate reformers and became Number One of their enemies list.-- school personnel and parents humiliated by test results designed to satisfy the failure quotas imposed by cynical and self-serving corporate privateers and political ideologues;
-- educators being blamed for the effects of poverty that no amount of good teaching could fix alone;
-- untrained beginners replacing education professionals in schools that needed the most caring and experienced teachers;
-- schools that had functioned as community centers of identity and activity being closed;
-- a pathological fixation of quantifiable data that had displaced attention to the human needs of growing children; an educational governance structure increasingly controlled by autocratic and arrogant billionaires;
-- and an incredibly shrinking and brittle collection of desiccated facts having replaced the curriculum for the lower caste of segregated untouchable children incarcerated in more and more urban corporate reform schools.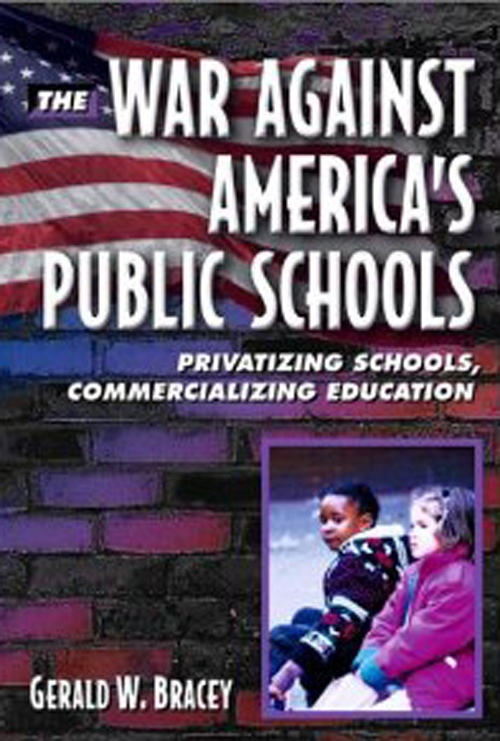 Gerald Bracey was one of the most regular critics of Diane Ravitch's defenses of corporate school reform throughout the 1990s and early 21st Century. Bracey died the year before Ravitch published The Death and Life of the Great American School system and began her systematic critique of corporate school reform. Seeing all this, Ravitch did what was unthinkable among the delusional and arrogant group of efficiency-worshipping zealots with whom she had spent much time during the prior twenty years: she admitted the entire antiquated system of back to basics on steroids 1) was not improving teaching and learning, 2) was not closing the achievement gaps, 3) was not making public schools stronger, and 4) was not being held accountable for the previous decades of more of the same failed policies built upon the same racist and classist standardized testing foundation, made harder still with each subsequent repackaged iteration.
What makes Diane Ravitch even more unique is that she did not sit behind a screen to offer her insider testimony on these issues to the court of public opinion and then go into an educational witness protection program but, rather, she made the continuing public condemnation of the Billionaire Boys Club her raison d'être, even as the plutocrats' high-testosterone testocrats have challenged her unassailable facts and as the academic mercenaries from the corporate think tanks have resorted to pretzel logic in attempts to refute her wisdom.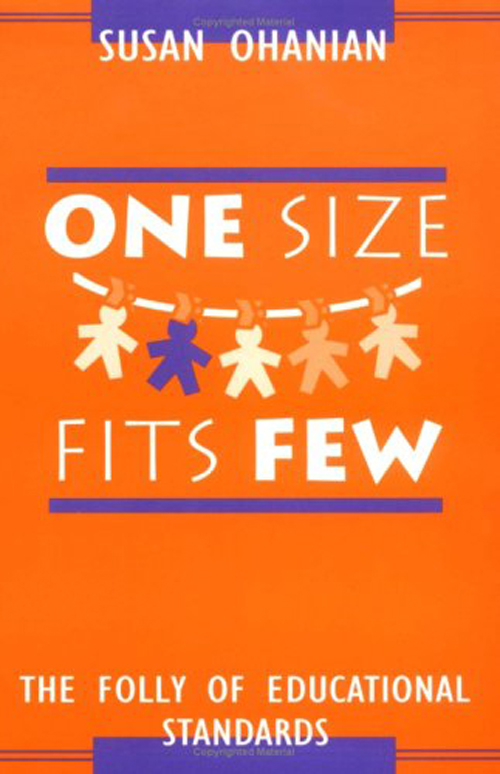 During the years when Diane Ravitch was one of the most prominent of what Susan Ohanian calls the "Standardistos," Ohanian and other critics of corporate school reform continued publishing books, articles, and on line critiques of the practices and destructions wrought by them.Since 2010 when she published The Death and Life of the Great American School System, Ravitch has been on a non-stop one-woman road show, crisscrossing the country, speaking to the growing and rumbling army of educators of the nation's PS Hope. Somehow she has found time between her face-to-face engagements and her online presence as both tweeter and blogger, to write a new book with a cover title in two inch orange Day-Glo letters: Reign of Error.
Unlike with Death and Life, which Ravitch shopped to numerous publishers before landing with Basic Books, this time New York's premier publishing house, Knopf, was eager to snap up Reign or Error, along with generous provisions for promotion, advertising, and touring. The new book picks up where the last one left off, this time mixing sharp punctures of the 'Corporate Education' gas bags with lists of positive strategies that are sure to rankle the proto-fascist sensibilities of the corporate Borg's swarm of propagandists, e.g., the Wall Street Journal.
In this new volume, in fact, Ravitch has brought a megaphone to the long-ignored message that resistance, indeed, is not futile but, rather, resistance is demanded and that resistance will prevail. Her logic to reaching that conclusion is as simple and clear as her deliberate prose, and the directness of her indignant optimism bespeaks an historian who is enjoying her moment and looking forward to a future that she is determined to make livable and learnable for her grandchildren, and ours.
The first half of Reign of Error takes up for discussion a series of reformist claims that are repeated so often by the post-partisan CorpEd think tanks that they would have to be accurate if repetition were sole criterion for establishing truth. Reformist bromides are refuted with clear statements from evidence-based reality that are accompanied with enough documented examples to send any self-serving edupreneur scrambling back to his corporate teaching manual in hopes of salvaging some semblance of pedagogical respectability.
The second half of the book is comprised of Ravitch's Top Ten educational policy interventions that may, once taken seriously by Washington, again restore sanity to an education policy world gone wild with what Harold Rugg called an "orgy of tabulation," whose corrupting and abusive practices have spread into kindergarten and pre-K. Each point is discussed with clarity, determination, and evidence that Ravitch has been listening to the most important professionals not included in policy discussions—teachers.
It took a long time for Dr. Ravitch to break clear of the corporatist influence that has controlled the increasingly antiquarian version of education reform since the coming of Ronald Reagan in 1980. Whether her conversion in 2007 resulted from the gentle persuasion of researchers like Richard Rothstein or from the fierce prodding of researcher-advocates like Gerald Bracey and Susan Ohanian, Diane has made up for lost time since regaining her sight after being struck blind on the road out of DC. Whatever happens over the next ten or twenty years in education policy, her place is secure, just after six years of battle, as the single individual who most influenced the eventual outcome if parents and teachers and students continue to heed the call for the restoration and renewal of public schools free of high stakes tests for all children who choose a high quality and free education. Ravitch has brought the word—now it is time to act.
This piece first appeared in commondreams.org
OTHER REVIEWS FOLLOW BELOW HERE:
This Is Only a Test
'Reign of Error,' by Diane Ravitch
By JONATHAN KOZOL
Published: September 26, 2013
FACEBOOK
TWITTER
GOOGLE+
SAVE
E-MAIL
SHARE
PRINT
REPRINTS
Over the past 20 years, a rising tide of voices in the world of public policy has been telling us that public education has fallen into an abyss of mediocrity. Our schools are "broken," the mantra goes. Principals and teachers — their lack of "rigor" and "low expectations" for their students — are the primary offenders. The problem can be "fixed" only if schools are held to strict accountability. "No excuses" are to be permitted.
Enlarge This Image
Tim Macpherson/STONE+, via Getty Images
Carefully read the instructions on the cover of the test booklet.
REIGN OF ERROR
The Hoax of the Privatization Movement and the Danger to America's Public Schools
By Diane Ravitch
396 pp. Alfred A. Knopf. $27.95.
Related
ArtsBeat: Book Review Podcast: The World After War (September 27, 2013)
The pressure intensified in 2002 with the enactment of the federal testing law No Child Left Behind, which mandated high-stakes standardized exams that were supposed to bring every child to "proficiency" by the year 2014. When it grew apparent that this goal would not be reached, privatizing leaders pounced, offering business-modeled interventions as, perhaps, the only viable solution. Prominent figures in financial circles and at large foundations became interested in charter schools, encouraged their expansion and provided grant support to some of them. Others, with less philanthropic motives, saw a market opportunity and started running charter schools for profit. What had been a slowly growing movement now became a juggernaut.
Diane Ravitch was for many years one of the strongest advocates for the testing-and-accountability agenda. Because of her impeccable credentials as a scholar and historian of education, she was a commanding presence among critics of our schools. Some years ago, however, she reconsidered her long-held beliefs and, in an influential book, "The Death and Life of the Great American School System," parted ways with her former allies and joined the highly vocal opposition.
In her new book, "Reign of Error," she arrows in more directly, and polemically, on the privatization movement, which she calls a "hoax" and a "danger" that has fed on the myth that schools are failing. Scores go up and down from year to year — usually, as she explains, because the testing instruments are changed and vary in their difficulty. But, pointing to the National Assessment of Education Progress, which has sampled math and reading scores every two years since 1992 and, in an alternate version, every four years since the early 1970s, Ravitch demonstrates that levels of achievement have been rising, incrementally but steadily, from one decade to the next. And — surprise! — those scores are now "at their highest point ever recorded." Graduation rates are also at their highest level, with more young people entering college than at any time before.
Black and Hispanic children, nonetheless, continue to lag behind. The black-white gap, as Ravitch documents, narrowed greatly in the era of desegregation, but progress has slowed as the hyper-segregation of our schools and neighborhoods along both racial and economic lines has come to be accepted once again as the normal order of the day. Market competition has not reduced the gap. Charter schools — Ravitch says we ought to ban those that operate for profit — have an uneven record. They "run the gamut from excellent to awful" and, on average, do no better than their public counterparts. Those that claim impressive gains are often openly or subtly selective in the children they enroll. Most do not serve children with severe disabilities. Others are known to counsel out or expel problematic students whose performance might depress the scores.
What passes for reform today, Ravitch writes, is "a deliberate effort" to replace public schools with a market system. The "unnatural focus on testing" has produced "perverse but predictable results." It has narrowed curriculums to testable subjects, to the exclusion of the arts and the full capaciousness of culture. And it has encouraged the manipulation of scores on state exams. "Teaching to the test, once considered unprofessional and unethical," is now "common."
All of this, she says, has continued unrelentingly under the administration of President Obama, who has given "full-throated Democratic endorsement" to "the longstanding Republican agenda." The president's signature education package, Race to the Top, is "only marginally different from No Child Left Behind." In fact, it compounds the damage by requiring that states evaluate teachers, partially at least, on the basis of yearly gains in students' scores — no matter if the teacher has a different group of children from year to year, which is usually the case, and no matter whether a teacher has more troubled children, or more with disabilities, than another teacher who comes up with higher scores.
In its funding practices, the White House has "abandoned equity as the driving principle of federal aid," offering new funds on condition that states expand the scope of competition by opening more charter schools and outsourcing normal functions of public schools to private agencies. This, Ravitch says, is "the first time in history" the government has "designed programs with the intent of stimulating private-­sector investors to create for-­profit ventures in American education."
Ravitch has her own ideas about how to elevate the quality of education. Among her proposals: vastly expanded prekindergarten programs introducing children to "the joyful pursuit of play and learning"; more comprehensive medical and mental-health provisions ("every school should have a nurse, a psychologist, a guidance counselor"); smaller classes (like those in costly private schools); and diagnostic testing that, unlike a standardized exam, shows us where a child needs specific help — but, because it's not judgmental, casts no cloud of anxiety over learning.
In the long run, she puts her faith in teachers but wants to strengthen the profession with higher entry standards. We can't rely on "enthusiastic amateurs" who teach short term, any more than we'd rely on amateur physicians. She rejects stick-and-carrot incentives like merit pay — "the idea that never works and never dies," and that undermines the spirit of collaboration by pitting teacher against teacher. She also deplores humiliating practices like publishing teachers' names beside students' test scores, as has been done in California and New York.
If we are to cast about for international comparisons, Ravitch urges us — this is not a new suggestion but is, I think, a useful one — to take a good, hard look at Finland, which operates one of the most successful education systems in the world. Teachers there, after competing for admission to schools of education and then receiving a superb course of instruction, are "held in high regard" and "exercise broad autonomy." They are not judged by students' test scores, because "there are no scores." The country has no charter schools and no "Teach for Finland." But, as Ravitch reminds us, there is one other, crucial difference: "Less than 5 percent of children in Finland are growing up in poverty." In the United States, 23 percent do.
Again and again, she returns to this: "Our urban schools are in trouble because of concentrated poverty and racial segregation," which make for a "toxic mix." Public schooling in itself, she emphasizes, is "in a crisis only so far as society is and only so far as this new narrative of crisis has destabilized it."
In her zeal to deconstruct that narrative, Ravitch takes on almost all the well-known private-sector leaders and political officials — among them Arne Duncan, Joel Klein, Bill Gates, Wendy Kopp and Michelle Rhee — who have given their encouragement, or barrels of their money, to the privatizing drive. It isn't likely they'll be sending her bouquets. Those, on the other hand, who have grown increasingly alarmed at seeing public education bartered off piece by piece, and seeing schools and teachers thrown into a state of siege, will be grateful for this cri de coeur — a fearless book, a manifesto and a call to battle.
Jonathan Kozol is a former fourth-grade teacher and the author of "Savage Inequalities," "The Shame of the Nation" and, most recently, "Fire in the Ashes."