CPS Budget details portion of CPS Military Spending... Huge and growing cost of militarization of Chicago's public schools
Jesse Sharkey - August, 2007
Many details were hidden or left out of the Chicago Board of Education's 2007 - 2008 ("FY 2008") budget, but CPS administrators could not obscure the rising prominence of military programs in Chicago schools. And although a complete study of the cost of Chicago's military programs will take longer than was possible following the release of the Chicago Board of Education's FY 2008 budget this month, a beginning can be made now.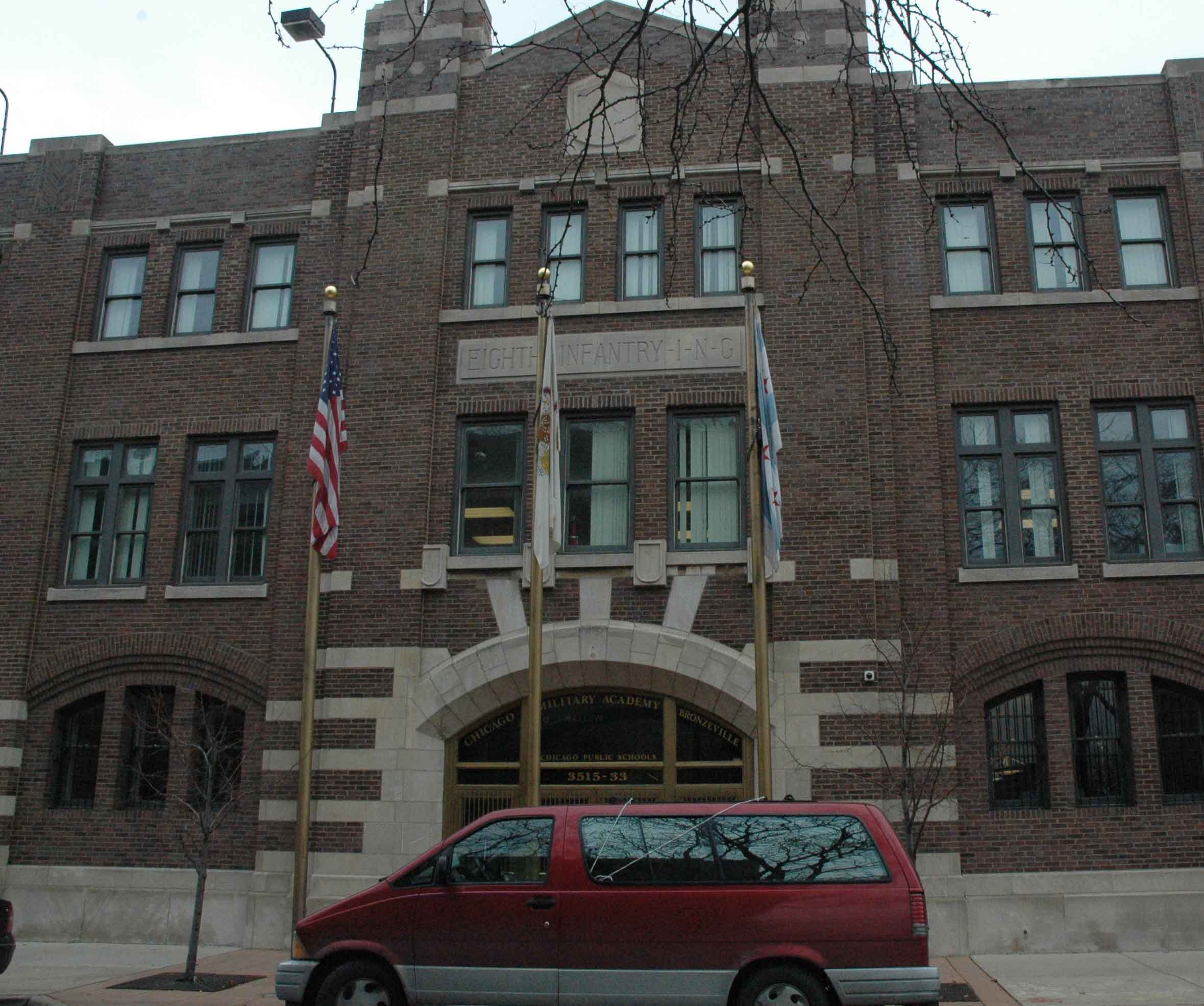 Above: The former National Guard armory at 3515 S. Rhodes houses the "Bronzeville Military Academy", which was the first military high school created in Chicago on orders from Mayor Daley. The Bronzeville site is (usually) the address given for the "Chicago Military Area Office." At times, however, the Duncan administration has claimed that the military office had been "cut" or located as part of the "Small Schools Area Office." At the present time, CPS has an AIO (Area Instructional Officer) for Small Schools and a Military Area Officer. During the 2006-2007 school year, the "Small Schools" area officer was Cynthia Barron (at $133,000 per year). Retired Army Lt. Col. Rick Mills was listed as an "Officer" in the "Office of High School Programs" at a salary of $120,000 per year. Substance photo by George Schmidt.
According to the 2008 proposed budget, which is expected to be approved without discussion or debate at the August 22 meeting of the Chicago Board of Education, 129 military instructors will be working in our schools, including several at the elementary level.
In addition, the newly created Area 25 "Small Schools" office is budgeted for 13 staff dedicated to military programs — including Lt. Colonel Rick Mills, who will make $120,000 (or more) next year as the Military Instruction Officer. At this point, the problems begin for any member of the public looking for the kind of budgetary "transparency" that is supposed to be in place. Try and find the "Military Area Office" on the CPS website. Depending upon the source, it is either part of the "Small Schools Office" (albeit at a different address), or on its own. But that presents additional questions, none of which CPS budget officials were prepared to answer during the budget hearings held on August 14, 15 and 16. As a result, this article has to stick with what is available in the budget and through some other documents.
Military programs are now Chicago's largest single "vocational" programs
Overall, the cost of simply administering the military/JROTC programs in CPS will exceed the cost of administering the Advanced Placement, International Baccalaureate, Performing and Creative Arts, Dropout Prevention, and Safe Schools Projects, combined!
The CPS budget does not include information about how much money the Department of Defense spends on JROTC and military instruction in Chicago. It's sure to be a lot. According to some sources, the Defense Department typically reimburses the schools half difference between a military instructor's retired rate and their active duty pay.
What does the Army get for this money it spends in Chicago? As the chicagojrotc.com website proclaims, Chicago boasts "the largest JROTC program in the country in number of cadets and total programs." And although the certification packet for JROTC teachers warns, "Participation in JROTC incurs no military obligation and instructors may not apply any pressure toward military service." It promptly continues, "It is also true, however, that because of their tremendously rewarding experience in JROTC and the outstanding personal example of the instructors, many of our graduating cadets choose to pursue military service."
Already CPS's largest "Education to Career" (ETC) program, military education is expanding into military academies — there are now five such specialty schools including the newly formed Marine Academy at 145 S Campbell. From the North Side to the South Side, these are:
Rickover Naval Academy at Senn High School.
Marine Academy at Grant School (145 S. Campbell)
Phoenix Military Academy (Army) at Grant School
Bronzeville Military Academy (Army) at Bronzeville
Carver Military Academy (Army) at Carver Area High School
Only the Rickover Naval Academy at Senn is sharing space with another high school. The four other military academies are in buildings that are occupied solely by military programs.
In addition to the military academies (unprecedented in scope in the USA, according to our sources), CPS also maintains a vast program of Junior ROTC (JROTC) extending, today, down into the elementary schools.
The cost of these programs has been growing every year, even as CPS officials have made annual claims that the school system faces a deficit. The FY2008 Budget (July 1, 2007 through June 30, 2008) proposes:
ROTC curriculum in AIO area 25 (currently, "Small Schools"),
13 staff, $938,000 total includes:
Military instruction officer $120,000 (this Rick Mills, not bad for someone who also draws a full military pension)
Manager operations/plans JROTC $84,800
Manager military instruction JROTC $91,800
Manager logistics JROTC $90,200
Stark contrast to academic programs
By contrast one administrator working as a team leader for Advanced Placement will be making $66,600. Dropout Prevention has three employees with a proposed budget of $212,000. Performing and creative arts has three employees with a proposed budget of $181,500. The IB program has two administrators with a total budget of $162,500, and the Safe Schools Project has four staff, $270,600.
In other words, the simple administration of the military programs in CPS are projected to cost more than coordinating the Advanced Placement, International Baccaulareate, Performing and Creative Arts, Dropout Prevention, and Safe Schools Projects, combined!
In addition two the central office and area office costs of the military programs, there are significant costs out in the schools:
In the General High Schools, the budget lists the following:
1 military property custodian $38,000;
93 military instructors making $5.17 million;
8 commandants making $539,400
3 commandants making $282,300
17 military instructors making $1.12 million
1 military property custodian $42,000
1 supervisor JROTC $84,600
In the Vocational High Schools, the budget lists the following:
14 military instructors making $718,700
In the Elementary schools Chicago has the following military costs:
2 military instructors making $79,400
1 commandant $94,000
3 military instructors $163,000
Total: Roughly $8.3 million. 