EDITORIAL: 'Wall-to-wall IB' is another example of Emanuel administration's nonsense
George N. Schmidt - May 04, 2013
One of the ironies of the current (and growing) controversy over whether several high school principals in Chicago should be allowed to fire experienced teachers under the pretext of selecting them for a so-called "Wall-to-wall IB" program is that no such thing exists. Despite the fact that principals at Lincoln Park, Clemente, Senn, and Hyde Park high schools have tried to utilize the pretext of "Wall to wall IB" selection to replace veteran teachers, not one of the principals would be able to explain just how a program calling itself "IB" can exist "wall to wall" at any high school in Chicago. By definition, the IB program is extremely rigorous and highly selective. Few students really want to participate in the program, and many drop out of it because the academic demands are so great. By definition IB is for a small minority of highly motivated and very hard working students, most of whom will forego many of the other opportunities of their high school years because of the demands of the IB program.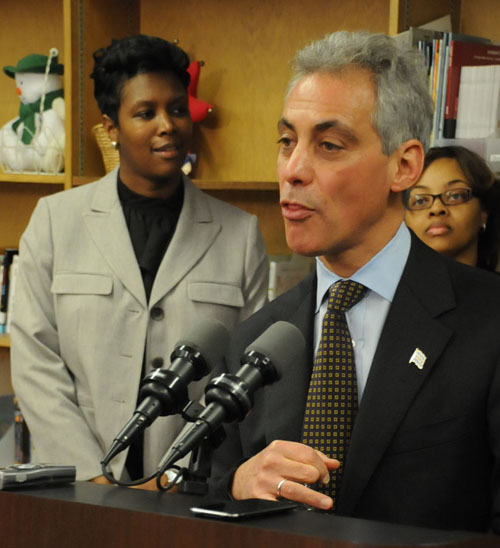 Chicago Mayor Rahm Emanuel speaking at Morton "School of Excellence" (a turnaround school) on November 29, 2011. Substance photo by Sharon Schmidt.But cheap publicity stunts have never been a barrier to the quickies that Rahm Emanuel is known for.
Like many other propaganda thrusts by the administration of Mayor Rahm Emanuel, it was utilized as a cheap publicity stunt when it was announced, and then degenerated into a ploy to eliminate veteran teachers from the schools at which it is being implemented.
An additional fact of interest is that not one of the principals currently empowered (by the simple fact that they are principals) has any understanding of the complexity of the IB program as it has really existed over time at the classroom and student-teacher level. All of these factors are coming together in the Spring of 2013 to create the volatility that erupted at Lincoln Park High School on May 3 and which is looming for the five or six others schools at which principals were so unwise as to "rescind" the job offers of veteran teachers under the recent CPS flip flops.