CTU financial secretary Kristine Mayle testifies against proposed rule change... Illinois State Board of Education tying to end class size limits for special ed classes
Marge Wilson - March 01, 2013
"What in the world are you trying to DO!!?" was the response of just about every special education teacher and parent as the news began getting out. Immediately, the leaders of the Chicago Teachers Union responded. And soon, everyone would be asking the same question: Is Illinois trying to undermine the services to the state's most vulnerable children? Illinois State Board of Education (ISBE) rules regarding class size limits for all Special Education categories and classes have always provided a resource that teachers could use to limit class sizes to a reasonable level. But now, ISBE wants to lift the class size maxima.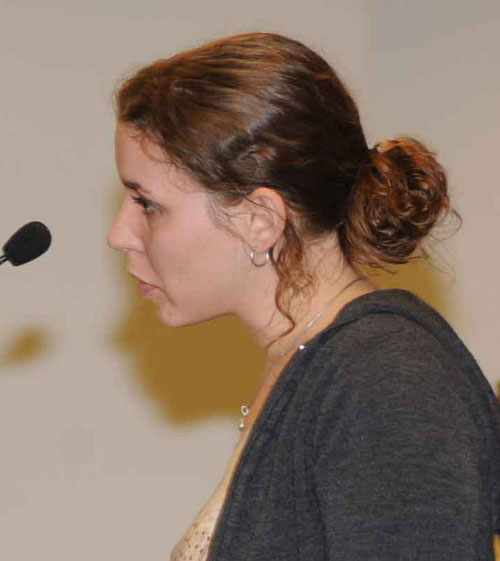 Chicago Teachers Union Financial Secretary Kristine Mayle (above, testifying at a Chicago Board of Education meeting) is helping lead the fight against the Illinois plan to end class size limits for special education classes. Mayle, a former special education teacher (De La Cruz Middle Schoo before CPS closed it down) has been part of the union's elected officer leadership team since July 2010. Substance photo by George N. Schmidt.For as long as anyone can remember, the state always published a list a class sized limits based upon type and severity of disability. For example, in a self contained classroom made up of students with moderate disabilities (Severe LD, Emotionally Disturbed, and EMH), the class size limit was 10 without an aide and 5 additional with an aide. They were also allowed to aide two in emergency situations (basically discretion of the principal) which made the limits from 12 to 17.
Those of us who teach special ed (or taught it; this reporter is now a retired special ed teacher) complained most of time that I was actively teaching that these class sizes were too large, but at least we had some protection. The more severe the disability, the smaller the class size. General Ed teachers also had some protection because every student mainstreamed into the classroom counted as two regular students so if the class size limit was 30 students and you had three special education students, The class size could only be 24 students.
Now, without explanation, ISBE has announced plans to take all class size limits (both self-contained and mainstreamed students) out of the state rules and regulations because they are arguing that the limits should be placed in the hands of individual districts. If you go on their website, page 11--12 which deals with class size limits has lines drawn through the whole section.
The Chicago Teachers Union Financial Secretary Kristine Mayle, who was a Special Education teacher, testified at one of the recent hearings (February 20, 2013) about the dangers these changes will lead to in the CPS schools. Her speech is available on the Union website and is reprinted at the bottom of this article. It's very good and addresses most of the areas of concern, according to special education teachers I have spoken with.
The other advantage of the current system was that the salary of Special Education teachers and their aides came out of the central office budget -- not the local school budget. This gives local schools to hire teachers who are more experienced and have higher degrees in the field. For example, Barton Elementary School on Chicago's South Side just hired a veteran Special Education resource teacher with two masters' degrees. They may not have been able to do so if the money was coming out of the local budget.
CPS has announced recently plans to change the budget for the schools to a "per student" budget (this is what is done in the charter schools). Charter Schools consistently complain that they do not have the money to serve children with disabilities (especially the more severe ones). The regular CPS schools will be put into the same position where they will be forced to stretch their resources to meet the IEPs and at the same time raise scores. They will be blamed when they can't do both.
In addition, the bar for Illinois State Achievement Tests (ISAT) scores has just been raised, and principals are unsure if the higher scores will be used this year or next. While CPS has the lowest bar currently (so there are arguments for raising it), schools are afraid that this will lead to even more schools being closed and more privitization. Level 1 are likely to become Level 2 and Level 2-Level 3 which means Level 3 schools will be in the twilight zone.
All of this seems to be a conspiracy to cause more schools to "fail" -- and to deny Special Education students needed services. I've been asking that question for a long time. Currently the neighborhood high school for students who attend Barton is Hyde Park which is a great distance away. CPS does not want to provide bus transportation for high school students so parents with children who because of their disability can not take public transportation alone either have to drive or travel with them. Based on my own experience with traveling with a child until she learned the route, it can mean getting the child to where they're going and then getting home, only to have to turn around and make the return trip.
Where are the Special Education students going to have to go once privitization is complete?
Substance will report more as things progress during the coming weeks/months.
KRISTINE MAYLE'S ISBE TESTIMONY BELOW HERE:
CTU Financial Secretary Kristine Mayle's Remarks to ISBE on Proposed Removal of Special, Education Class Size Limits, 02/20/2013
Testimony Regarding Proposed Changes to Part 226 (Special Education)
Illinois State Board of Education Meeting, February 20, 2013
My name is Kristine Mayle. I am the Financial Secretary of the Chicago Teachers Union, chair of the IFT Special Education Committee, and the liaison to the CTU Special Education Committee. Most importantly, I am a Special Education teacher holding both elementary and special education certifications and have actually experienced the conditions in our overcrowded classrooms.
What these changes will effectively do is give the Chicago Board of Education and other school districts in Illinois the ability to try to solve their budget crises on the backs of the most vulnerable students we serve.
I am here to adamantly oppose your proposals to change the rules regarding Special Education class size limits. These proposed changes would have a devastating effect on both the members I represent and the students they serve.
What these changes will effectively do is give the Chicago Board of Education and other school districts in Illinois the ability to try to solve their budget crises on the backs of the most vulnerable students we serve. The Chicago Public Schools do not work with the best interests of our students with disabilities in mind, but rather create and enforce policies that compound the difficulties that our students with IEPs experience. If left on their own, without regulation or guidelines from ISBE, CPS cannot be trusted to do right by students. In Chicago, the recommendations of IEP teams at the school level are often thwarted from the district level.
During our recent contract negotiations and strike our members fought for a provision that even our own attorney thought was strange upon first mention. We fought and won the ability to file grievances about violations of ISBE policy and federal law regarding special education. I know that it seems redundant to add a grievance procedure to a union contract for something that is regulated by school code and laws, but my members were adamant that we needed a mechanism to fight the abuses CPS perpetrates upon our special education students. CPS gambles (and often wins) that parents will either not know the rights their children entitled to, or that they will not have the means or ability to fight the violations that they see. For too long, many of my members have been reduced to quietly having off-the-record conversations with parents informing them about the violations to their students' IDEA and ISBE given rights. Our new contract article finally gives my members the confidence and reassurance to stand up on behalf of their students without fear of reprisal from their employer. What was a great step forward in the battle of special education rights will be ripped from us if you make the changes proposed today.
I spend a lot of time out in our schools speaking to special educators and the clinicians that serve our students with disabilities. One of the major complaints I hear time and time again is that they have too many students in front of them to teach them in a matter consistent with the needs spelled out in students' IEPs. They tell me about students regressing rather than progressing because they cannot individualize to the extent needed because there are so many students in their classes.
For example, in a school I visited just a month ago, the sole self-contained special education teacher at the school had 3x the number of students she should have had in front of her at a time based on ISBE regulations. Based on the minutes of the students in front of her, and lack of paraprofessional support in her room, she should have only had 8 students per period in her room. In actuality, for nearly all of the school day, she has 24 students in front of her. 24 students was the class size we fought for for our general education classes. How is a teacher supposed to provide a fair and appropriate education for her students when there are 3x as many of them as permitted by your current policy? If you change these policies, I can almost guarantee that 24 students with IEPs in a special education class will become the norm and not the exception in Chicago.
Regarding class ratios, or the 70/30 provision, I have frequently heard complaints of schools exceeding these ratios in numbers of students with disabilities, oftentimes without additional supports being provided for those students needing more help. Changing this rule will give CPS free reign to overstuff classes with special education student without providing the necessary supports.
I want to be clear, the use of a true team-teaching model is not current practice in the vast majority of CPS schools and CPS has taken no steps nor made any progress in making this a regulated or supported norm. I was fortunate enough that I was able to experience a functional and authentic team-teaching model at one of the schools I taught at because we were a Corey H./ISBE 40 school. During that monitoring process we received the necessary training and supports to implement a true school-wide team teaching program. But without the urgency of Corey H. or the urging of ISBE to establish authentic team-teaching situations in CPS, it will not happen in the majority of our schools.
My members and I very strongly object to these proposals and urge you to remove these special education proposals. They will be detrimental to both special educators and the students we serve and should be removed from consideration immediately. I appreciate your time today.
http://isbe.net/board/meetings/2013/feb/packet.pdf