Principals and 'Chiefs of Schools' challenged on attempts to abolish classroom failure by requiring massive additional paperwork before teachers can give students an 'F'
George N. Schmidt - February 15, 2013
Less than a month after Chicago Public Schools Chief Executive Officer Barbara Byrd Bennett announced the most recent "school accountability framework" (at the January 23, 2013 Board meeting) for the school system's more than 600 principals and the "Chiefs of Schools" (the latest name for Chicago's subdistrict superintendents, which have also been called "Regional Education Officers," "Area Instruction Officers" and a few other names), Chicago Teachers Union members have begun to complain about the attempt by at least on COS -- Elizabeth Kirby -- to abolish the "F" grade for students, even those who miss more than half the days of class, or those who do no work.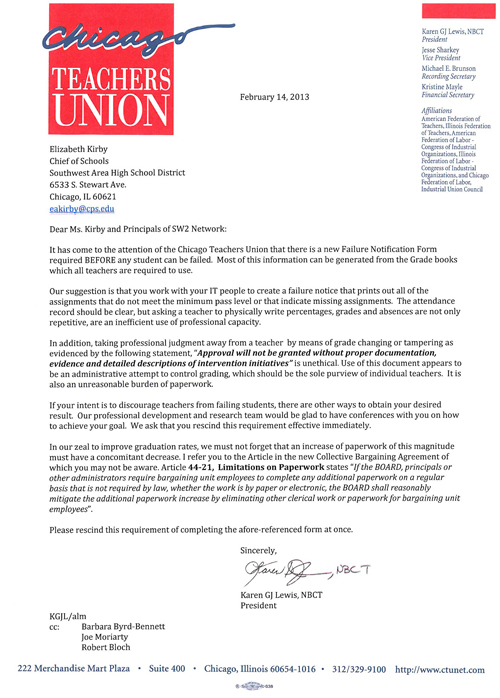 The letter (above) sent by CTU President Karen Lewis to "Chief of Schools" Elizabeth Kirby points out that teachers' professional evaluations of students should not be undermined in the interest of reducing the number of "F" grades in the schools. Kirby's attempt to reduce the "failure rate" in her "Network's" schools came with the recent release of a pile of paperwork that Kirby is demanding that every teacher complete in order to fail a student. IN the opinion of most teachers, the burdensome paperwork, on top of the fact that teachers provided grades and other information about student work, was simply an attempt to "Juke the Stats" (to use a term utilized in the Wire) by artificially reducing the failure rate.
Lewis's February 14 letter was prompted by the attempt by Kirby to force teachers to provide an enormous an unnecessary amount of paperwork before students could fail a course. The Kirby plan, which was basically a reprise of what was termed in the HBO film "The Wire" as "juking the stats," was a violation of the union contract's provision against excessive paperwork. Several teachers in Kirby's "Network" noted that the impact of the rule, which many principals were skeptical of, would have been to force a temporary drop in the number of failures in courses. Teachers are already working at the maximum with full class loads and maximum class sizes, while non-teaching and "Network" staffs have been increased throughout the school year, even as CPS claims it is facing an unprecedented "billion dollar deficit."