Chicago Teachers Union researcher questions bases for Board's turnaround and closing claims
Pavlyn Jankov - January 25, 2013
Eleven months ago the Board voted to turnaround eight elementary schools and close down four, based nearly entirely on ISAT performance. Yet in 2011 the newly introduced school progress reports focused on the NWEA and Scantron assessments. The administration all but repudiated the ISAT, citing a new focus on metrics that supposedly better measure college readiness.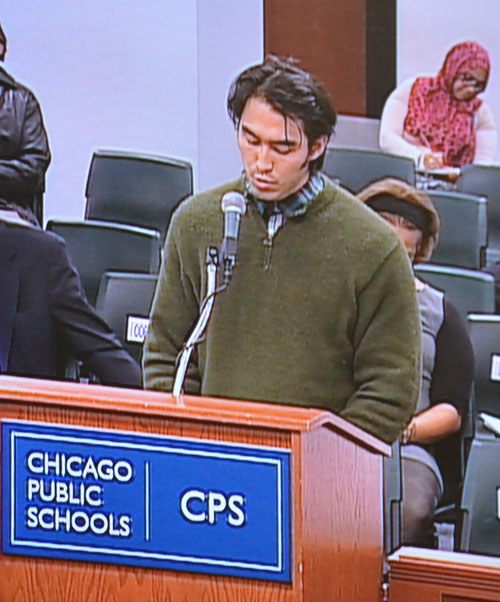 Chicago Teachers Union researcher Pavlyn Jankov noted to the Board of Education at its January 23 meeting that the Board's "metrics" for closing schools and establishing turnarounds change from one year to the next. Substance photo by George N. Schmidt.So last year, high-stakes decisions to create upheaval in over a dozen schools were approved based on a measure that even the district had little confidence in.
Pablo Casals Elementary was selected for turn around, presumably because it had low growth on ISAT in 2011. Yet in 2012 they doubled their score on the Performance Policy, were well-organized for improvement according to CCSR survey data, and their most recent Progress Report Card shows that last year's student growth was above average on the Scantron.
This is all in the year prior to when over 90% of the staff were fired in the turn around, and replaced primarily by first-years.
Another school from last year, Walter Reed elementary, was closed for low performance despite similarly contradictory evidence. The CCSR survey found that in both 2011 and in 2012, Reed had a supportive-environment and ambitious instruction. Going by those measures, the administration could have just as reasonably concluded that Reed be expanded, building on the successes the staff had made and cohered in their small school setting. Were those schools "on the rise"? Would these schools have been safe in this year's round of closings?
Standardized test data whether it be NWEA MAP, Scantron or the ISAT assessments, are not tools for improving schools, nor are they tools for reliably identifying schools that are improving.
I bring these examples up because the new administration has indicated that there will be more turnarounds this year, in addition to the hundreds of closings and consolidations that neighborhood schools are now threatened with. The administration can do far better by these communities by identifying which are the conditions of success these schools need the most support in, and ensuring they receive targeted resources.
[Editor's Note: The above was provided to Substance by Pavyln Jankov, the remarks he prepared to delivery to the January 23, 2013 meeting of the Chicago Board of Education].