Despite an 'F' grade by U.S. Department of Education researchers, MAP testing sucking dollars and time out of Chicago kids' learning and teachers' teaching.... Resistance meeting to be held January 24 on Chicago's South Side
Carol Caref - January 19, 2013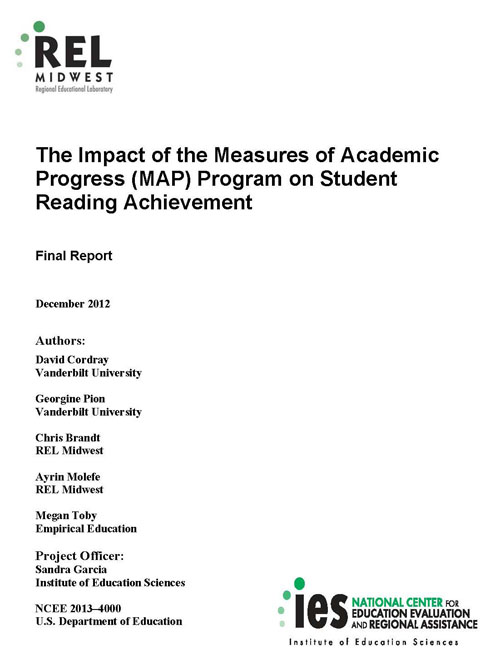 Cover of the recent (December 2012) federal government report on the impact of the MAP on student achievement in fourth and fifth grades. The complete report, which utilized data from Illinois school districts, is extremely technical (18 appendices in addition to the lengthy report of more then 60 pages). But it concludes that the MAP does not have a "statistically significant" impact on student achievement. Critics of to-called "standardized" tests have added the time and money wasted on the MAP from Seattle through New England to the list of problems with the current test-fetishized approach to public schooling in the USA. Chicago recently completed the second MAP testing of its children at most schools, despite a growing number of children whose families are opting them out of such testings.Before looking to see if it would be beneficial to students, CPS, along with school districts across the country, has once again, jumped into the latest testing fad, NWEA (Northwest Evaluation Association). The U.S. Department of Education's research arm, the Institute of Education Sciences (IES), just released a study of NWEA's MAP (Measures of Academic Progress) program, and it essentially found that MAP does not do what it is supposed to do.
They found: "Overall, the MAP program did not have a statistically significant impact on students' reading achievement in either grade 4 or grade 5." (From the Executive Summary of the report, online at http://ies.ed.gov/ ncee/edlabs/regions/midwest/pdf/ REL_20134000.pdf).
Here is the thing about MAP and the other "benchmark" tests CPS has added to the already over-burdened testing schedule: Their main purpose is to let teachers know how their students are likely to perform on standardized tests.
Teachers are accustomed to using their own formative assessments with their students to check for understanding, inform future lessons, etc. However, the CPS mandated formative tests are solely for the purpose of helping students do better on standardized tests. The IES study found they don't even do that! For those who are interested in the entire report, it is highly technical but accessible to the general reader as well. The report is 64 pages long, with 18 appendices, some of which provide the reader with important technical information.
CPS students are overburdened with tests to compare them to other students, tests used to evaluate their teachers, tests to determine if their school will be closed, and tests to see if they are ready for the next test. No one can look at the CPS assessment schedule, including at least 27 hours of testing for Kindergartners, and think it is educationally sound. The teachers in Seattle who refused to give the test set a great example that others should follow.
If you have had enough of useless testing, come to the Testing Forum, featuring FairTest's Monty Neill, on Thursday, January 24, at 7 pm at Bronzeville's Hartzell Memorial United Methodist Church, 3330 S. Martin Luther King Jr. Drive.
