Remarks prepared for City Council school consolidation hearing by Valerie Leonard, Lawndale Alliance
Valerie Leonard - November 21, 2012
[Editor's Note. This is the first of several presentations by community leaders and parents regarding the current debate over Chicago's facilities planning. As Substance reported earlier, 100 people had assembled in the City Council chambers on November 20, 2012, for the first hearings on the CPS proposal to postpone the legally required December 1, 2012, publication of the annual list of Chicago public schools to be closed, consolidated, and otherwise transformed. The attempt by the latest leadership group at CPS to postpone the publication of the list, as they have already sabotaged the possibility of hearings as required in October and November, has also been published. The debate now taking place is whether the latest "Chief Executive Officer" of Chicago Public Schools, the fifth in four years, is able to break the law by establishing a "Commission". Despite the limp belief on the part of some CPS officials that they can break the law in this manner, the question will be resolved in Springfield during the veto override session of the Illinois General Assembly during the nest two weeks. But at the City Council, dozens of experienced community activists and organizers were prepared to speak on November 20. All had to be content with a postponement. Alderman Latasha Thomas, who chairs the Education Committee, has told the public that there will be additional hearings. Substance will report on those, but meanwhile we will be publishing the prepared remarks that people would have delivered. Below is the first of those, by Valerie Leonard.]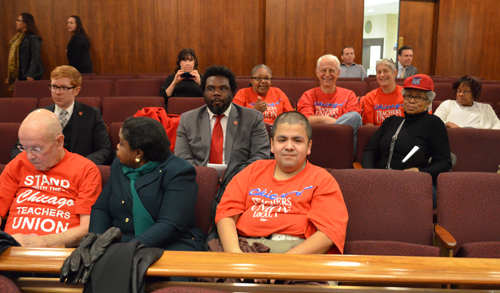 One hundred people showed up on November 20 at the City Council hearings, in addition to the aldermen and witnesses. Many of those signed up, as is usually done, on papers requesting the right to speak. Because the questions of the aldermen went on for more than two hours (and were incomplete even after that time) and the committee chairman wanted to hear from the representatives of the Chicago Teachers Union, the citizens were asked to return at a later date. Alderman Latasha Thomas, who chairs the committee, promised that more hearings will be held. Substance photo by George N. Schmidt.Public Comments to the City Council Committee on Education and Childhood Development, November 20, 2012, By Valerie Leonard
My name is Valerie Leonard, the Co-Founder of the Lawndale Alliance. The Lawndale Alliance is a group of residents who have come together to address relevant issues through grassroots community organizing, advocacy and leadership development. We are here to ask that the City Council Committee on Education and Childhood Development introduce a resolution calling for a moratorium on school closings until CPS can come up with a better master facilities planning process. As it stands the process is flawed, and our children are collateral damage. Their studies are interrupted and their safety could be impacted.
1. For years, CPS has used school performance as a criterion for closing traditional neighborhood schools. Neighborhood schools were forced to close, while lower performing charters in the same community are allowed to continue to operate. We are now at a point that we have data to show that there is essentially no difference between the performance of charters as a group and traditional neighborhood schools. Nearly a third of all charter schools are performing at the lowest levels, and school performance is no longer a stated criterion for school closures. Reform groups and charter operators are clamoring for CPS to close poorly performing neighborhood schools while advocating for poorly performing charters to remain open. Unfortunately, CPS is more likely to listen to the reformers than rank and file parents and community residents. While I do not advocate for school closings, I do think that charters and traditional schools should be held to the same standards and consequences.
2. Over the years, CPS has saturated communities with declining populations with charter schools, without really looking at the underlying demographics to demonstrate whether or not there would be long term population growth to support the neighborhood school and the new charter school. We have a situation where nearly 100 new schools have been created, with no evidence of demand, except the mysterious charter school waiting lists that have never been made public. During the teachers strike we read accounts in the newspapers how charter school operators had open slots. It is clear that this problem of under-utilization could have been avoided with proper planning.
3. CPS is using the budget deficit as cover to justify closing over 100 schools, saying that they could save up to $800,000 a year for every school they close. This represents a little more than 8% of the current $1 billion budget. Assuming that these closures happen at a rate of 20 schools per year, this translates into about 1.5% of the budget deficit this year. At the same time, newspaper articles indicate that CPS plans to build 60 new charter schools. Most of the under-utilized school buildings will be rented to charters, or sold to investors, who will then rent to charters. Generally speaking, the money that charters will use to rent the buildings will come from the same per student state funding that CPS is already using to support utility and other facility costs. What we will more likely see is a shift in line items in the CPS budget. Rather than seeing these costs reflected in building maintenance expenses they will more than likely be included in the contract cost for charter schools. As you know, these costs are not itemized.
4. CPS has not been forthcoming with the public about school closures. In fact they seem to be working more closely with charter operators like UNO, than they are with their own community advisory councils when it comes to facilities planning. For example, as recently as the earlier part of November, I read articles that quoted CEO Barbara Byrd Bennett as saying there is no list of school closures. I was on Facebook and saw a copy of a letter from Juan Rangel the CEO of UNO, suggesting that attendees for a private screening of Won't Back Down advocate for a parent trigger law that will force schools to close, be turned around or taken over by a charter school if half the parents from the school sign a petition. He had a list of over 80 schools that presumably could be targets. Twelve of the schools are based in North Lawndale. This may not be an official list, but they got data from somewhere to indicate that these schools were in trouble. CPS needs to work more closely with its community advisory councils to share data that will help them give more informed advice on school closings.
5. In 2010, the State Legislature created the Chicago Educational Facilities Task Force to ensure a research driven facilities plan developed with significant community input. The Task Force includes the CPS Chairman, CEO and youth representative, along with members of the Legislature and community groups. Illinois law requires a 21-day public comment period and a draft of proposed guidelines by November 1. CPS was late releasing draft guidelines and much of the public comment process is being completed online or via phone conference. To the best of our knowledge, no public hearings are currently scheduled. This flies in the face of the intent of the law, as many people do not have access to the internet or are unable to participate in a massive conference call. Adding insult to injury, CPS has created its own commission to conduct a review of CPS facilities planning. Not only does this represent a duplication of efforts, but it undermines the work of the Chicago Educational Facilities Task Force.
In closing, I would like to make the following recommendations:
CPS should adhere to the master facilities planning process as prescribed by the law, and honor the recommendations of the Chicago Educational Facilities Task Force.
The City Council Committee on Education and Child Development should recommend that the Legislature create an Educational Facilities Planning Board that will approve the construction or creation of any new schools, and include a needs assessment and certificate of need, similar to the way they do for hospitals. By law, no hospital can be built or expanded unless they demonstrate a market demand for the facility and services. This goes way beyond a waiting list, and includes a full blown financial and market feasibility study.
CPS should work more closely with the CAC's to share facilities planning data and create win-win strategies for the community and CPS that will include alternative community re-use of the school buildings that will enhance the schools' standing as the center of activity for community.
Hold charters and traditional schools to the same standards of performance and utilization. Charters should not be allowed to expand without demonstrating that its students are making AYP. Look at facilities master planning holistically, as part of an overall plan to move schools forward. Facilities planning should support overarching educational goals and a means to achieve those goals, rather than the end in and of itself.
I thank you for your time and consideration.
Sincerely, Valerie F. Leonard, Co-Founder, Lawndale Alliance, valeriefleonard@msn.com
[Valerie F. Leonard. Expert in Community and Organizational Development. Phone: 773-521-3137. Fax: 773-522-1832. E-mail: consulting@valeriefleonard.com. Website: http://www.valeriefleonard.com
Weblog: http://valeriefleonard.com/StayingintheLoop/nfblog/ (Staying In the Loop)
