Obama support for charter schools swayed vote in Georgia
Jim Horn - November 14, 2012
It was the voice and support of President Barack Obama in Georgia that ensured the victory of a recent measure to permit the state to create a "commission" that will directly license charter schools, no matter what the wishes of the local school board. The fullest report on the subject came from the Atlanta Journal Constitution: http://blogs.ajc.com/political-insider-jim-galloway/2012/11/08/your-daily-jolt-how-obama-pushed-georgias-charter-school-measure-to-victory/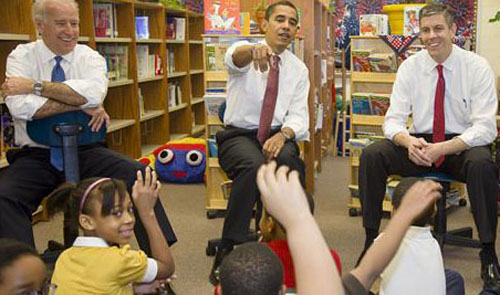 A month before his inauguration as President of the United States, Barack Obama, on December 15, 2008 (above) announced that he was selecting Arne Duncan as U.S. Secretary of Education. The announcement was accompanied by a media event at Chicago's Dodge Elementary School, which had been renamed "Dodge Renaissance Academy" as one of the first so-called "turnaround" schools of Chicago's "Renaissance" program to replace and privatize real public schools with charter and turnaround schools. Duncan went on to establish "Race To The Top" as the administration's K-12 policy for public education, expanding the charter school and "turnaround" attack on the nation's public schools from a Chicago Plan to a national plan.Your daily jolt: How Obama pushed Georgia's charter school measure to victory... 10:15 am November 8, 2012, by jgalloway
I need to listen to more V-103.
This is in the way of a small confession. One of the few surprises in Georgia ballot tallies on Tuesday was the startling support given by African-American voters to Amendment One, the measure to permit the state to create a commission that will directly license charter schools.
This despite a very loud continent of black lawmakers, not to mention the state Democratic party and the Rev. Joseph Lowery, who declared the proposed constitutional amendment would result in the resegregation of public schools.
What I didn't know – and neglected to discover until Wednesday — was that these voices were being drowned out by the biggest name in black politics: President Barack Obama.
Two Democratic strategists – one of them Cabral Franklin, son of the former mayor of Atlanta – created this 60-second radio spot that aired exclusively on radio stations with African-American audiences:
The script:
*Obama:* "I call on states to reform their charter rules…When I passed a law to double the number of public charter schools…I called for a doubling of our investment in charter schools so that students and parents have choices."
*Woman No. 1:* President Obama supports public charter schools.
*Woman No. 2:* Many Democrats in this state support public charter schools. But Amendment One shouldn't be about Democrats or Republicans.
*Woman No. 1:* It shouldn't be about local politicians trying to further their careers. It should be about providing every child with a real education opportunity. You should vote "yes" on Amendment One.
*Woman No. 2:* Too many of our children are trapped in schools struggling schools –
*Woman No. 1:* And don't have quality school options. If you believe that education should come before petty politics —
*Woman No. 2:* Then you should vote "yes" on Amendment One. If you believe that every child deserves an opportunity for a quality education —
*Woman No. 1:* Then you should vote "yes" for Amendment One.
*Woman No. 2:* Vote "yes" for public charter schools.
Never mind the content, which opponents of the ballot issue might argue was off-base. Amendment One wasn't about whether charter schools should exist — it was about who would be in charge of creating them.
Even so, the Obama radio ad was deemed crucial. Amendment One passed with 59 percent approval, earning nearly 100,000 more votes than Republican presidential candidate Mitt Romney.
"The amendment was not passed by Romney voters. We built a new coalition to pass the charter amendment. It was suburban whites and urban blacks," wrote Chris Carpenter, another of the Democratic heads behind the strategy. "Yes, the same coalition that the Atlanta T-SPLOST campaign was going for."
Franklin and Carpenter worked with GOP strategists Heath Garrett, Chip Lake and Mitch Hunter for the well-funded Families for Better Public Schools, the lead organization behind Amendment One. In early October, polls showed black support for the charter school measure slipping. A TV and radio ad, featuring a young African-American student at Ivy Prep was rolled out.
"We wanted to say, 'This is who you're voting against,'" Franklin said. Much of the opposition was pushed into the undecided column. The ad featuring strung-together comments that Obama has made on charter schools was used to turn black voters into supporters.
"The point of putting Obama up there is that I knew the other side would make it partisan," Franklin said. The ad began running Oct. 29 – once an hour on every African-American radio station in Atlanta, and three times every two hours on stations throughout the rest of the state.
"We took the exact opposite approach that the T-SPLOST took," Franklin said. With the transportation sales tax campaign, emphasis was placed on obtaining personal endorsements from black leaders – most prominently Atlanta Mayor Kasim Reed. Who remained silent on Amendment One.
"What I'm most proud about this win is, was not only that we won the black vote 2-1 against the black establishment, but we did it without any endorsement at all," Franklin said.
Republicans were impressed, including Bert Brantley, the former spokesman for Gov. Sonny Perdue – who assumed the same role in the TSPLOST and Amendment One campaigns. "Here's what I know going forward," Brantley said. "I'm going to try to be on the same side as Cabral and Chris Carpenter as often as possible in the future."
Former AJCer Doug Blackmon, who supported Amendment One, tackles the topic of African-American support in a piece you can read on line.
That level of support flatly contradicts one of the flimsiest canards used to criticize Amendment 1—and charter schools in general. That is: the idea that somehow charter schools end up hurting minority or poorer students while disproportionately helping white and middle class children. The actual performance of charter schools in Georgia has always defied such claims. African-American students and all children living in urban areas with failed conventional public schools, like Atlanta, have benefited far more from charters than any other groups.