SUBSCRIPT: Is Phillip Jackson's 'Black Star Project' joining Stand for Children, Advance Illinois, and DFER in Astro Turf attack on CTU and public schools?
George N. Schmidt - May 26, 2012
Ever since he completed his stints as "Chief of Staff" for Chicago Schools CEO Paul Vallas (1995 - 1997) and then was put in charge of the early phases of "housing reform" (as head of the Chicago Housing Authority) by Mayor Richard M. Daley, we've been waiting for Phillip Jackson, head of Chicago's "Black Star Project," to explain how all those attacks on the poor and working class were carried out during those years. Instead, lucrative silence.
Now Black Star, which has always been less than transparent in its funding sources, has announced that it is moving to help create what it is calling the "Parent Revolution." This to teachers should sound suspiciously like the "Parent Trigger" (to create charter schools) that the group toyed with back when Rahm Emanuel was running for mayor.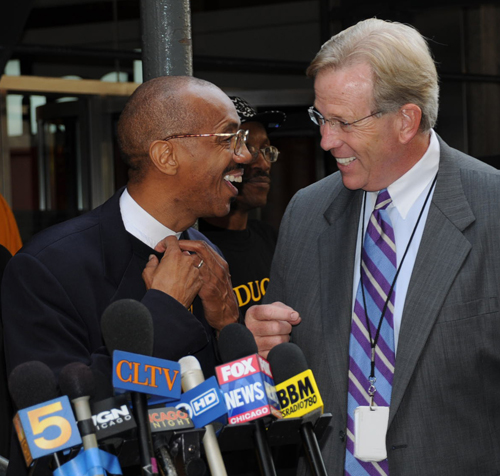 Since he completed his loyal and lucrative service to former Mayor Richard M. Daley (Jackson was the "Chief of Staff" to Paul Vallas during the early year of mayoral control of Chicago's schools; he was then appointed by Mayor Daley to be head of the Chicago Housing Authority to oversee the massive displacement of CHA residents during "housing reform"), Phillip Jackson (above, during a media event at the Chicago Public Schools on August 27, 2008) has been in the limelight as a media created local entity much like Father Michael Pfleger. Substance photo by George N. Schmidt.On May 26, Black Star announced its "Parent Revolution" with the following words. For now, Substance readers (and the majority of Chicago parents and teachers) can be on the alert for what comes next. But if Jackson shows up for a revolution near you, why not ask him first how he got and held those really high level (and well paying) jobs back during the founding days of "school reform" and "housing reform" under Richard M. Daley and Paul G. Vallas. Maybe there is an explanation. Or maybe this is just another iteration of corporate school reform, with a bit more energetic chanting thrown in.
BLACK STAR ON MAY 26, 2012:
Join Black parents from all over the United States working to improve the education of their children
Hear from parents who have created great schools for their children
Hear teachers discuss how working with parents is the key to educational success
Hear nationally acclaimed educators and thought-leaders discuss what works for educating Black students
Learn about public, private, charter, alternative, Catholic, Lutheran, Head Start and other school systems
Learn about the major educational movements in the world
Learn about how churches can support parents and students in their communities
During the same week, the three other main Astroturf groups claiming to represent Chicago parents and students got their moments in the sun thanks to the city's corporate media. On May 24, the Chicago Tribune noted that both Stand for Children and Democrats for Education Reform are against a CTU strike. What the Tribune failed to note is that Stand for Children is currently on its third Chicago chieftan in less than one year, and that the current top guy, Juan Jose Gonzalez, has no children in the city's public schools. "Democrats for Education Reform" are also being rushed into the limelight by the city's corporate media.
Below is the Chicago Tribune report on what Stand for Children said during the May 23 Board of Education meeting:
School reform groups urge no strike for Chicago
May 23, 2012|By Noreen S. Ahmed-Ullah | Tribune reporter
Stand for Children, an Oregon-based education reform group that helped pass legislation last year that makes it harder for the Chicago Teachers Union to strike, today joined another reform-driven organization from out of town to urge the union and Chicago Public Schools to continue negotiating and put aside talk of a strike.
Ads By Google
10-day Summer Boarding
Improve academics-take the plunge! Change your teen's life in 10 days
www.Supercamp.com
Stand's Chicago director Juan Jose Gonzalez called the union's polling of members on board proposals within the last month as "disingenuous."
"What we were pushing for (with the state education reform law) was a transparent process. We want that process to be fulfilled and both sides to act in good faith," said Gonzalez, speaking at a press conference before the district's monthly board meeting.
He was joined by parents who are members of his group and officials with Democrats for Education Reform, a Washington, D.C.-based group that came to Chicago four months ago.
Issues in the contract talks are now before a three-member panel that is expected to make recommendations on contract proposals in mid July. It's the first step in a lengthy process required under the new law before the union can stage a walkout.
With 1,400 teachers set to retire in June, the union has been considering whether to conduct a strike vote before the panel's findings are in.
Reform groups that passed the legislation say the new law's intent was the vote should not take place until the panel is done with its recommendation and the last best offers of both sides are made public.
The two reform groups have started petitions calling on both sides to continue negotiations.
Michael Butz, a parent at Disney Elementary who is a member of Stand for Children, said a walkout would leave parents scrambling to find child care or being forced to take time off work.
"It's now become a game of brinkmanship," Butz said. "As a Chicagoan and parent I'm frustrated and disappointed."