SUBSCRIPT: A Substance deconstruction, New Age style... Brizard's Op Ed 'appreciating' teachers was like sending your mother a "F___ You!" Mother's Day card and thinking it was really nifty cool
George N. Schmidt - May 12, 2012
Did anyone notice the obscenity of Chicago Public Schools Chief Executive Officer Jean-Claude Brizard's Mother's Day Weekend Op Ed in the May 11, 2012, Sun-Times, especially coming a day after he once again proved himself the Mastery of Mendacity by publishing a FOS "Fact Sheet" on the official public Web site of the third largest school system in the USA? This "One-Two" punchiness was like sending Mom one of those silly Teen Macho Mother's Day cards that suggests something lewd. Only in Chicago in the end of the first year of the Rahmpage could so many people have treated this nonsense with a straight face. Of course, if you own the Sun-Times (and soon, Reader) you can publish anything you want.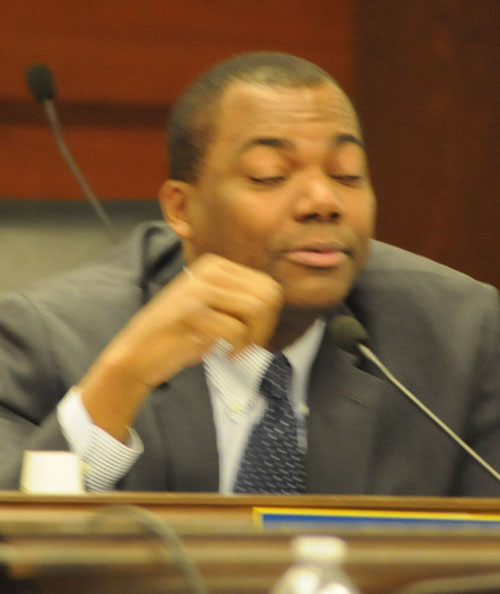 Jean-Claude Brizard during public participation at the January 2012 meeting of the Chicago Board of Education. Substance photo by George N. Schmidt.Let's just do a little deconstruction of Brizard's lack of wit, before going forward with the metaphors comparing him to Eminem (who at least has the excuse of some talent and the fact that his lyrics are sometimes cynically about making more money).
The following was the version of Brizard's platitudes and pontifications that appeared in the print edition of the Sun-Times on May 11, 2012.
Teachers are the backbone of the system... (Chicago Sun-Times, Op Ed, Updated: May 11, 2012 1:44PM)
I entered the classroom as a teacher for the first time almost 26 years ago, and I still feel the same rush of excitement every time I step into a school. Over the last year, I've visited dozens of schools throughout our district and have observed hundreds more teachers engage and inspire students in the classroom. It is truly one of the best parts of my job.
[SUBSCRIPT: And I've kissed up to a lot of very powerful people to make sure I'll never have to go back to that classroom. And just to show how much respect I have for Chicago teachers, I will never hire a Chicago teacher or principal to be a cabinet-level administrator in my "team," because I am under orders from Rahm Emanuel, my overseer, and the Broad Foundation, to be a hiring hall for every unemployed MBA who's gone through that privatization Boot Camp operated by my mentor and patron, Eli Broad...]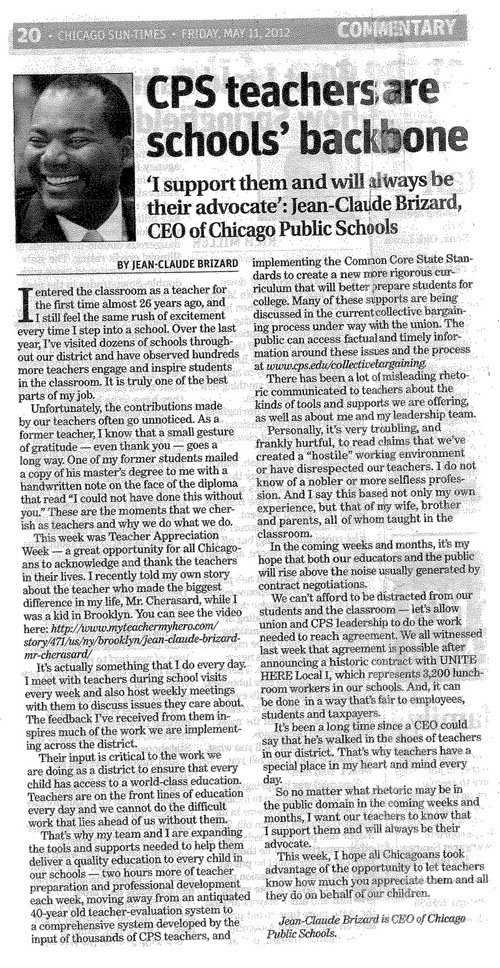 Brizard's Mother's Day Weekend Op Ed about how much he loves teachers. Unfortunately, the contributions made by our teachers often go unnoticed. As a former teacher, I know that a small gesture of gratitude — even thank you — goes a long way. One of my former students mailed a copy of his master's degree to me with a handwritten note on the face of the diploma that read "I could not have done this without you." These are the moments that we cherish as teachers and why we do what we do.
[SUBSCRIPT: Of course the contributions of Chicago teachers go unnoticed, when CPS slanders more than 1,000 teachers in the first round of the Brizard "turnaround" and fires them because of a mendacious medley of misrepresented data, like Brizard did in February 2012. Brizard didn't even have the courage to attend any of the Show Trial hearings against the ten schools he declared failures during the turnaround Witch Hunt in January and February...].
This week was Teacher Appreciation Week — a great opportunity for all Chicagoans to acknowledge and thank the teachers in their lives. I recently told my own story about the teacher who made the biggest difference in my life, Mr. Cherasard, while I was a kid in Brooklyn. You can see the video here: http://www.myteachermyhero.com/story/471/us/ny/brooklyn/jean-claude-brizard-mr-cherasard/
[SUBSCRIPT: Well, sort of. I told my own story very privately so nobody would hear me ignoring the 25,000 teachers who were voting — again, they did it two years ago in Rochester, New York — that they all wanted me to quit trying to play Chief Executive Officer and, since you love teaching so much, go back to the classroom for five, ten or twenty years...].
It's actually something that I do every day. I meet with teachers during school visits every week and also host weekly meetings with them to discuss issues they care about. The feedback I've received from them inspires much of the work we are implementing across the district.
[SUBSCRIPT: Of course, no teacher is ever allowed to come to an open meeting with me, because my propaganda "team" makes sure that every teacher who is giving me "feedback" is repeating faithfully what I've already told them I want to hear...].
Their input is critical to the work we are doing as a district to ensure that every child has access to a world-class education. Teachers are on the front lines of education every day and we cannot do the difficult work that lies ahead of us without them.
[SUBSCRIPT: And my administration is spending tens of millions of dollars on more tests and more Common Core materials — all privatized — but I can't find the money to provide those 150 schools without libraries with libraries. After all, who needs a library when you can have "Common Core" and "World Class Standards" to make everyone "College and Career Ready"...].
That's why my team and I are expanding the tools and supports needed to help them deliver a quality education to every child in our schools — two hours more of teacher preparation and professional development each week, moving away from an antiquated 40-year old teacher-evaluation system to a comprehensive system developed by the input of thousands of CPS teachers, and implementing the Common Core State Standards to create a new more rigorous curriculum that will better prepare students for college. Many of these supports are being discussed in the current collective bargaining process under way with the union. The public can access factual and timely information around these issues and the process at www.cps.edu/collectivebargaining.
[SUBSCRIPT: And naturally, I began my work in Chicago by breaking the collective bargaining agreement that said teachers and other union workers were supposed to get a four percent raise this year, then spent the money on "Portfolio Officers," and "Departments of Leadership Development" and scores of Power Point presentations just to prove that everything I was peddling every month was TRUE, DO YOU HEAR ME, IT'S ALL TRUE!!! (even when it isn't; after all, it's in Power Point...].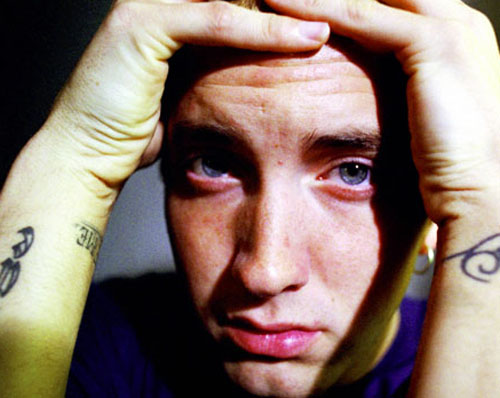 Eminem's lyrics may have hit hard against his mother, but at least they were there to provide entertainment. Brizard is a public official.There has been a lot of misleading rhetoric communicated to teachers about the kinds of tools and supports we are offering, as well as about me and my leadership team.
[Subscript: And you can read almost all of the most interesting misinformation in my press statements, in the Power Points distributed by my "team," and in the controlled media events I'm hosting at least once a month when no real teachers are around to spoil the scripts...].
Personally, it's very troubling, and frankly hurtful, to read claims that we've created a "hostile" working environment or have disrespected our teachers. I do not know of a nobler or more selfless profession. And I say this based not only my own experience, but that of my wife, brother and parents, all of whom taught in the classroom.
[SUBSCRIPT: You know, every sadist feels his victim's pains, and that's how I know how painful and hurtful it was when I declared those ten schools in need of "turnaround." It was like having my own private little dungeon just for fun. Of course, in January and February when I declared that ten schools were failures and had to be "turned around" by my corporate buddies in AUSL and elsewhere, that wasn't hurtful to the thousand teachers I was firing, or the more than 10,000 children whose teachers were being slandered by me to the world. After all, those Show Trials we held were proof that those teachers were FAILURES and those kids all deserve TURNAROUND.].
In the coming weeks and months, it's my hope that both our educators and the public will rise above the noise usually generated by contract negotiations.
[SUBSCRIPT: I now I'm recycling one of those words — "noise" — used by my overseer and good buddy Rahm Emanuel to describe democracy, but it was just too good to leave out of this...].
We can't afford to be distracted from our students and the classroom — let's allow union and CPS leadership to do the work needed to reach agreement. We all witnessed last week that agreement is possible after announcing a historic contract with UNITE HERE Local 1, which represents 3,200 lunchroom workers in our schools. And, it can be done in a way that's fair to employees, students and taxpayers.
[SUBSCRIPT: And of course I'm not telling anyone how I would have privatized and fired all those mothers who work in our lunchrooms if they hadn't agreed to that deal we offered their union. Happy Mother's Day, suckers!...].
It's been a long time since a CEO could say that he's walked in the shoes of teachers in our district. That's why teachers have a special place in my heart and mind every day.
[SUBSCRIPT: Those expensive CEO shoes I'm wearing won't be damaged working in any real classroom anytime soon, but you can believe I'll be in a classroom any time I can make sure the set up by a dozen publicity people has been done so that nobody gets a chance to ask the price of my shoes or why I've spent my first year as a "CEO" walking mud over every teacher in Chicago except the dwindling group of those who once lined up to kiss my -- did that former mayor really say "mistletoe"?].
So no matter what rhetoric may be in the public domain in the coming weeks and months, I want our teachers to know that I support them and will always be their advocate.
[SUBSCRIPT: And you know the kind of support I mean. Think about all those teachers I'm firing in a few weeks from the Turnaround schools, and just Google a gallows. That platform provided the kind of support I can give anyone who dares to disagree with me and my team...].
This week, I hope all Chicagoans took advantage of the opportunity to let teachers know how much you appreciate them and all they do on behalf of our children.
[SUBSCRIPT: By joining the Chicago Teachers Union and the mass movement for an elected school board so that next year on Teacher Appreciation Day Chicago doesn't have to read this lying sack of merde prattling on and on again. (Brizard, as readers know, speaks French as well as our puppy does...].
Jean-Claude Brizard is CEO of Chicago Public Schools.