'Union bosses like Karen Lewis seem intent on thuggery and intimidation to get their way... ' Plutocrats deploy proxies as CTU and CPS reach impasse on contract negotiations
George N. Schmidt - May 04, 2012
Less than one year after Substance first reported that Chicago Mayor Rahm Emanuel was establishing what became known as the notorious Rent A Preacher and Rent A Protester actions, what should become knows as the "Plutocracy's Proxies" have begun appearing in the Chicago media, echoing the same talking points against the Chicago Teachers Union and Chicago's teachers that have been used since Emanuel took over the city's public schools in May and June 2011.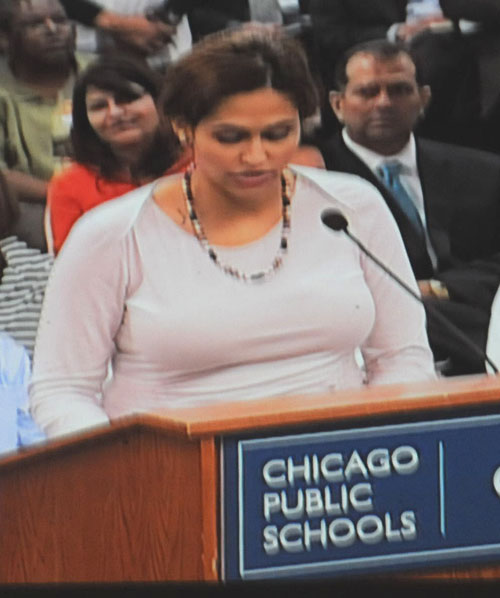 Rebecca Nieves-Huffman (above) made her debut as the Chicago spokesman for "Democrats for Education Reform" (DFER) at the February 22, 2012 Board of Education meeting, when she took the podium in support of school closings and turnarounds. Substance photo by George N. Schmidt.The latest to deploy on behalf of the plutocracy is Rebecca Nieves-Huffman, who identifies herself in an Op Ed in the May 4, 2012 as the "Illinois Director of Democrats for Education Reform." DFER, as it is known, is the creation of New York Hedge Fund billionaires and a handful of hired hands who promote the notion that there is a division among Democrats and that corporate school reform has a large base among the public. Because the groups are all funded to the tune of millions of dollars, they are able to generate Web sites and other outlets even before they have one member. Over time, they also try and deploy cadre who speak out against unions, employe the usual teacher bashing techniques of the Big Lie, and attempt (usually, with little success) to build a base among teachers and parents across the city.
Rebecca Nieves-Huffman first appeared on the public education scene in Chicago speaking out in favor of school turnarounds and closings at the Board's February 22 meeting. Like her similarly pluocratically bankrolled colleagues from Stand for Children and Advance Illinois, she praises the mayor, bashes teachers, and tries to play the game of "Good Teacher/Bad Teacher" by calling on teachers who really care about "the kids" to break with their union bosses.
The Grandaddy of these groups in Chicago is the Civic Committee of the Commercial Club, which more than a year ago unveiled the scare words "nuclear" to describe the option that Chicago teachers would have to strike in defense of their rights and against the continued attacks on teachers and public schools. The May 4 Op Ed by Nieves Huffman, reprinted here, utilizes all of the cliched talking points that come out of the corporate school reform think tanks and organizing groups. They will be heard across the city more and more in the coming months, and will be amplified as Chicago's corporate media try to give the impression that someone among the city's teachers is against teachers reestablishing their rights, by a strike if necessary, through the collective bargaining process.
SUN TIME OP ED OF MAY 4, 2012 IS BELOW HERE:
CTU's reckless strike talk is bad for Chicago's kids
By Rebeca Nieves Huffman, Chicago Sun-Times (May 3, 2012 6:38PM online; May 4, 2012 in print)
For much of the last year, while parents, community leaders and policymakers have been focused on bringing much-needed improvements to the Chicago Public Schools, the teachers union has been not-so-secretly planning to hold our city — and our schoolchildren — hostage by calling for a strike.
A teachers strike — something Chicago hasn't seen since 1987 — is a big deal. It's a nuclear option for defiant union negotiators who don't get their way.
One reason there aren't as many teachers strikes around the country as there used to be is that everyone involved — including teachers — recognizes the havoc created for families and for students who need every minute of education possible to keep pace with their peers around the country and around the globe.
Strikes are extremely dangerous, which is what makes them effective as political tools.
This is why it is so upsetting that the Chicago Teachers Union has been so reckless about playing the strike card. This does not sound like a union that has any respect for the principles of collective bargaining, where both sides work in good faith at the bargaining table. Rather, union bosses like Karen Lewis seem intent on thuggery and intimidation to get their way outside of the process.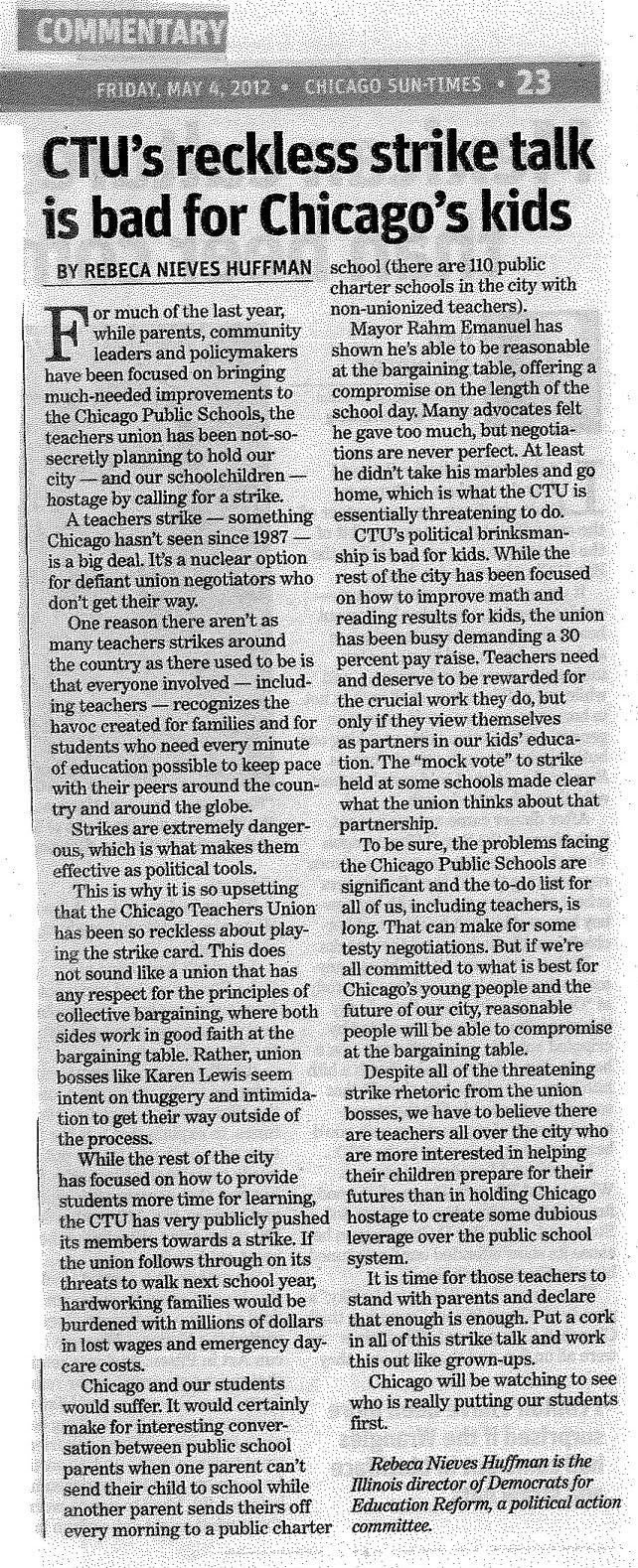 The May 4, 2012 Op Ed in the Chicago Sun-Times could function as a template for the upcoming deluge of plutocratic propaganda against Chicago teachers and the Chicago Teachers Union. The usual lines, including unstinting praise of Mayor Rahm Emanuel, will be increasingly shrill as the summer of 2012 goes on and the Chicago Board of Education continues to try and eliminate the rights of Chicago teachers under the lengthy Chicago Teachers Union contract.While the rest of the city has focused on how to provide students more time for learning, the CTU has very publicly pushed its members towards a strike. If the union follows through on its threats to walk next school year, hardworking families would be burdened with millions of dollars in lost wages and emergency day-care costs.
Chicago and our students would suffer. It would certainly make for interesting conversation between public school parents when one parent can't send their child to school while another parent sends theirs off every morning to a public charter school (there are 110 public charter schools in the city with non-unionized teachers).
Mayor Rahm Emanuel has shown he's able to be reasonable at the bargaining table, offering a compromise on the length of the school day. Many advocates felt he gave too much, but negotiations are never perfect. At least he didn't take his marbles and go home, which is what the CTU is essentially threatening to do.
CTU's political brinksmanship is bad for kids. While the rest of the city has been focused on how to improve math and reading results for kids, the union has been busy demanding a 30 percent pay raise. Teachers need and deserve to be rewarded for the crucial work they do, but only if they view themselves as partners in our kids' education. The "mock vote" to strike held at some schools made clear what the union thinks about that partnership.
To be sure, the problems facing the Chicago Public Schools are significant and the to-do list for all of us, including teachers, is long. That can make for some testy negotiations. But if we're all committed to what is best for Chicago's young people and the future of our city, reasonable people will be able to compromise at the bargaining table.
Despite all of the threatening strike rhetoric from the union bosses, we have to believe there are teachers all over the city who are more interested in helping their children prepare for their futures than in holding Chicago hostage to create some dubious leverage over the public school system.
It is time for those teachers to stand with parents and declare that enough is enough. Put a cork in all of this strike talk and work this out like grown-ups.
Chicago will be watching to see who is really putting our students first.
Rebeca Nieves Huffman is the Illinois director of Democrats for Education Reform, a political action committee.