Angry union president announces teachers ready to strike because of CPS and Emanuel hypocrisy, bullying
George N. Schmidt - April 05, 2012
A visibly angry Karen Lewis, President of the Chicago Teachers Union, held a press conference on April 5, 2012, to announce that straw polls of teachers and other union members at at least 150 real Chicago public schools were running overwhelmingly in favor of a strike some time after the current contracts between the unions and the Board of Education end on June 30, 2012. Although Lewis refused to detail which schools were voting how, she told dozens of reporters assembled at the union's Merchandise Mart headquarters that the teachers' anger was escalating as the Board of Education continued to take actions that were both insulting and professionally unsound.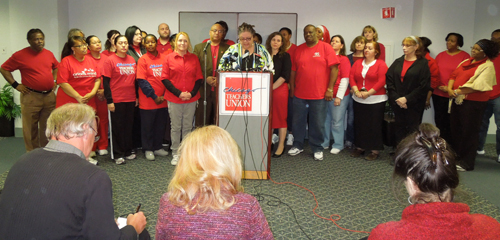 Chicago Teachers Union President Karen Lewis (above at podium) was surrounded by angry teachers wearing "CTU red" at an April 5, 2012 press conference as she announced that 150 real Chicago public schools had conducted polls indicating that the actions of Chicago Mayor Rahm Emanuel and his hand-picked public schools administration and school board had created such anger that the teachers and others were willing to strike. Substance photo by George N. Schmidt.Among the recent actions she cited were the announcement by CPS officials that all schools would go to a 7.5 hour school day for the 2012 - 2013 school year, the implementation of the REACH program (teacher evaluations based on test scores), the closing and turnaround of 17 schools, the opening of new charter schools without a thorough review of existing charter schools, and the constant "bullying" of teachers and other staffs by a growing number of principals being coached and supported by the CPS central administration.
"In all of my 22 years of teaching, I have never seen a climate as hostile as the one created by Rahm Emanuel, his hand-picked school board and his handpicked leadership of Chicago Public Schools," Lewis told reporters, then reminding them that before she became a teacher, Lewis was the daughter of two teachers who participated in all of the union strikes of the 1960s, 1970s, and 1980s.
While some of the questions to the union president indicated editorial bias on behalf of the Board of Education, the majority showed that Chicago's corporate media, at least through its reporters, are working to get some of the facts about the explosive reality that has developed in Chicago's schools since Mayor Rahm Emanuel was inaugurated in May 2011 and began his carefully scripted attacks on the Chicago Teachers Union and his scapegoating of Chicago's real public schools and Chicago's union teachers.
A video of Lewis's remarks (but without much of the press conference) has been posted on the CTU website at http://www.ctunet.com/blog/president-lewis-chicago-teachers-and-paraprofessionals-are-fed-up-video.
Lewis's prepared statement, provided by the CTU Communications Department, follows:
Karen Lewis Remarks. 4/05/12
Good morning, I've called you here today to let you know: Chicago teachers and paraprofessionals are fed up.
They are tired of being blamed, bulled and belittled by the very District that should support them.
We live in a City that no longer trusts educators as important resources in helping our youth to develop values, skills and the knowledge required for them to enter adult life as thinking and engaged citizens.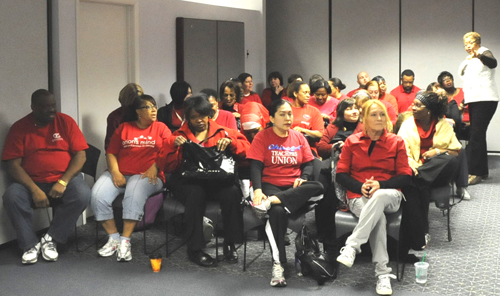 Despite the fact that it was vacation, more than two dozen Chicago teachers were at the union headquarters for the press conference on April 5, 2012. Substance photo by George N. Schmidt.We live in a City that has done everything it can to take the joy out of teaching and learning.
Teachers in Chicago are being deskilled, unceremoniously removed from the process of school governance and reduced to technicians and babysitters. We're being asked to work harder and longer in order to further inflict upon our students mindless experiment after mindless experiment. The school district, however, calls these experiments "reform."
When their experiments fail it is the teacher who is blamed and evaluated. Next year, all schools move to longer school days and a longer school year — without any commitment from the District to give students and teachers the resources they need. The Board won't even explain to the public how it will pay for a longer school year; how it will fund the hiring of the art, music, world languages and physical education teachers who are so desperately needed to help provide our students with the type of education they deserve.
Instead, what the Board has said is it wants to lengthen the school year; cut professional development days; decrease pay and benefits; and evaluate teachers based on student test scores. More of the status quo.
This has led teachers at a number of Chicago Public Schools to conduct internal polling to test the "pro-strike" sentiment in their schools. In those schools that have conducted this polling, teachers and paraprofessionals there have voted overwhelming to strike, should contract negotiations fail and CPS and the Mayor does not reverse the hostile climate against us.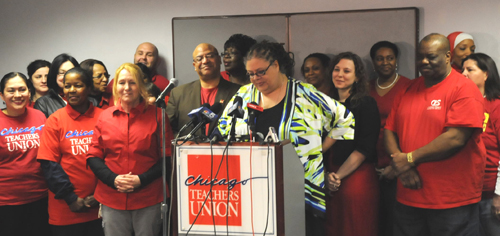 In a moment of humor at the beginning of the press conference, a reporter's cell phone went off, and Karen Lewis waited with the patience of a classroom teacher until the interruption was ended. Then she said that the reporter would get detention and have the phone taken until her parents came — "unless you at at Noble Street [charter schools], in which case you will also have to pay a fine..." she ended as everyone, including the press, laughed. Substance photo by George N. Schmidt.Teachers at such schools as Taft, Kelyvn Park, Chicago Academy, Kelly, North Side College Prep, Sullivan, Mather, Curie, Washington, Steinmetz, and Senn (to name just a few) have all issued unanimous votes of solidarity to stand together to fight against this educational injustice. Their polling also indicates no-confidence vote in the way CPS continues to enforce its top-down, misguided policies throughout our school system. In response to this polling CPS has said (according to the Tribune):
"Any talk of holding a strike or mock strike votes at this early stage of contract negotiations is a disservice to our children, parents and families and only diverts our energies away from focusing on our students and boosting their achievement in the classroom," (Becky) Carroll said.
How disingenuous. Let me tell you what the REAL disservice to our children, parents and families really is:
• Shutting down schools, despite the pleas and testimonies of hundreds of parents and students and community leaders, who say were never given the resources to help get their schools off probation in the first place
• Calling parent voice – "noise"; and Board Members walking out of Board chambers when the "noise" gets too loud
• Reducing report card pick up time to only three hours, forcing teachers and parents to have 2-to-3 minute "drive by" conferences; and without consideration of parent work hours and travel considerations…
The disservice is: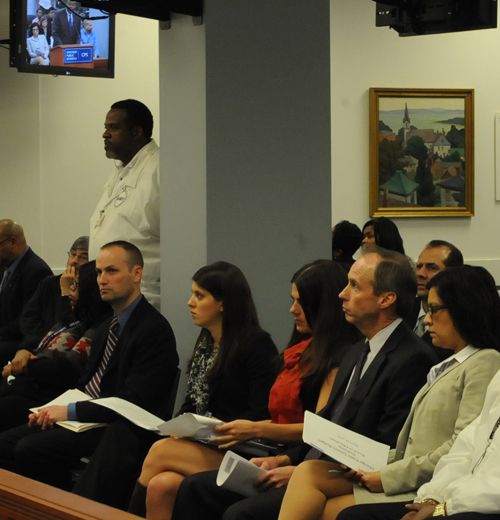 Chicago Public Schools "Chief Administrative Officer" Tim Cawley (above, second from right) and "Chief Education Officer" Noemi Donoso came to CPS with no teaching experience in Chicago's schools. Cawley was an executive at Motorola and then at the Academy for Urban School Leadership before he was appointed to his $215,000-per-year post by the Chicago Board of Education in May 2011. Donoso was in charge of charter schools in Denver. Above, both wait to present their Power Points on budget and other matters while "Chief Executive Officer" Jean-Claude Brizard (also from outside Chicago) introduces the policy reports at the March 28, 2012 Board meeting. Substance photo by George N. Schmidt.• A CPS official bragging about how the District will starve a neighborhood school for up to a decade before shutting it down, turning it over, or consolidating it with another school
• Turning over neighborhood schools to politically-connected education contractors, like AUSL, which fires all of the staff in order to "change the culture," yet whose schools fare no better than regular neighborhood schools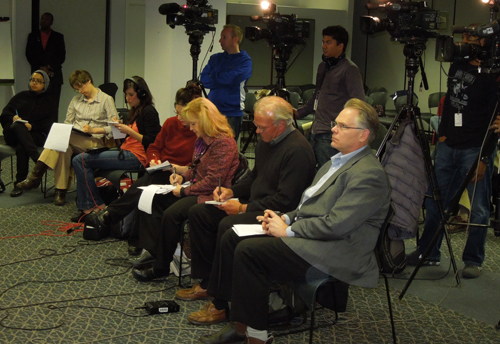 Despite attempts by Mayor Rahm Emanuel and CPS to schedule media events in competition with the CTU, a large number of informed reporters showed up for the April 5, 2012 press briefing. Substance photo by George N. Schmidt.• Forcing students and teachers to be in the classroom for NINE consecutive weeks without a break to allow students time to adjust and reflect; and teachers and paraprofessionals to come together in professional development so they can strengthen their craft and better serve their students
• Implementing so-called "longer school days," which is a political slogan and not an education plan. Teachers and Parents at the 13 "Pioneer Schools" are concerned about student burnout, exhaustion and the fact that few of those schools (despite the bountys paid to their principals) have been given additional resources to ensure that their students have a BETTER SCHOOL DAY
• 160 Schools with no libraries
• Misguided school discipline problems that target African American and Latino boys
The REAL disservice is:
• 1,000 Teachers laid off; and tenured African American teachers being the first on the chopping block
• REACH – CPS's new and flawed teacher evaluation system, that REEKS
• Principal bullying and District intimidation against activist teachers who stand up and fight for their students and their colleagues
• And a 23% pay cut for teachers and paraprofessionals being asked to work longer hours; to do more with less; and be held accountable for every failed CPS policy that is imposed upon our students
Contract negotiations are ongoing and while they have been cordial, we are all very much apart.
The School District proposes:
• A five-year contract with a 2 percent raise in the first year only; after that all teachers/paraprofessionals will move into a merit pay system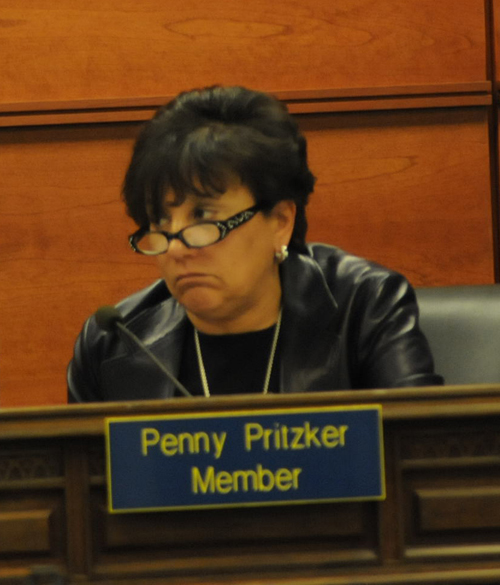 One of Mayor Rahm Emanuel's seven picks to serve on the Chicago Board of Education was billionaire heiress Penny Pritzker, above at the March 28, 2012 meeting of the Chicago Board of Education. Along with the other members of the appointed Board (Chicago is the only school district in Illinois that does not elect its school board), Pritzker has voted in favor of every policy against the school system's labor unions and in favor of every policy to privatize as much of Chicago's remaining public schools as possible. Substance photo by George N. Schmidt.• Teacher evaluation to be based, in part, on student test scores, leading to "teaching to the test…."
• Longer school days/ school year without professional development days; prep time; and additional resources for our students. The Board has made no commitment to hiring qualified teachers to instruct in art, music, physical education, world languages or other studies that will provide our students with a well-rounded curriculum and world-class education etc.
• No commitments on increasing wrap-around services for students, including additional school nurses, social workers, psychologists, therapists or audiometric and vision screening technicians who provide critical social, emotional, intellectual and health services
• The removal of language from the new contract that protects students and teachers from larger class sizes
• Cuts in quality of life benefits, including eliminating banking sick days and increasing in wellness premiums; in addition the Board supports cuts to pensions
• Total gutting of the CTU's contract; proposes reducing a well thought-out, comprehensive bargaining agreement to 20 pages or less.
The Chicago Teachers Union Wants:
• School's Chicago Students Deserve: Well-funded and well-resourced schools; smaller class sizes, a robust, well-rounded curriculum, and in-school services that address their social, emotional, intellectual and health needs. All students deserve culturally-sensitive, non-biased, and equitable education, especially students with IEPs, emergent bilingual students, and early childhood students. They deserve professional teachers who are treated as such, fully resourced school buildings, and a school system that partners with parents.
• A new collective bargaining agreement for our members that impact wages, work hours, benefits, workplace health and safety, professional development and other work-related issues.
• Protection & Respect for Tenured Teachers
• An effective and equitable public education system for all students in Chicago
In all of my 22 years of teaching I have never seen a climate as hostile as the one created by Rahm Emanuel, his hand-picked school board and his handpicked leadership of Chicago Public Schools. In the end, what we really want is what's best for the 400,000-plus school children whom we are pleased to be able to teach and help shape their young lives. I commend my colleagues who have voted for solidarity and for better schools. And we hope the Board will take heed of these actions before it's too late.