Colorado test resister becomes major news story when Pueblo school district marks the child 'truant' and claims that every public school students in Colorado is required to take the TCAP test
Don Perl - March 09, 2012
A major news story broke in Pueblo, Colorado, this week, after Supt. Ed Smith of Pueblo school district 70 refused to honor the right of a parent to keep her child out during the TCAP (Transitional Colorado Assessment Program) and told the family that the child would be marked "truant" for each day he was not in school during the test. A news report on television station KOAA broadcast on Thursday, March 8, told the story to a wide audience. The district's superintendent told the press that the district was required to administer the controversial test and that every child was required to take the test. He also said that the Colorado Attorney General's office supported the school district's punishment of the student.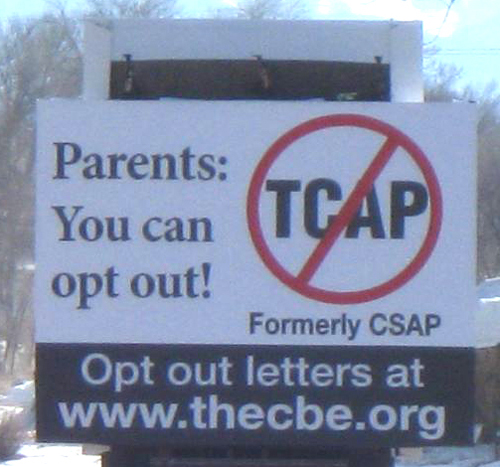 Parents across Colorado have been publicizing the opt out. Now the state is apparently ready to challenge the rights of parents.In the widely viewed news report on television station KOAA TV (Colorado Springs and Pueblo), the mother of the child narrated what happened. "I wrote the district an opt out letter, and I assumed that would be all I had to do... I was astounded that there was so much push back." Colorado resisters can be reached at www.thecbe.org. The group, the "Coalition for a better education", has been active for several years. The website reports:
"The Coalition for Better Education was started by a group of aspiring educators from the University of Northern Colorado, and has expanded to include teachers, parents and students across the state. Our goal is to expand awareness of the costs and limitations of the Colorado Student Assessment Program (CSAP now known as TCAP) and "No Child Left Behind" (NCLB), and to empower parents and teachers.
"Parent refusals have increased every year since high-stakes testing began.
"In 2011 there were 1,427 parent refusals for CSAP, 2,070 tests not completed, 594 students withdrew before completion, and 90 listed as incomplete due to extreme frustration.
"In 2010 there were 324 parental refusals, 519 tests not completed, 157 students withdrew before completion, 20 were listed as incompleted due to extreme frustration..."
"We are not accepting that people can opt out," Supt. Smith told the news reporter who reported the story.
The story, which is still developing, is sparking comments on the station's Facebook page.
The URL for the Colorado news story is: http://www.koaa.com/videos/forced-to-test-/
