MEDIA WATCH: Defunding of Chicago News Coop follows typical Chicago corporate model... If someone doesn't bring you the news you want, you screw them
George N. Schmidt - February 23, 2012
When the "Chicago News Cooperative" began operations in 2009, we were rightly skeptical. Despite the reputations of many of its veteran reporters, the Co-op was being funded by some of Chicago's most famous philanthropies, outfits that had long established a reputation for funding what the boss wanted and "defunding" anyone who brought an inconvenient truth to Chicago's people. Over the years, Substance watched as independent school budget analysis (The Cross City Campaign for Urban School Reform and the Neighborhood Capital Budget Group are just two of those who are no longer funded to do independent budget analysis) and independent parent and community organizations (PURE) were almost wiped out.
Chicago's "philanthropic community" stuck to the official ruling class Party Line, funding its echo chambers and defunding those who told, organized around, and wrote the truth. Led by the Chicago Community Trust and the MacArthur Foundation, Chicago's charities proved charity truly begins at home. And in Chicago "home" is where the billionaires are most happy, with City Hall and local corruption around public school issues getting blacked out by oceans of dollars.
A decent article (see below) recently appeared about the termination of the Chicago News Coop at the hands of the MacArthur Foundation. It is reprinted at the bottom of this commentary. The URL for those who can't get a hotlink is: http://www.chicagocurrent.com/news/33468-What-the-CNC-s-demise-says-about-MacArthur-and-Chicago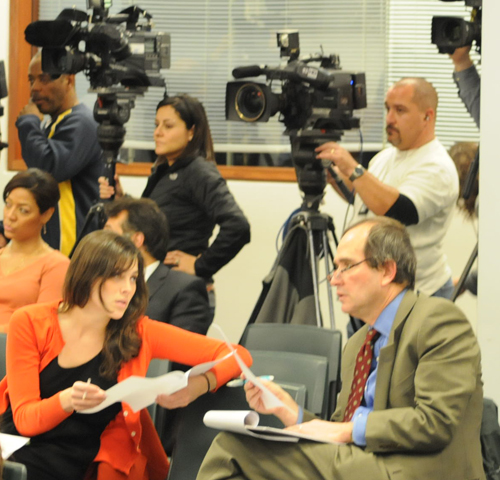 Above, New York Times Chicago reporters Rebecca Vevea (left holding papers) and James Warren (glasses) covering the December 14, 2011 meeting of the Chicago Board of Education. With three reporters regularly reporting on Chicago's public schools, the "Chicago News Coop", which provided two pages of Chicago stories to The New York Times twice a week, often equalled every education beat coverage of Chicago's public schools during its two-year life. But because the Coop actually reported the news, it was eventually cut off from funding, as the accompanying article outlines, joining the many groups that have been "defunded" in Chicago when they proved too critical of City Hall and Chicago's corporate ruling class by simply reporting the facts. Substance photo by George N. Schmidt.We admit to being skeptical. Members of the Board of the Chicago News Coop included Martin Koldyke, the Chicago Venture Capitalist who has done more to push the corporate model of "urban school reform" in Chicago than any other individual (except, perhaps, Richard M. Daley).
Finally, the Coop's reporting was going to go into the Chicago edition of The New York Times, just at a time when The Times was uncritically reporting on every twist and turn from Arne Duncan and the Obama administration's Race to the Top program (at least when the Times story was "news" written by Sam Dillon).
But something interesting happened on the way to what we thought would be more propaganda: The Coop delivered a great deal of real news and analysis, especially in its coverage of the education beat.
At least two of its reporters were regularly at the meetings of the Chicago Board of Education and other major school events. That meant that on occasion the New York Times has more reporters than the Chicago Sun-Times or Tribune on a story. Coop reporters showed up at events that had been snubbed by the major dailies, such as the annual CPS budget hearings. And their reporters sniffed out some stories that many others missed (such as the scandal at "Austin Polytech," a West Side high school that was founded partly on the basis of the clout of Arne Duncan, but which proved to have some management problems that couldn't be papered over...).
Over time, the reporters for the Coop, especially two of them, developed enough sources to give credible coverage to the explosive stories coming out of Chicago Public Schools. By the time the great transition from Mayor Richard M. Daley to Mayor Rahm Emanuel took place in May 2011, the New York Times was providing Chicago readers with as much actual news reporting and analysis of Chicago's public schools as the other dailies. Since much of the news was reporting on those who criticized Emanuel's versions of reality, the news was often critical of Emanuel.
So, naturally, the News Coop was "defunded."
Here is one analysis of what happened.
http://www.chicagocurrent.com/news/33468-What-the-CNC-s-demise-says-about-MacArthur-and-Chicago
What the CNC's demise says about MacArthur and Chicago
Geoff Dougherty
February 21, 2012 @ 1:46 PM
There's an old saying in the journalism business: A newspaper is a mirror of the community it serves. Usually this old saw is meant to imply that strong investigative reporting can force a community to notice its warts (or aldermen) and take action to remove them.
But for me, the saying has come to mean something else—that you can tell a lot about a city's civic health by the way it supports, or fails to support, news organizations that engage in public accountability reporting.
In communities around the country, nonprofit news organizations cropped up over the past several years to fill the gap caused by wave after wave of layoffs at newspapers. Voice of San Diego has raised millions of dollars and become a vital source of watchdog journalism in Southern California. In the Twin Cities, MinnPost has done the same, bolstered by the generosity of wealthy individuals and local foundations. And the Texas Tribune has become the Lone Star state's go-to source for accountability reporting.
In Chicago, it's a different story.
Late last week, word leaked out that the Chicago News Cooperative is suspending operations because the MacArthur Foundation failed to come through with a promised grant payment.
The nonprofit news organization I founded, Chi-Town Daily News, won international praise for its investigative reporting and work with citizen journalists. Despite that, I discovered Chicago's foundations were almost uniformly uninterested in making grants to improve news coverage of the city's public institutions, and consequently the Daily News closed in 2009.
Chicago is home to a number of large foundations that profess an interest in supporting journalism and could spend billions of dollars to do so. They include MacArthur, the McCormick Foundation, the Chicago Community Trust, and others.
Those donors do a passable job of supporting journalism focused on national issues. But funding for the kind of local beat reporting and investigative work that makes City Hall nervous is hard to come by.
If you look beneath the surface, it's easy to understand why. Chicago's philanthropic community is brimming with foundation leaders and program officers who have every reason to dim the spotlight an organization like the CNC can shine.
At the Chicago Community Trust, the CEO, Terry Mazany, is so closely tied to city government that former Mayor Richard M. Daley tapped him to serve as interim chief of the Chicago public schools. In addition to Mazany, at least two other top officials have served the Daley administration. In 2011, the Trust made more than $1.6 million in grants to CPS. It's hard to imagine the trust making a grant of similar size to a news organization that would look critically at the trust's allies, or at programs the trust funds.
At MacArthur, Julia Stasch, director of U.S. programs, is a former Daley chief of staff. MacArthur has been a key funder of the Chicago Housing Authority's controversial Plan for Transformation. Recently, MacArthur provided $15 million in support to Mayor Rahm Emanuel's foreclosure prevention program.
At McCormick, the board is stocked with a cadre of former Tribune executives responsible for driving their newspaper into the ditch. You might surmise that such a group would lack journalistic vision, and in this case you would be correct. The foundation excels at funneling dollars to already well-funded journalism schools, but hasn't made a dent in the way its hometown is covered.
The internet also gives rise to a conflict between news organizations and foundations, who are often more interested in driving traffic to their own websites than funding others.
At a meeting I attended at the trust about four years ago, Mazany detailed a new plan to boost community news coverage. Though both Chicago dailies were spiraling toward bankruptcy and shedding reporters by the dozen, the trust wasn't interested in building the capabilities of existing nonprofit news organizations in Chicago. Instead, Mazany planned to spend close to a million dollars to build a new website for the trust, which would provide coverage of programs and agencies funded by ... you guessed it … the trust.
I left that meeting convinced Mazany, who controls more than $1.5 billion in philanthropic funds, lacked the brainpower to understand the difference between real journalism and a website dedicated to self-serving flackery.
Fortunately, his grandiose vision never came to pass, although a similar effort is afoot at New Communities, an economic development project that has received millions from MacArthur. New Communities runs the Neighborhood News Bureau, which fields former journalists to "cover" the activities of nonprofits affiliated with New Communities.
Just imagine the civic benefit that would accrue if MacArthur were similarly committed to funding actual news reporting in Chicago.
To be sure, many of the Chicago News Cooperative's wounds were self-inflicted. The CNC website was straight out of 2005, creaky and infrequently updated. Though the CNC had a fraction of the money and staff of the city's established newspapers, it sought to cover the same topics in the same ways, which is a sure path to mediocrity. While CNC reporters provided a steady stream of singles and doubles, they almost never hit the ball out of the park.
But the fact remains that the CNC's reporters were at City Hall every day asking the tough questions. Chicago is a city that needs more, not less, of that kind of thing.
After initially providing the CNC with a $500,000 grant, MacArthur delayed its grant renewal, purportedly because the CNC had not yet received its nonprofit status from the IRS.
Foundations across America make grants every day to organizations that are not yet approved by the IRS. It's so common that there are large, IRS-approved nonprofits whose main business consists of accepting this kind of money from foundations and distributing it to grantees waiting for their IRS approval.
As excuses go, MacArthur's is the nonprofit version of "I have to wash my hair."
After spending years dealing with foundation executives, tax lawyers and the IRS, I can tell you this: If the president of the MacArthur Foundation wants to give you half a million dollars, he's got enough lawyers to find a way to do it legally, whether it's as a grant, a loan, a program-related investment or a happy birthday present. Conversely, when you find out that you're not getting $500,000 from MacArthur, you can be pretty sure it's because the foundation has decided it doesn't like you, never mind the claptrap about the IRS.
The foundation was clearly uncomfortable with funding a news organization that had enough reporters and know-how to cause problems with MacArthur buddies at City Hall, and didn't have the integrity to say so directly.
Some media watchers, including the estimable Rob Feder, argue the CNC's demise demonstrates that philanthropic funding is no way to pay for news reporting. That's not the case.
The model is working in other cities across the country. However, it's certainly doomed in a city with a philanthropic community so intricately tied to the kind of back-scratching deals and back-room loyalties that define Chicago-style politics.