Fair Test's Monty Neill and CTU Testing Committee Chair (and Substance editor) Sharon Schmidt at University of Illinois February 15, 2012, in testing forum
George N. Schmidt - February 14, 2012
Monty Neill, the nationally recognized authority on testing (Fair Test, www.fairtest.org) will discuss testing misuse in a forum on February 15, 2012 at the University of Illinois building at 701 S. Halsted from 6:00 p.m. until 8:00 p.m. Sharon Schmidt, chairman of the Chicago Teachers Union Testing Committee, will respond and participate in the discussion.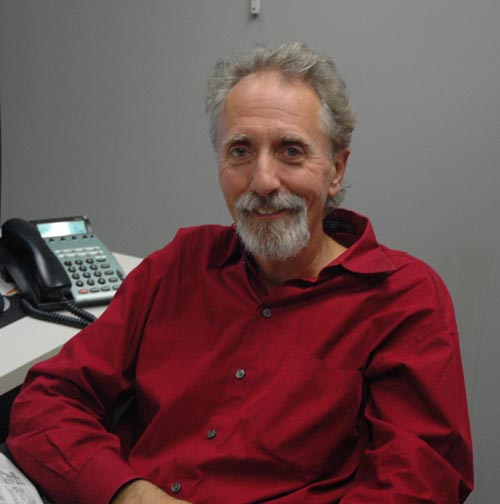 Above, Fair Test's Monty Neill during a visit to Chicago to discuss opposition to "No Child Left Behind" in September 2006. For more than 20 years, Dr. Neill and Fair Test have been the nationally recognized authority on the limits of high-stakes testing and other standardized tests. In 2001, Dr. Neill (along with award winning test expert Gerald Bracey) testified as an expert witness on behalf of Substance reporter (then editor) George Schmidt, who was being persecuted (and subsequently fired and blacklisted) by CPS after Substance published six of the ridiculous CASE tests in the newspaper's January 1999 edition. Copies of CASE materials will be available on February 15 at the forum at UIC. Substance is also beginning to help organize resistance to the so-called "Common Core" materials, which Substance is describing as "CASE on steroids", another Chicago infection spreading to the entire nation. Substance photo by George N. Schmidt.WEDNESDAY, FEB. 15, 2012. 6 pm - 8 pm. UIC Student Center East (701 S. Halsted), Cardinal Room. (Public parking available in structure across Halsted)
Monty Neill, Ed.D., Executive Director of the National Center for Fair & Open Testing (http://www.fairtest.org/), has led FairTest's work on testing in the public schools since 1987.
His talk will address:
-- A decade of failed testing policy
-- What the new Elementary and Secondary Education Act should look like
-- Strategies for winning: local and national action
Sharon Schmidt, chairman of the CTU Testing Committee, will join long-time friend Monty Neill for the discussion.
For more information, contact Isabel Nuñez at 708-209-3518 or isabel.nunez@cuchicago.edu
This event is free and open to the public. Co-sponsored by the UIC Institute for Policy and Civic Engagement and the UIC Asian American Studies Program. Additional support provided by: the School of the Art Institute, Department of Art Education; Concordia University Chicago, College of Graduate and Innovative Programs; National-Louis University College of Education; DePaul University School of Law; Northeastern Illinois University College of Education; DePaul University College of Education; Cultural & Educational Policy Studies, Loyola University Chicago; Mansfield Institute, Roosevelt University; PURE (Parents United for Responsible Education.
Click here to download the flyer.