CTU endorses primary candidates after exhausting reviews and some heated debates.... Union also highlights new legislation that will help public schools of Chicago
George N. Schmidt - February 02, 2012
The Chicago Teachers Union voted overwhelmingly on February 1, 2012 at its monthly House of Delegates meeting to endorse 52 candidates for local and state office in the upcoming elections. The endorsement came after extensive reviews of the candidates by the union's Political Action and Legislative committees, and equally extensive discussion and debate by the members of the union's 700-member House of Delegates. (Full disclosure: this reporter is a delegate who was present at the meeting and who spoke in favor of some of the recommendations, including the recommendation to endorse Illinois House Speaker Michael Madigan despite reservations expressed by some delegates).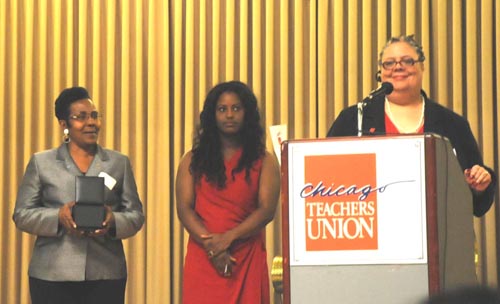 Above, Chicago Teachers Union President Karen Lewis (right, at podium) announces the award to State Senator Esther Golar (left) while CTU Political Action chief Stacey Davis-Gates looks on. The above photo was taken during the October 28, 2011, CTU LEAD (Legislators Educators Appreciation Dinner) dinner at the Plumbers Union hall in Chicago. Substance photo by Sharon Schmidt.The union also took notice of legislation now moving through the Illinois General Assembly that will impact Chicago. In a separate press release about legislation on February 2, the union reported as follows:
CTU applauds pro-teacher legislation; calls lawmakers 'courageous' for stance on school closings, class size, and fiscal responsibility
CHICAGO – The Chicago Teachers Union (CTU) applauds state lawmakers who, this week, introduced critical pieces of legislation that will benefit thousands of educators, students and taxpayers if turned into law. The proposals could put a halt to the Chicago Public Schools' (CPS) plan to shut down, consolidate or turnaround several neighborhood schools; increase fiscal accountability within the district; and, would significantly reduce swelling class sizes in many elementary and high school classrooms.
"The 30,000 CTU members commend the work of Illinois Representatives Cynthia Soto (4th ), Marlow Colvin (IL-33rd) and Luis Arroyo (IL-3rd) for joining the fight for education justice in our Chicago," said CTU President Karen GJ Lewis. "All of our students deserve access to high-quality neighborhood schools that offer them a comprehensive, well-rounded curriculum. These courageous lawmakers are standing up for the families and communities of more than 400,000 public school students in our district.
"These bills come at a time when teachers, paraprofessionals and school leaders are under tremendous assault by anti-public education and anti-labor forces that have used the law and media to attack our profession, our pensions and our schools," Lewis said. "We implore the General Assembly to do what is in the best interest of Illinois taxpayers and act judiciously to ensure these bills become law and the moratorium on school actions is enforced."
TEACHERS AND SPRINGFIELD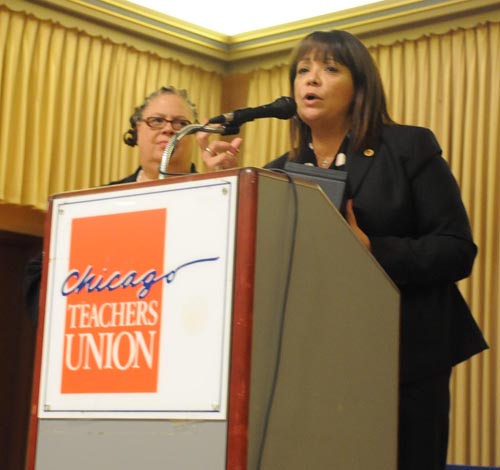 Above, Illinois State Senator Iris Martinez (right) thanks the CTU crowd for the award she and State Rep. Cynthia Soto received at the October 28, 2011, LEAD dinner while CTU President Karen Lewis looks on. Substance photo by George N. Schmidt.CTU Political Director Stacy Davis-Gates explained that the Union's efforts in Springfield are designed to illustrate through policy our commitment to sound, research-based educational practices that impact students and educators. "Too many times policy is created without the benefit of the practical classroom knowledge of teachers and those who work in our schools," she said. "Our policy, this session, will emphasize the small "r" reforms that often go unheralded but have sound success in promoting student achievement. These initiatives will go a long way in narrowing the achievement gap, boosting the graduation rate, and keeping the District accountable to taxpayers. These are reforms that work."
Teachers across the nation have increasingly become more active as the coordinated national assault on their unions, benefits, and profession escalate. In Chicago, more than 400 CTU delegates voted to support a slate of "pro teacher/pro public education candidates" seeking office in Illinois' upcoming primary election. Thousands vowed to increase their lobbying efforts in order to educate lawmakers about their fight for education justice.
"This year could bring one of the greatest assaults on teacher unions in recent times with Chicago serving as the testing ground," said Lewis. "We've already seen aggressive moves from the Board of Education and the Emanuel administration on our collective bargaining rights and our benefits. A teacher's pension or 4 percent cost of living increase is not the reason why a school is under resourced or doesn't have a library or air conditioning. When the district will not reason, we need laws that protect students from more of their harmful, failed policies that have stymied public education in Chicago for years."
BILL SUMMARIES
Stop CPS School Actions -HB4487 (Rep. Soto): Amends the Chicago School District Article of the Illinois School Code. Provides that there shall be a moratorium on school closings, consolidations, and phase-outs in the school district in the 2012-2013 school year. Provides that any of these actions that are subsequently appropriate must be carried out no sooner than the end of the 2013-2014 school year, subject to any new set of requirements adopted by the General Assembly.
During this moratorium period, the bill requires the district to establish polices that address and remedy the academic performance of schools in which Illinois Standards Achievement Test (ISAT) scores reflect students performing at or below 75%. Requires these policies to establish clear criteria, or processes for establishing criteria, for making school facility decisions and include clear criteria for setting priorities with respect to school openings, school closings, school consolidations, school turnarounds, school phase-outs, school construction, school repairs, school modernizations, school boundary changes, and other related school facility decisions, including the encouragement of multiple community uses for school space. Effective immediately.
Smaller Class Sizes - HB4455 (Rep. Colvin): Amends the Chicago School District Article of the Illinois School Code. Provides that each year, on or before the September fall enrollment count, (1) the maximum number of students assigned to each teacher who is teaching courses in public school classrooms for prekindergarten through grade 3 may not exceed 18 students; (2) the maximum number of students assigned to each teacher who is teaching courses in public school classrooms for grades 4 through 8 may not exceed 22 students; and the maximum number of students assigned to each teacher who is teaching courses in public school classrooms for grades 9 through 12 may not exceed 25 students, which maximums must be maintained after the September fall enrollment count. Sets forth exceptions. Requires the State Board of Education to annually calculate class size measures based upon the September fall enrollment count.
Greater CPS Accountability -HB3871 (Rep. Arroyo): Amends the Illinois School Code. Provides that any school district receiving a block grant under the provision concerning block grant funding for districts with more than 500,000 inhabitants shall be required to testify every year before the General Assembly regarding their overall annual budget and their budget request to the General Assembly for the following fiscal year. Provides that the testimony shall include plans to build or repair schools and to close or consolidate schools.
The union's press release, issued following the vote, follows: CTU ENDORSES  FIFTY-­‐TWO  CANDIDATES  IN  
CHICAGO  ␣  Fifty-­‐two  candidates  who  pledged  to  work  with  teachers,  parents  and  school  leaders  to  provide  students  with  the   high-­‐quality  education  they  deserve  have  been  endorsed  by  the  Chicago  Teachers  Union  (CTU) The union's endorsement  was   made  official  Wednesday  following  an  overwhelming  vote  of  its  House  of  Delegates.  
"We need strong legislators who support our vision for public education, those that will work with teachers, paraprofessionals, parents and community members to make sure every neighborhood school offers our children the education they deserve," said  CTU  President  Karen  GJ  Lewis.
Added Stacey Davis Gates, CTU's political director: "Our  delegates  carefully  considered  the  options  and  made  each   endorsement  in  a  democratic  way.    This  primary  season  we  reduced  the  number  of  races  we  would  focus  on  to  ensure  we   would  be  able  to  provide  our  endorsed  candidates  with  targeted  assistance  and  resources.    We  want  our  endorsed  candidates   to  fully  benefit  from  our  30,000  members' support.
Candidates endorse for the Illinois  Senate in the upcoming primary: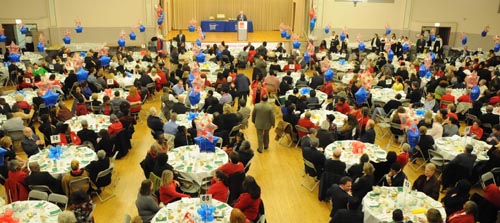 Part of the crowd at the October 28, 2011 LEAD dinner during the keynote speech by Illinois Governor Pat Quinn (on stage at podium) Union organizers are planning to double the crowd's size for the October 2012 LEAD dinner and are becoming worried about whether the present venue (the Plumbers Union Hall) will be able to hold the crowd as the union's political strength increase again in Illinois. Substance photo by George N. Schmidt.1. Antonio  Munoz  (D)   2. William  Delgado  (D)   3. Mattie  Hunter  (D)   4. Kimberly  Lightford  (D)   5. Annazette  Collins  (D)   6. John  Cullerton  (D)   8 Ira  Silverstein  (D)  
9.    Daniel  Biss  (D)   10.    John  Mulroe  (D)   11.    Martin  Sandoval  (D)   12.    Steve  Landek  (D)   13.    Kwame  Raoul  (D)   15.    Napoleon  Harris  (D)   16.    Jacqueline  Collins  (D) 17.    Donne  Trotter  (D)   18.    Bill  Cunningham  (D)   20.    Iris  Martinez  (D)   28.    Dan  Kotowski  (D)   39.    Don  Harmon  (D)
Primary  Election  Endorsements Illinois  House  of   Representatives: 
1. Daniel  Burke  (D)   3.        Luis  Arroyo  (D)   4.        Cynthia  Soto  (D)   5.        Kenneth  Dunkin  (D)   6.        Esther  Golar  (D)   8.        LaShawn  Ford  (D)   9.        Arthur  Turner  (D)   10.    Derrick  Smith  (D)   11.    Ann  Williams  (D)   12.    Sara  Feigenholtz  (D)   13.    Gregory  Harris  (D)  16.    Lou  Lang  (D)   17.    Laura  Fine  (D)   18.    Robyn  Gabel  (D)   19.    Robert  Martwick  (D)   21.    Rudy  Lozano  (D)   22.    Michael  Madigan  (D)   24.    Lisa  Hernandez  (D)   25.    Barbara  Currie  (D)   26.    Kenny  Johnson  (D)   27.    Monique  Davis  (D)   29.    Thaddeus  Jones  (D)   30.    Will  Davis  (D)   31.    Mary  Flowers  (D)   33.    Marlow  Colvin  (D)   34.    Elgie  Sims  (D)   35.    Frances  Ann  Hurley  (D)   38.    Al  Riley  (D)   39.    Will  Guzzardi  (D)   78.    Camille  Lilly  (D)  
Judicial   1st  Supreme  (Fitzgerald)  Joy  Virginia  Cunningham  (D)   Cook  County  Circuit  Court Deidre  Baumann