SUBSCRIPT: Maybe is should be called 'Charter Schools Hypespo'... New Schools Expo is really featuring the anti-public school privatization schools and their supporters
George N. Schmidt - January 22, 2012
The "New Schools Expo" scheduled for Saturday, January 28, 2012 (9:00 a.m. to 3:00 p.m.), at Soldier Field has been receiving a great deal of uncritical support (including a Robocall from a Chicago Bear to all CPS parents and promotional Public Service Announcements from Fox News Chicago). At the same time, the "Expo" has been receiving little critical scrutiny as to its content.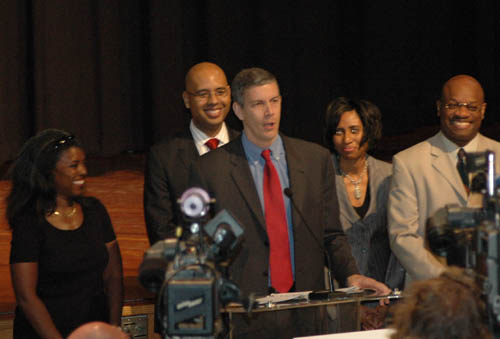 One year before he became U.S. Secretary of Education and began promoting the Chicago Plan for the massive privatization of public education to the entire USA (under Race To The Top), Chicago's Arne Duncan, on April 8, 2008 (above) was promoting the massive privatization of Chicago's public schools through "New Schools." Above, Duncan is standing with political, corporate and charter school promoters at a "Request For Proposals" media event at Chicago's Englewood High School. Left to right above, Chicago Treasurer Cyntia Neeley, Urban Prep chief Tim King, Arne Duncan, Phyllis Locket (then of the "Renaissance Schools Fund," in 2012 of the "Public Schools Fund") and Chicago Alderman Cocoran, a vocal supporter of privatization and enemy of public worker unions. Substance photo by George N. Schmidt.A listing of the schools to be featured as Chicago's "New Schools" shows a list (see below) dominated by Chicago's charter schools (and campuses). The list virtually ignores all of the city's top real public schools. Most notable exclusions from the listing are all of the city's real public magnet school elementary and high schools. A perhaps odd omission is all but one of the city's military academy high schools.
The main purpose of the "New Schools Expo" is obviously to draw parents to enroll their children in the city's charter schools (although many AUSL schools are included in the participating schools list, with no explanation).
WHEN: Saturday, January 28, 2012, 9:00 a.m. – 3:00 p.m.
WHERE: Soldier Field (Indoors), 1410 South Museum Campus Drive, United Club Level One
The New Schools website says that parents can "Meet school leaders... Learn about and complete enrollment forms for Chicago's newest public schools, including charter schools... Attend workshops, including a including a Town Hall forum with Chicago Public Schools CEO Jean-Claude Brizard, moderated by Fox Chicago's Robin Robinson. ..."
According to this latest "New Schools" version of reality, "New Schools" includes virtually all of the city's charter schools (and campuses) and all schools being managed by the "Academy for Urban School LeadershIp" (AUSL) — even though most of these AUSL schools are neither charters nor "new." One of the city's military high schools is included, but not the others. Clearly, for the purposes of the organizers of the "New Schools Expo," a "new" Chicago school is one that is organized against the city's traditional public schools and teachers. AUSL and Chicago's corporate leaders dictate how Chicago defines the "new" in "New Schools." "New Schools" in Chicago obviously means non-union charter schools, if the "New Schools Expo" is to be believed.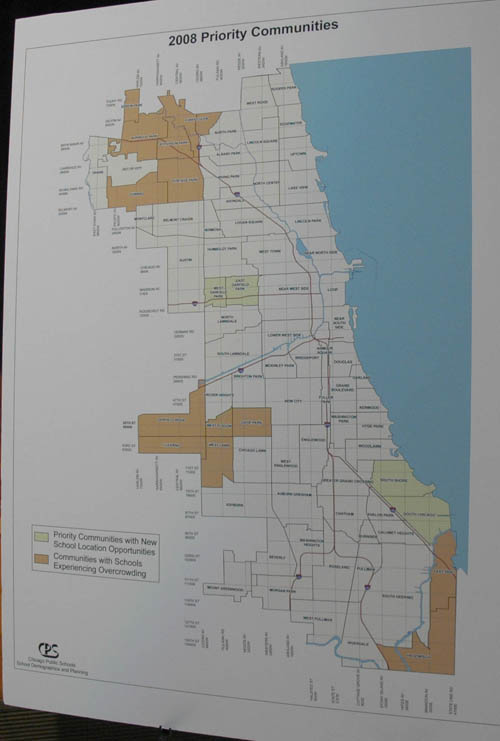 While union leaders in Chicago were being confused or collaborating on the "new schools" privatization plans (by means of such activities as the "Talent Development High School" which was supported by then Chicago Teachers Union President Marilyn Stewart and the Service Employees International Union), Chicago's privatization plans were to push "new schools" — meaning charter schools — under any pretext. Above, the map of where "new schools" would be placed after 2008 (above) showed that "overcrowding" was to be relieved in Chicago by the placement of charter schools, rather than by spending Chicago facilities dollars on real public schools. The brown spaces on the map were designated to be targets for charterization in the years after 2008, and by 2012 all were. Substance photo by George N. Schmidt.Here is the list of the participating schools as listed on their website:
2012 EXPO Participants
1. Academy for Global Citizenship Charter School 2. Academy for Urban School Leadership (AUSL) 3. Amandla Charter School 4. Architecture, Construction, and Engineering (ACE) Technical Charter School 5. ASPIRA - Early College High School Campus
6. ASPIRA - Mirta Ramirez Computer Science High School Campus 7. ASPIRA Charter School - Haugan Middle School Campus 8. ASPIRA Charter Schools 9. Betty Shabazz - Barbara A. Sizemore Academy Campus
10. Betty Shabazz - Betty Shabazz Campus 11. Betty Shabazz - DuSable Leadership Academy Campus 12. Betty Shabazz International Charter Schools 13. Bronzeville Lighthouse Charter School 14. Catalyst Charter School - Howland 15. Catalyst Elementary Charter School - Circle Rock 16. Catalyst Maria 17. Charles S Deneen Elementary School (AUSL) 18. Chicago Academy for Advanced Technology (CAAT) 19. Chicago Academy High School (AUSL) 20. Chicago International Charter School 21. Chicago Talent Development Charter High School 22. Chicago Virtual Charter School 23. CICS - Avalon/South Shore Campus 24. CICS - Basil Campus
25. CICS - Bucktown Campus 26. CICS - Irving Park Campus 27. CICS - Larry Hawkins Campus 28. CICS - Lloyd Bond Campus 29. CICS - Longwood Campus 30. CICS - Loomis Primary Academy 31. CICS - Northtown Campus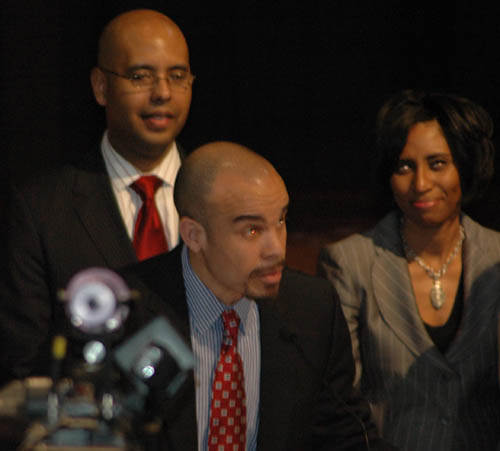 Although the main people pushing "choice", privatization, union busting and charter schools in Chicago and the USA are well-trained interchangeable parts, some criteria are important. One is that some of the most prominent apologists for union busting and privatization be African Americans. Above, Tim King of Urban Prep Charter Schools, Joshua Edelman (at the time chief officer for Chicago's office of new schools) and Phyllis Lockett of the Renaissance Schools Fund presented to the press during Arne Duncan's media event on "Requests for Proposals" for further privatization in Chicago on April 8, 2008, four years ago. Edelman has since been replaced twice as chief of Chicago's "New Schools" office and is currently in Chicago. Edelman's brother, Jonah Edelman, became briefly infamous during the summer of 2011 when he was caught on a video bragging at the Aspen Institute that he had helped bust the Chicago Teachers Union through massive expensive lobbying in Springfield in 2011. Both Josh and Jonah Edelman get much of their credibility in Washington D.C. and national circles because they are the sons of Miriam Wright Edelman, founder of the Children's Defense Fund. Substance photo by George N. Schmidt.32. CICS - Prairie Campus 33. CICS - Quest #1 Campus 34. CICS - Ralph Ellison Campus 35. CICS - Washington Park Campus 36. CICS - West Belden Campus 37. CICS - Wrightwood Campus 38. Collins Academy High School (AUSL) 39. Community Services West Career Academy 40. Dodge Renaissance Academy (AUSL) 41. EPIC Academy Charter High School 42. Erie Elementary Charter School 43. Frazier Preparatory Academy 44. Galapagos Charter School 45. Garfield Park Preparatory Academy 46. George W Curtis Elementary School (AUSL) 47. Henry Ford Academy: Power House Charter High School 48. Hope Institute Learning Academy 49. Instituto Health Sciences Career Academy Charter High School
50. James Weldon Johnson Elementary School (AUSL) 51. John Foster Dulles Elementary School (AUSL) 52. John Harvard Elementary School of Excellence (AUSL) 53. Julia Ward Howe Elementary School of Excellence (AUSL) 54. KIPP Ascend Charter School
55. KIPP Create Charter School 56. Kwame Nkrumah Academy 57. LEARN - Campbell Campus 58. LEARN - Excel Campus 59. LEARN - Hunter Perkins 60. LEARN - Romano Butler Campus 61. LEARN - South Chicago Campus 62. LEARN Charter Schools
63. Legacy Charter School 64. Legal Prep Charter Academy 65. Marine Military Math and Science Academy 66. Mary McLeod Bethune Elementary School (AUSL) 67. Montessori School of Englewood Charter 68. Morton School of Excellence (AUSL) 69. Myra Bradwell Communications Arts & Sciences ES (AUSL) 70. National Teachers Academy (AUSL) 71. Noble - Gary Comer Middle School
72. Noble - Chicago Bulls College Prep Campus
73. Noble – Englewood Campus
74. Noble - Gary Comer College Prep Campus
75. Noble - Golder College Prep Campus
76. Noble - Muchin College Prep Campus
77. Noble - Noble Campus
78. Noble - Pritzker College Prep Campus
79. Noble - Rauner College Prep Campus
80. Noble - Rowe-Clark Math and Science Academy Campus
81. Noble Network of Charter Schools
82. Noble Street Charter School - UIC Campus
83. North Lawndale College Preparatory - High School - Collins Campus
84. North Lawndale College Preparatory Charter High Schools
85. North Lawndale College Preparatory -High School - Christiana Campus
86. Orr Academy High School (AUSL)
87. Perspectives Charter School - Calumet High School Campus
88. Perspectives Charter School - Calumet Middle School Campus
89. Perspectives Charter School - Calumet School of Technology Campus
90-. Perspectives Charter School - Math and Science Academy Campus
91. Perspectives Charter School - Rodney D. Joslin Campus
92. Perspectives Charter Schools
93. Plato Learning Academy
94. Polaris Charter Academy
95. Prologue - Early College
96. Prologue - Joshua Johnston Charter School of Fine Art and Design
97. Prologue Schools
98. Providence Englewood Charter School
99. Rowe Elementary Charter School
100. Solorio Academy High School (AUSL)
101. South Shore Fine Arts Academy
102. Tarkington School of Excellence ES (AUSL)
103. TEAM Englewood Community Academy High School
104. The Chicago Academy (AUSL)
105. U of C Charter School - Carter G. Woodson Campus
106. U of C Charter School - Donoghue Campus
107. U of C Charter School - North Kenwood/Oakland (NKO) Campus
108. U of C Charter School - Woodlawn Campus
109. UNO Charter School - Bartolomé de las Casas Campus
110. UNO Charter School - Carlos Fuentes Campus
111. UNO Charter School - Elementary Campus
112. UNO Charter School - Gage Park Campus
113. UNO Charter School - Major Hector P. Garcia MD Campus
114. UNO Charter School - Octavio Paz Campus
115. UNO Charter School - Officer Donald J. Marquez Campus
116. UNO Charter School - PFC Omar E. Torres Campus
117. UNO Charter School - Rufino Tamayo Campus
118. UNO Charter School - SPC Daniel Zizumbo Campus
119. UNO Charter School - UNO northside campus
120. UNO Charter Schools
121. Uplift Community High School
122. Urban Prep for Young Men Charter High School - Bronzeville
123. Urban Prep for Young Men Charter High School - Englewood
124. Urban Prep for Young Men High School - West
125. Urban Prep Academies
126. VOISE Academy High School
127. Wendell Phillips Academy High School (AUSL)
128. William T Sherman Elementary School (AUSL)
129. Williams Multiplex Middle School (at Little Village)
130. Young Women's Leadership Charter School
131. Youth Connection Charter School (YCCS)
