Grim reminder about guns and schools... In the real world of real guns, the margin of errors is very very slim... Texas middle school student was killed by police when he refused to drop a lookalike airsoft pistol when ordered to
George N. Schmidt - January 09, 2012
It's been 13 years since my career as a teacher, and as school security and safety coordinator at one of America's most dangerous high schools, was abruptly ended by Paul G. Vallas and Richard M. Daley. The story about how Substance published the truth, got sued for a million dollars, proved that CPS and Vallas and wasted a million dollars on the CASE tests, and wound up with me fired and blacklisted, has been told often and won't be repeated here.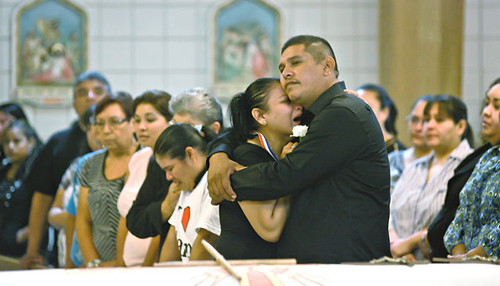 Family members at the church service for 15-year-old Jaime Gonzalez, who was killed by Brownsville, Texas, police on Wednesday, January 3, 2012, when he refused to drop a weapon he had point at them in the hallway of a school. It turned out the weapon was a precise replica of a real gun, but was an "Airsoft" pellet gun that children are able to buy on the Internet. Photo from the New York Times, original via Associated Press.What needs to be discussed was a story from today's New York Times that gave me flashbacks to the days when I was chasing gangbangers as part of my jobs while a teacher at Bowen High School. And The New York Times of January 9, 2012, brought it all back in a flash (and flashback) with the lengthy story about what happened when a child plays with a gun — even a gun that turns out, too late, not to be real. We need to review, again, security and safety procedures for all schools, not in some Hooray for Hollywood version of reality like Rahm Emanuel seems to think is real, but in the real world of Chicago schools and places like Bessemer Park and that stretch of 89th St. in front of Chicago's James Bowen High School.
Here is the Times story for everyone to read:
Texas Death Offers Grim Reminder That Gun Replicas Can Fool Police, By MANNY FERNANDEZ
Published: January 8, 2012
BROWNSVILLE, Tex. — In the hallway of a middle school here on Wednesday morning, administrators tried to calm an agitated student who had randomly assaulted another student in a classroom. But then the adults noticed it: the student, a 15-year-old eighth grader named Jaime Gonzalez Jr., had a gun tucked into the waistband of his pants.
Related
Texas: Student With Pellet Gun Is Killed by Police (January 5, 2012)
Connect With Us on Twitter
Follow @NYTNational for breaking news and headlines.
Twitter List: Reporters and Editors
Enlarge This Image
Gonzalez family, via Associated Press
Jaime Gonzalez Jr.
Enlarge This Image
Brad Doherty/Brownsville Herald, via Associated Press
Cummings Middle School in Brownsville, Texas.
Enlarge This Image
Yvette Vela/Brownsville Herald, via Associated Press, top; Rich Pedroncell/Brownsville Herald, via Associated Press
Top, Jaime's weapon was a .177-caliber, carbon dioxide-powered gun. Bottom, a 9mm semi-automatic pistol.
The administrators at Cummings Middle School asked Jaime if that was a gun, and he replied that it was, school district officials said. It was not quite the truth: the teenager was armed with a high-powered BB gun that resembled a black Glock semiautomatic handgun and that can be purchased on the Internet for about $60. But the situation escalated, as school officials announced a lockdown over the intercom and called 911, and teachers locked their classrooms, shut off the lights and moved their students away from the doors.
Police officers who responded confronted Jaime in the main hallway next to the principal's office. Police officials said the officers repeatedly ordered the boy to drop the weapon, and they can be heard shouting "Put it down!" and "Put it on the floor!" several times in the recording of the 911 call released by the police. Jaime refused to comply, and pointed the weapon at the officers, police officials said. Two officers fired their weapons, striking the teenager, who was transported to a hospital with two gunshot wounds in the chest and abdomen. He was pronounced dead at 9:15 a.m.
The death has shocked this South Texas border city, but it was only the latest in a series of shootings involving realistic-looking BB guns and pellet guns. In recent years, dozens of police officers in Texas, California, Maryland, Florida and elsewhere have shot children and adults armed with what they believed were handguns but that were determined later to be BB guns or other types of air pistols. In addition, the gun replicas have killed or injured thousands of children around the country in cases in which the victims were accidentally shot by relatives or friends.
In 2007, a 21-year-old man threatening customers outside a fast food restaurant in Denton, north of Dallas, was shot and killed by a police officer after he raised what turned out to be a pellet gun at the officer. In 2009, four San Antonio officers shot and killed a 29-year-old man after he pulled out a pellet gun and rushed toward them down a flight of stairs. Earlier that year, a 13-year-old boy near Fort Worth shot his 5-year-old nephew with a BB gun they had been playing with. In 2010, a 5-year-old girl died after she was accidentally shot with an air rifle by a 10-year-old relative in the South Texas town of Freer.
Jaime's weapon, a Umarex SA177, was a .177-caliber, carbon dioxide-powered gun that shoots steel BBs and that has a metal slide with a plastic frame. It had no markings suggesting it was an air pistol. A federal law requires toy firearms and so-called airsoft guns — low-impact weapons used by the police in training and by hobbyists in outdoor games — to have an orange tip at the end of the barrel. But the law does not apply to pellet and BB guns like the one Jaime had.
"When I looked at that gun, there is no doubt that looking at it from a distance it's absolutely real," said Carl A. Montoya, the superintendent of the Brownsville Independent School District and a reserve constable in the city. "I think the officers responded, obviously, from their training from that perspective, that it was a real gun."
In the aftermath of air gun-related episodes involving children, a few towns and cities in Texas passed laws prohibiting the public display of pellet and BB guns or making it illegal for minors to have them. The Texas State Rifle Association opposed the ordinances, arguing that the laws limited the rights of legal gun owners and violated state laws prohibiting municipalities from pre-empting state firearm laws.
In October 2002, in the Dallas suburb of Coppell, an officer on patrol spotted a juvenile with what appeared to be a handgun. The juvenile fled and the officer pursued him, and as the officer left his vehicle the suspect was still holding the gun, a Coppell police spokesman said. The officer drew his firearm, and the juvenile threw the suspected weapon to the ground. It turned out to be an airsoft pistol that was a replica of a Sig Sauer P228 handgun. The following year, the nearby city of Plano passed a law making it a misdemeanor to brandish an air gun or other type of facsimile firearm in a public place.
In 2007, 2008 and 2009, a total of 124 people, including 23 children and teenagers aged 18 and younger, were killed in Texas from accidents involving BB guns, pellet guns and other types of firearms that do not use gunpowder, according to data supplied by the Texas Department of State Health Services. Those figures do not include deaths stemming from police confrontations with people armed with air pistols. No agency tracks the frequency of those shootings.
Nationally, about four children are killed on average each year in episodes involving BB guns or pellet guns, but that number also does not include deaths stemming from police shootings, according to the federal Consumer Product Safety Commission.
In Brownsville, the officers who fired their weapons have been placed on administrative leave while a joint investigation is conducted by the Brownsville police, the school district police and the Texas Rangers. Police officials declined to comment about how Jaime acquired the air pistol, saying it was part of the investigation.
"It's a dangerous game you want to play, if you're going to carry a gun that looks authentic," said Detective Jose J. Trevino, a Brownsville police spokesman. "What for? You're just putting yourself in a situation that might end up going bad."
Jaime's motive remains unclear. On the 911 call, a man in the background, possibly a school administrator or employee, can be heard telling the officers shortly before the shooting, "He is saying that he's willing to die, so be careful."
On Friday evening, dozens of teenagers dressed in white T-shirts reading "I ♥ Jaime" filled the pews and lined the walls of Holy Family Catholic Church for his wake. In between prayers of the rosary, mariachi musicians sang in Spanish as Jaime's father, stepmother and mother were embraced by relatives. Jaime lived near the church and regularly attended on Sundays. On his trips to Mexico to visit his grandmother he collected pesos, and one day before Christmas he gave them to the pastor of the church to buy candy for neighborhood children.
"At this moment, it's hard to make sense of a tragedy like this," said the pastor, the Rev. Jorge A. Gomez. "I think that's what is more upsetting — it wasn't a real gun."