MEDIA WATCH: CPS 'Communications' Chief Warned About More Federal First Amendment Litigation If Discrimination Against Substance Continues
George N. Schmidt - December 20, 2011
On December 19, 2011, I wrote to Becky Carroll, the "Chief Communications Officer" for CPS, warning that CPS would be facing litigation if she did not begin providing Substance, by email and fax, with every item that was sent to general media distribution. A day later, she has not responded, and the sophomoric antics of the Board's Communications Department become more and more curious, in the Alice in Wonderland sense, as the days go on.
At this point in history, since Substance covers the news in education out of Chicago, we generally request, and receive, news notices from publicists (which is what Ms. Carroll at $165,000 per year is) working for various public agencies. Almost always, they simply comply, if no other reason than that to risk suppressing information because they are inclined (or "bent") towards discriminating against their critics is more trouble than it is worth. During the past five years, CPS has lost three First Amendment cases in federal court in Chicago. One of those cases, decided on March 26, 2010 by Judge Amy St. Eve, ruled that Ron Huberman's administration had violated teachers' First Amendment rights.
The URL for the March 2010 Substance story on Judge St. Eve's forceful decision is: http://www.substancenews.net/articles.php?page=1269&section=Article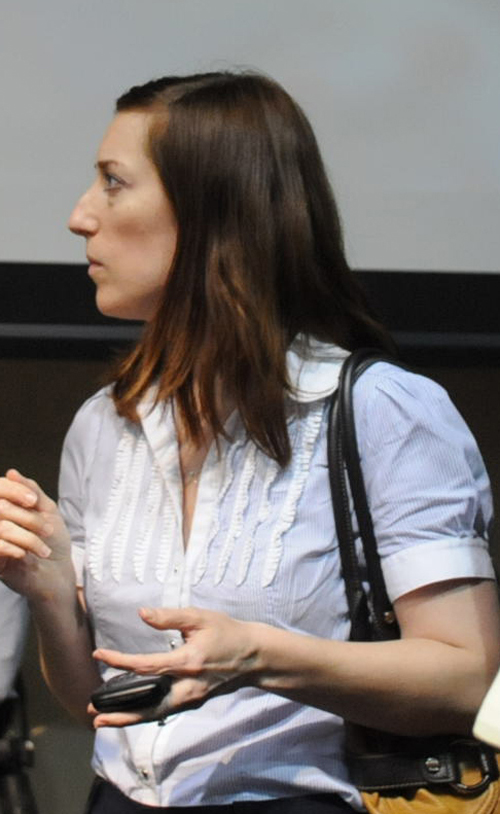 CPS Chief Communications Officer Becky Carroll was brought in to CPS by Rahm Emanuel's Board of Educationon June 22, 2011, at a salary of $165,000 per year. That salary that was more than $30,000 higher than that paid to any of her predecessors, including Peter Cunningham, who served in that position under Arne Duncan at an annual salary of $120,000 per year. Prior to the appointment to the CPS job, Carroll's experience with CPS consisted of her having attended (and graduated from) Lane Technical High School. Substance photo by George N. Schmidt.During the past five months, Substance has received more (many more) press notices from Minneapolis Public Schools than we have from Chicago. This is simply because Ms. Carroll had a snit when we reported on several CPS "news" slants with the facts, sometimes humorously so. Sadly, by New Year's Day, we will have to take this further, since Ms. Carroll does not have the right to discriminate against any news organization in the distribution of materials paid for by the taxpayers and distributed by a government agency such as the Chicago Public Schools. Even though Ms. Carroll and her co "Officers" currently in power at CPS may actually be in the business of destroying public schools across Chicago, through privatization and other means, until CPS becomes a private entity, neither she nor anyone else in her department has the right, by law, to continue to discriminate, as she has, against Substance.
Below are three things.
The first is the email we sent to Ms. Carroll, in her official capacity as "Chief Communications Officer" Chicago Public Schools, demanding that she do her job without discriminating against Substance and warning of the consequences.
The second and third are recent communications which she issued from CPS at public expense, but refused to issue to Substance in the same distributions as all other Chicago media received them.
Sent: Monday, December 19, 2011 5:32 AM
Subject: Becky: Here is a simply New Year's necessity. Stop discriminating against Substance or face consequences
December 19, 2011
To: Becky Carroll, CPS Communications Chief Officer
From: Substance editorial staff
Re: Discrimination against Substance in CPS communications distribution
Hello Becky:
It's been interesting since you were appointed "Chief Officer, Communications" (at the unprecedented annual salary of $160,000 per year plus bonuses; did you know that the most Peter Cunningham was ever paid in one year was $120,000 per year?...) by the Brizard administration and the current Chicago Board of Education last summer to watch closely the unprecedented (and puerile) attempts at spin and silliness on the part of the third largest school system in the USA, under your command and on orders from Jean-Claude Brizard. But for Christmas and the New Year, Substance has to ask you to cease and desist in that pattern...
...NOW, since we don't want to celebrate the New Year with yet another First Amendment litigation against CPS. They are both expensive and, to be honest, tiresome (although it would be interesting to be back in front of, say, Judge Amy St. Eve on another iteration of this saga).
So here it is (prefaced with a "Please" since it's the holidays).
Please stop discriminating against Substance as you have been doing for the past five month, since it is interfering with our business, which as you know is covering the news of CPS in a timely manner both on line (www.substancenews.net) and in print (the monthly print edition of Substance, which was publishing long before you were a student at Lane Tech, or began working for the Blagojevich administration).
Attached are two examples of your discrimination from the past week. These were media materials sent to other Chicago media via email and fax but not to Substance. The Substance email address is: Csubstance@aol.com.
The Substance fax number is: 773-725-7502.
Please provide us with all press materials that have been emailed or faxed to Chicago newspapers, radio news outlets, TV stations, and other news entities since August 1, 2011 under the Freedom of Information Act.
And continue providing us with everything that is released to Chicago media, including notices of news conference and other events, henceforth.
Happy Holidays,
George N. Schmidt
and
The Substance editorial, reporting, and research staff