American teachers don't need the 'incentives' being proposed... America needs to bring children out of poverty, not bring them more tests
Stephen Krashen - November 12, 2011
[Editor's Note: With a signifiant confrontation looming during the national convention of the National Council of Teachers of English (NCTE) at Chicago's Hilton and Palmer House hotels beginning on November 17, 2011, Substance launches our NCTE coverage with articles and discussions from Stephen Krashen (who will be at NCTE) and Susan Ohanian (who is not going to NCTE because of her disappointment with the current "Common Core" position of the NCTE leadership. See Daily Censored for an account of NCTE's censorship of her participation in their online community. Today, Krashen].
School reform. Published in the Los Angeles Times, November 11, 2011. Re "Backsliding on school reform," Editorial, Nov. 5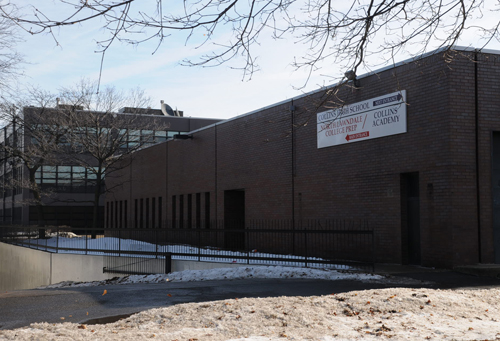 During the more than 20 years it served as a public school in Chicago's Lawndale Community, Collins High School rarely had more than a handful of students who were not from low income high poverty families. As a result, under Arne Duncan CPS closed the school as a real public school and turned the new building over two the North Lawndale College Prep charter high school and "Collins Academy," an AUSL production. Substance photo by George N. Schmidt.The Times [Los Angeles] faults the Harkens-Enzi proposal for a new education law because it lacks national standards. Without national standards, The Times insists, schools will have "no incentive to improve."
In reality, American teachers have been successful without national standards. Middle-class students attending well-funded schools score at the top on international tests. Our overall scores are mediocre because the U.S. has a very high level of child poverty, with 21% of children living in poverty, compared with high-scoring Finland's 5%.
High poverty means inferior healthcare, inadequate diet and little access to books, all of which have devastating effects on school performance. Our problem is poverty, not a lack of standards.
Rather than spend on standards and tests, let's invest in protecting our children from poverty. This would raise test scores; more important, it is the right thing to do.
Stephen Krashen, Los Angeles
The writer is professor emeritus of education at USC