'Union busting is disgusting...' Protesters interrupt speech by union-busting Governor Scott Walker of Wisconsin at Chicago's Union League Club
George N. Schmidt - November 03, 2011
From Huffington Post: A group of "covert protesters" attended a breakfast at Chicago's Union League Club Thursday morning, where Wisconsin Governor Scott Walker was giving a speech on budget reforms and the sometimes unpopular changes he has made in his state. Union members and members Stand Up! Chicago and Occupy Chicago Labor Committee planned to meet outside of the Union League Club Thursday morning when the event kicked off. A group of protesters in suits, however, made their way inside the event and sat at a table. Their presence went unnoticed until just before Walker approached the microphone.
Stand Up Chicago put out the most complete video of the November 3, 2011 breakfast protest, and it is now available on You Tube at: http://www.youtube.com/watch?v=1oHRdiklTlU&feature=share
A lengthy Substance video of the scene is also available on You Tube at: http://youtu.be/XSmPasaJ1_A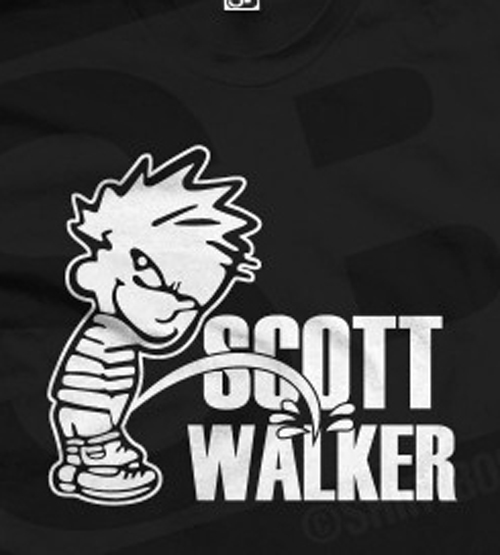 Scott Walker tee shirt.WBEZ was on the scene:
[The protesters were] mostly young – mid-20s to mid-40s. They used each other as "human megaphones" as they took turns lobbing complaints at Walker. They ended with the chant: "Union busting is disgusting."
Walker stood next to the podium as the emcee tried to get rid of them. First, he tried talking over the protesters, then shouting over them, then, clapping so no one could hear them. Finally [protesters] were ushered out while again chanting, "union busting is disgusting."
Walker, who made many enemies by stripping unions of their collective bargaining rights, faces a potential recall and dwindling approval ratings in his home state, but he still has some powerful fans.
From the Union League Club's invitation:
Faced with mounting deficits and busted budgets, the freshman Governor took on powerful political interests – and won. In this talk, Governor Walker will review the challenges confronting Wisconsin (hint: they will sound familiar to Illinois residents), and what he proposes to overcome them. New realities are overtaking established institutions -- meet one of the young governors who is shaping the future of states in our federal system.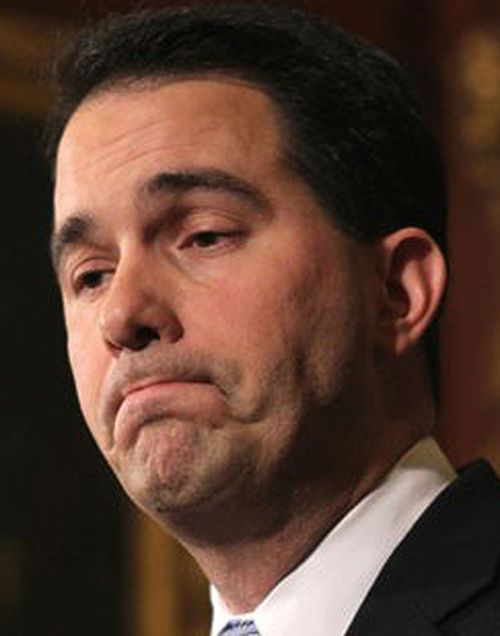 Scott WalkerAccording to Stand Up! Chicago, the 70 protesters who attended the breakfast comprised almost half the total number of attendees.
"It is an outrage and a shame that we sit at this fancy breakfast to listen to someone who has wreaked havoc on the lives of working families," the group said, according to a statement from Stand Up! Chicago. "Governor Walker has vilified unions and insulted the 99% who depend on living wages and adequate benefits to support their families, while on the payroll of the right wing billionaire Koch brothers."
After the group left, Walker returned to the microphone and the remaining attendees gave him a standing ovation.
"No matter how loud you shout, the facts are the facts," Walker said to the laughing crowd. "The facts are, our reforms have worked." (Watch WBEZ's coverage of the Walker speech above)
More than 150 protesters showed up outside a political fundraiser in West Des Moines, Iowa last week, where Walker was the keynote speaker. Reporters were not allowed into the Iowa event, but were later sent a statement through the Wisconsin Republican Party explaining that Walker was in Iowa to discuss the "successes" of his "recently enacted budget reforms."