'The public is welcome to attend, but it [the Board of Education meeting] is not their meeting'... Chicago Teachers Union to picket Board of Education October 26
George N. Schmidt - October 25, 2011
Members of the Chicago Teachers Union, some of whom will be taking off work to speak to the Chicago Board of Education meeting, will picket the Board (located at 125 S. Clark St. in Chicago) on Wednesday, October 26, 2011, from 9:00 a.m. until 10:00 a.m. The teachers will then hold a press conference at the Board.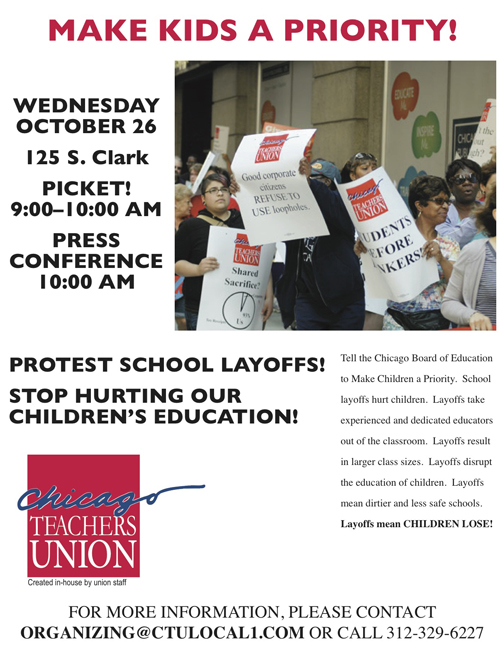 CTU flyer organizing the October 26, 2011 picket of the Chicago Board of Education.Among the things being protested by a growing coalition of teachers and parents is the arrogance of the seven-member Board of Education, which insists on meeting during "bankers hours" in Chicago's Loop. After years of alternating meetings in the community and then at its central office, the Board located all of its regular meetings inside what critics call the "Board's Bunker" at 125 S. Clark St. in 2003, and has not met in any Chicago community since. Board meetings are also held during "bankers' hours," which ironically makes sense given that so many members of the Board are either current bankers, former bankers, or serving on corporate boards of directors with bankers.
Last month, when the Board was challenged about its meeting habits by Substance editor Sharon Schmidt, Board President David Vitale, whose corporate career include time as a banker, said that he would "look into it" (the idea of alternating meetings in the community with meetings downtown). Two weeks after the September 28 Board meeting, an article was slipped into a small newspaper, the Northwest Indiana Times (of Gary), stating the Board members' positions.
The article, by Blake Williams of Medill News Service, presented the public with a kind of Marie Antoinette version of reality, courtesy of Board member Henry Bienen. Basically, Bienen's response is that the Board is too busy to listen to the people, and that Board members are too important to endure late night meetings. But rather than take someone else's word for it, below is the article: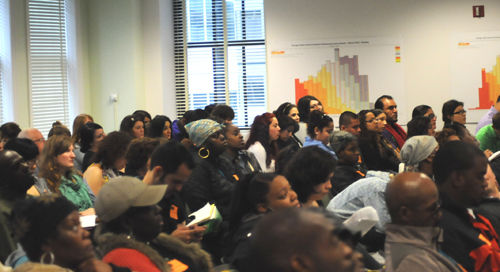 By 10:30 in the morning of September 28, 2011, more than 100 people, some of whom had waited in line since early morning, were in the 15th floor "holding room" at CPS, watching the Board's public meeting on TV. The Board routinely fills the seats in its 5th floor chambers with bureaucrats who are placed strategically within range of the TV cameras that videotape the Board meeting, thereby limiting the number of parents, teachers, and students who can actually be present in the room where the Board members are meeting. Substance photo of part of the holding room crowd by George N. Schmidt.NORTHWEST INDIANA TIMES ARTICLE ON WHY THE CHICAGO BOARD OF EDUCATION MEETINGS DURING BANKERS HOURS DOWNTOWN
Board business, public participation not always the same: officials, By Blake Williams Medill News Service | Posted: Friday, October 14, 2011 8:45 pm Timing, location of CPS meetings present challenges
CHICAGO | The Chicago Public Schools Board of Education is an entity of the public. However, its 10:30 a.m. monthly meetings make it hard for some members of that public to participate.
Despite the difficulties some community members face in attending meetings, their concern may not be the board's top priority -- nor should it be, some say.
"This is a meeting of the board. A lot of people can confuse board meetings as a meeting of the public," said Jim Russell, associate executive director of the Illinois Association of School Boards. "The public is certainly welcome to attend, but it is not their meeting, it doesn't belong to them."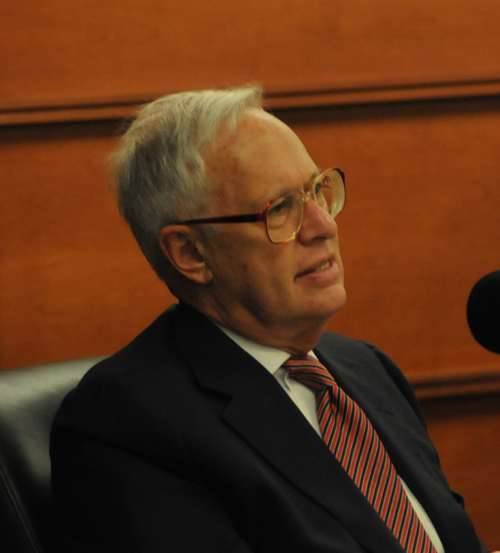 Chicago Board of Education member Henry Bienen, above at the Board's September 28, 2011 meeting, told the Northwest Indiana Times that it would not be convenient for the Board to meet in the communities of Chicago and at a time — other than "bankers' hours" — convenient for the Board. Bienen, a millionaire, was appointed to the Board by Mayor Rahm Emanuel in May 2011. Substance photo by George N. Schmidt.CPS board member Henry Bienen indicated that morning meetings were in the organization's best interest.
"The meetings of the board are long," he said. "You couldn't do this at 7 p.m. or 8 p.m. and then expect the board members to stay there till 1 a.m. It's just not feasible."
The public meeting of the board, which often lasts three hours, is followed by a closed session that usually is of equal length. Moving the time of the meeting has not been discussed by the board since Bienen's appointment in May, he said.
Russell said that even if a change of time was discussed, state law prevents board members from altering their schedule until their organizational meeting next May.
Those citizens who are interested in speaking at board meetings, but have scheduling conflicts, may be better served to approach the board in other ways.
"A lot of the open sessions where people come and speak have nothing to do with policy issues that the board members could possibly deal with," Bienen said. "Speaking frankly, it's not a great use of the board's time."
Bienen did acknowledge that useful information sometimes is gained from the session but he said citizens with specific concerns would be better served by sending a letter to the board rather than speaking at the open meeting.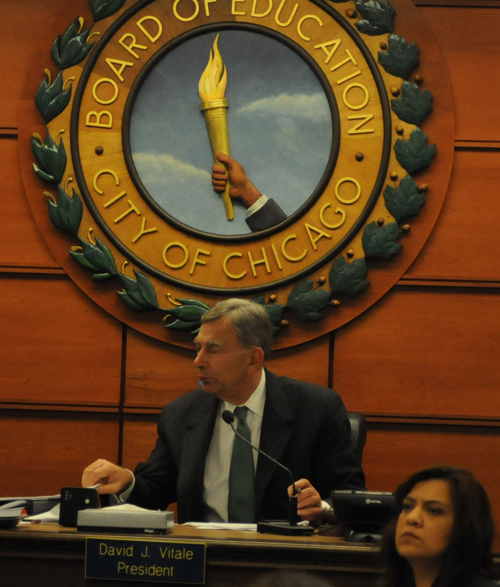 Chicago Board of Education President David Vitale (above, under the Board seal) promised a speaker at the September 28 Board meeting that he would "look into" whether the Board would meet in the community during a time when regular citizens would be able to attend without taking a day off work and having to spend $29 to park in one of Chicago's privatized public parking lots. Substance photo by George N. Schmidt.Meeting with board members face to face also was discouraged.
"My schedule does not allow me to see dozens of people, so I just don't think personal meetings, one-on-one with the board, are the way to go," Bienen said.
If speaking at meetings and individual appointments are discouraged, what options are left for someone looking to get the board's attention. Protest?
Leonard Rau, president of Skinner North PTO, advised caution when considering such an action. "I'd like to think that engaging CPS in dialogue is a more effective way of communicating," he said. "There's a role for protest, there's a role for petition and there's a role for individuals to stand up and give their case."
Those individuals will have to continue to give their case once a month at 10:30 a.m.
Read more: http://www.nwitimes.com/news/local/illinois/chicago/article_4026cab4-b3b8-5e7c-b3d6-30bd48cefdc3.html#ixzz1auZrrQvA