SUBSCRIPT: Another MBA joins the Brizard '$100,000 club' as 'Chief of Staff' to the 'Chief Education Officer'
George N. Schmidt - October 01, 2011
We couldn't make this stuff up. In her September 30, 2011 "Chief Education Officer" bulletin (dated October 3, 2011), CEO Noemi Donoso (not to be confused with CEO Jean-Claude Brizard; not to be confused with "Chief Instruction Officer" Jennifer Cheatham) features another FNG bureaucrat who knows nothing about teaching, has no teaching or administrative experience in CPS — but apparently has all the right credentials as a corporate mercenary to get a $100,000-a-year job at Chicago Public Schools during the year when CPS supposedly didn't have the money to pay the contractual raise promised to the city's teachers and other workers in the schools where the children are.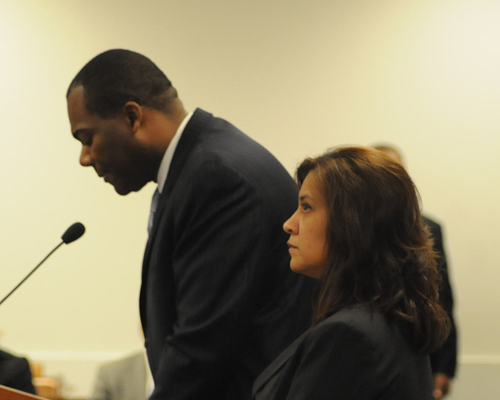 Chicago Public Schools Chief Executive Officer Jean-Claude Brizard (above left) and Chief Education Officer Noemi Donoso (above right, both during their Power Point presentation to the Chicago Board of Education's September 28, 2011 meeting) are both being paid more than $200,000 for the 2011-2012 school year, despite the fact that the school system has proclaimed that it is facing an unprecedented "deficit." In her October 3, 2011 bulletin, Donoso profiles another six-figure outsider who is now working at CPS, her new "Chief of Staff." Since he was appointed CEO of CPS by Mayor Rahm Emanuel in May 2011, Brizard has provided employment for dozens of MBAs and assorted former Teach For America people at top salaries, while firing hundreds of CPS veterans, both teachers and administrators, and claiming that the school system does not have the dollars to pay teachers and other union workers a contractual raise for the 2011 - 2012 school year. Substance photo by George N. Schmidt.The notice below is quoted verbatim from the Donoso newsletter. Note that she leaves out how much CPS paying her new "Chief of Staff" during these times when CPS supposedly can't afford the raises of those who actually work with children in Chicago's public schools.
GETTING TO KNOW: Todd Connor, Chief of Staff, Chief Education Office
Todd Connor comes to Chicago Public Schools after establishing a successful management consulting practice in the private sector, working to help companies establish and execute their strategic change priorities. His work has focused on employee engagtement, leadership development, and communications. Previously, Connor served clients in the private sector as well as the federal government as a consultant for Booz Allen Hamilton, based in Washington, D.C.
Prior to his work in the private sector, Connor served as an Officer in the United States Navy, obtaining the rank of Lieutenant. His tours included an extended deployment to the Persian Gulf during Operation Itaqi Freedom where he served as the Navigator of the USS BUNKER HILL (CG-52) earning numerous awards and distinctions.
Connor serves on the boards of the Gay and Lesbian Victory Fund (increasing LGBT elected representation), La Casa Norte (offering supportive housing and services for youth), Loyola United (student-run business enterprise at Loyola University), Jumpstart (early childhood literacy), Equality Illinois (PAC board in support of LGBT candidates in Illinois), and is a member of numerous other non-profit and civic organizations in Chicago.
Connor holds an MBA from the University of Chicago and a BA from Northwestern University.