Mayor Emanuel to hold 'Town Hall Meeting' on City of Chicago budget after ramming through public schools budget in virtual secrecy
George N. Schmidt - August 28, 2011
Chicago Mayor Rahm Emanuel has scheduled what his press office is calling the first of two "Town Hall Meetings" to discuss the City of Chicago budget, less than three weeks after the seven members of the Chicago Board of Education appointed by Emanuel conducted their examination of the larger budget of the Chicago Public Schools clothed in deception and virtual secrecy.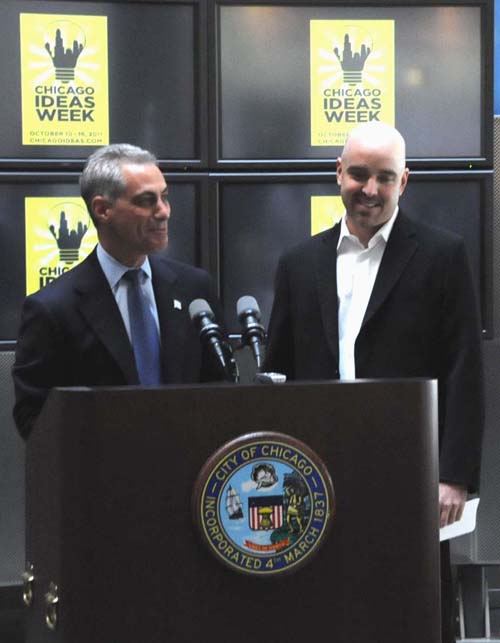 Chicago Mayor Rahm Emanuel announced "Chicago Ideas Week" (which is to take place in October) at an August 3 media event held with Groupon owner Brad Keywell (above right) at the headquarters of Groupon. Emanuel's relentless and energetic public schedule has enabled him to set the media agenda for political coverage in Chicago, despite the fact that realities like the $5.9 billion Chicago Public Schools budget was so flawed as to be possibly criminal in its errors before its August 24 passage by the school board appointed by Emanuel. While touting a "Town Hall Meeting" and "transparency" on the City of Chicago budget, Emanuel encouraged CPS officials to cover up as much information as possible in the even larger CPS budget. Substance photo by George N. Schmidt.According to the mayor's office:
Mayor Emanuel will lead the first of two public town hall discussions on Chicago's 2012 budget.
WHEN: 6:30 PM, Doors open to the public at 6:00PM
WHERE: Kennedy-King College, Great Hall, 740 W. 63rd Street, Chicago, IL
Since taking office in May 2011, Rahm Emanuel has touted his commitment to what he calls "transparency" in city finances. This has been characterized by the publication on the City of Chicago website of a large amount of information about how Chicago is spending its money. The City of Chicago website includes the publication on line of the list of all personnel working for and being paid by Chicago (at _______) and an even lengthier publication of the contracts various vendors hold or have held with the city, going back, according to Emanuel's people, more than 15 years.