CORE's unusual 'auction' raises money for upcoming June 6 international conference in Chicago
George N. Schmidt - July 01, 2011
After a tumultuous year that saw CORE, the rank and file Chicago Teachers Union caucus, unexpectedly elected to lead the 28,000 member union, CORE seemed to find some of its original spirit in what some teachers might consider a radical way. The group held a "Date Auction" at Chicago's Simone's Bar on the evening of June 30, 2011, and raised more than $2,000, according to CORE Treasurer Jim Cavallero.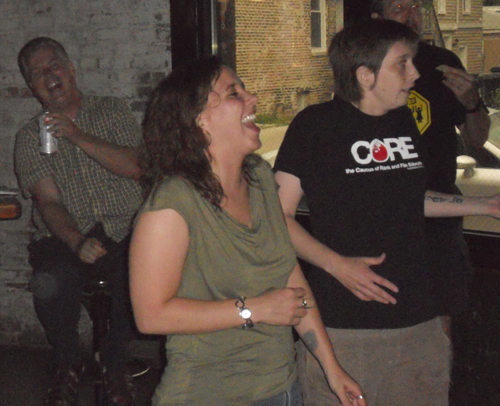 Chicago Teachers Union Financial Secretary Kristine Mayle (center) shares a light moment with Social Justice High School teacher Katie Hogan (right) and Chicago Academy special education teacher (and CORE treasurer) Jim Cavallero (left) during the auctioning of Ms. Mayle at the CORE fundraiser on June 30, 2011. Substance photo by George N. Schmidt.The "Date Auction," organized by CORE, and led by activists Adam Heenan and Sarah Chambers, auctioned off various volunteers for dates with bidders. The event was highly successful even before a massive thunder storm found what seemed to be half the young people in the Pilsen community (where Simone's is located) racing inside. Bidding became very competitive during the course of the evening, aided and abetted by Simone's bar, with some bids reaching as high as $80. The participants were not limited to Chicago teachers and CORE members.
The purpose of the date auction was to help pay for a national conference being held this week, to be at Jones College Prep High School on Wednesday, July 6. CORE will be joined by a dozen groups from teacher unions in the USA and elsewhere in the hemisphere, according to CORE steering committee member Jackson Potter, who participated in the fundraiser on June 30.
The participants included Chicago teachers and others who support CORE, including suburban teachers. Generally, the participants were from among the younger teacher cohort, with at least one veteran retired teacher excluded from the auction by Adam Heenan in what has been criticized as age discrimination. The retiree group within CORE and within the CTU will be addressing the problem in the future. CORE's history has been to stand for diversity and just about any kind of social justice issue — while failing to take a strong stand against what is now known as "Ageism."
According to some CORE members, the issue will be addressed during the CORE convention to be held in August. 