Blue Ribbon Committee hears public on selective enrollment process in Lane Tech hearing
Adam Heenan - June 29, 2011
On Tuesday, June 28, 2011, more than 200 parents and CPS educators expressed concerns and demanded answers from a silent Blue Ribbon Committee at a hearing on the proposed new process for selective enrollment for magnet elementary and high schools across the city. The process, created by the BRC out if CPS Office of Academic Enhancement, ranks students into various "tiers" based upon geographic location and various sub-set data taken from the US Census.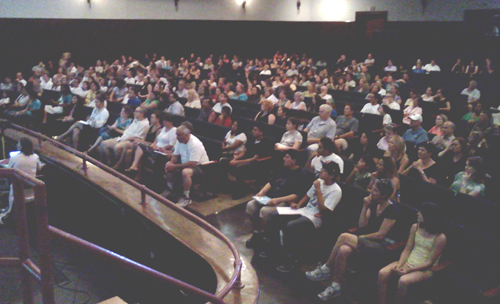 Part of the crowd in the Lane Tech auditorium for the June 28 hearing on selective enrollment schools. Substance photo by Adam Heenan."It's very frustrating that CPS keeps narrowing the spigot and changing their policies year after year," said Patricia O'Keefe, a parent of a CPS student. She and others expressed concern about that CPS made decisions irresponsibly and too quickly regarding a reduction in the percentage of students who are both in the schools' neighborhood and are accepting students who are higher-scorers on achievement tests. "My kid is working his butt off to get into Payton [High School] and just because he's from Lincoln Park he's got to get higher grades," said a parent who wished to remain annonymous.
A couple parents and community members noted that the problem was endemic in a broken system.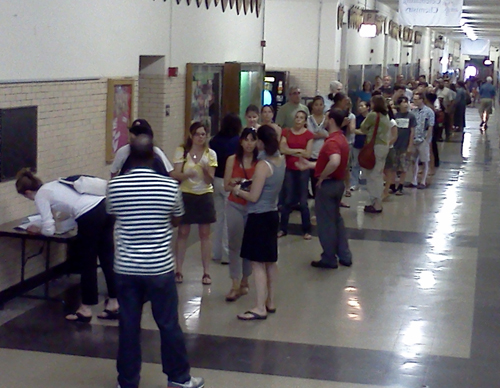 As the sign in was begun, the line stretched down the corridor almost all the way to the parking lot entrance on the south end of the Lane Tech building. Substance photo by Adam Heenan."There should be ten Northside Preps!" said a parent angry that not all kids could get a great public education. "For those of you arguing for merit-based access, be very aware, you are
arguing for deeper segregation of our schools and our society," noted concerned citizen Jill Wohl. The three present members of the Blue Ribbon Committee declined to comment on anything brought up by the parents.