MEDIA WATCH: Crain's Chicago Business notes growing arrogance of Brizard, Rahm's Board of Education
George N. Schmidt - June 27, 2011
From the Chicago locker room to the Capitol cloak room to the corporate Board room, Rahm Emanuel's testosterone-juiced arrogance has always known few boundaries. Rahm's recent success (with not so subtle White House backing) in winning the mayoralty in Chicago has only made it worse. No surprise here, but it's becoming interesting that some of Rahm's closest capitalist buddies are trying to warn him that he's better rein in his macho spasms before it's even more too late that it's fast become.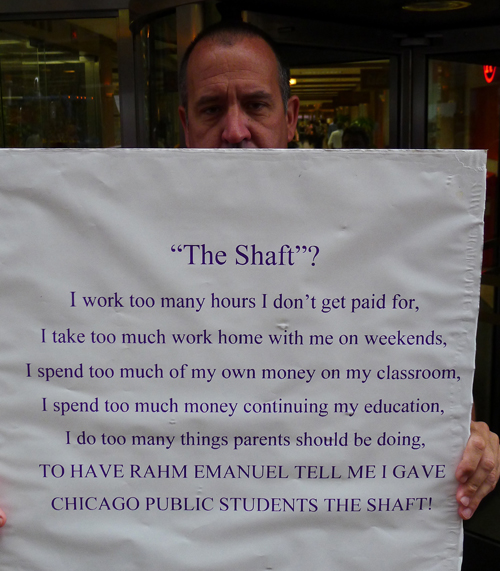 A bit longer than most picket signs, the sign above, carried during the June 22, 2011, protest outside the Chicago Board of Education meeting, said it all for many of the more than 1,500 teachers, students, community leaders, parents and others surrounding the Board that day. Substance photo by Garth Liebhaber.While the Chicago Tribune predictably is praising (both directly its editorials and indirectly in its choice of what it tries to pass off on the public as school "news"), there is growing confusion in some of Chicago's other corporate media about how to spin the current Board of Education stories in the direction of corporate "school reform." While all the city's print media (except Substance and Reader) still narrate mayoral control and an appointed school board as inevitability (sort of like the old theory of the Divine Right of Kings we learned about in history when history was still taught in school), other aspects of the Reign of Rahm over Chicago's public schools are getting a bit more critical interest.
Take the notice at the blog at Crain's Chicago Business — run by politically influential reporter Greg Hinz. On June 24, 2011, Hinz noticed that Chicago's education bureaucrats (and by implication, Mayor Emanuel's "schools team") were making some major mistakes. Among these were (a) Jean-Claude's quarter million dollar annual salary; (b) Jean-Claude's bonus (?), which could be as much as $37,000 per year; (c) Tim Cawley's residency waiver; and (d) Rahm and Jean-Claude's silly notion that teachers should make home visits. Among others.
Just to take one example the Crain's gets a tiny bit wrong. As Substance reported a year ago (and since), residency attacks on teachers and other school workers are one of the ways the Inspector General of Chicago's public schools avoids investigating the kleptocracy that grew up during 24 years of Mayor Richard M. Daley — sixteen of which found Daley directly controlling schools.

Although Crain's and other corporate media tried to miss it, on June 22, 2011, Chicago Teachers Union teachers and their supporters ringed the block of downtown Chicago bounded by Adams St., Dearborn St., Monroe St., and Clark St. during the protest outside school board headquarters at 125 S. Clark St. Above, the crowd of protesters at the corner of Adams and Dearborn, more than a block from the entrance to the Board at 125 S. Clark St., at the height of the well organized protest. Substance photo by Susan Zupan.In May, 2010, the Board of Education passed more than 80 warning resolutions against teachers.
At the time, (then) Board member Norman Bobins told Substance that they were all for "residency."
But none of our colleagues has to take the blacklisted word of a Substance reporter for these facts. (Yes. Chicago's education press corps has been blacklisting Substance in that courageous way Woody Allen depicted in his movie about the Hollywood Blacklist of the 1950s, only here today the blacklist has lasted longer and there is a kind of shamelessness to the media's approach).
But back to facts, which we note daily are usually lacking in the official Pravda-like version of "news" in this town. The huge number of residency Warning Resolutions were listed as Board Reports in the May "Action Agenda" of CPS. They run from EX16 through EX96 (yes, we counted, trying to get any accurate information from CPS back then — when Ron Huberman was CEO — or today — when the guy Rahm like to call "JC" (as if to taunt some believers) is CEO — has always been a challenge. But the URL for those Board Reports comes through the "Action Agenda" of each Chicago Board of Education meeting, and that particular residency deluge (which we noted as a Guinness Book or World Records effort at the time) is easy enough to locate, even for a reporter/blogger (like Hinz) who never bothers to go to a Board of Education meeting and who tends to take the word of CPS officials for the Truth. Anyway, by our count that's 80 EXs from May 2010 at http://www.cps.edu/About_CPS/The_Board_of_Education/Pages/Actions2010_05.aspx That's a lot more than the official version of reality than Crain's apparently got access to. Here is what Hinz wrote:
Brizard fumbling away high ground in looming city schools war (by Greg H. at 6/2