Ruling class hagiography... Harvard touts Duncan without mentioning he never taught a day in his life and his firing of 'bad teachers' — almost all of them black — make him the 'Mr. Jim Crow' of the 21st Century
George N. Schmidt - June 01, 2011
Harvard University has published on its website a hagiographic article about U.S. Secretary of Education Arne Duncan emphasizing Duncan's personality and basketball skills — and ignoring the fact that Duncan rivals former Birmingham Alabama Police Chief Bull Connor in having fired more African American teachers and principals than any schools chief in Chicago history (and most in the history of the USA) under Duncan's "Renaissance 2010" and other fraudulent "turnaround" programs.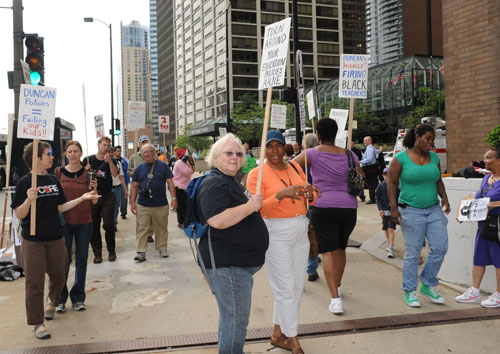 Six months after Arne Duncan became U.S. Secretary of Education, Chicago teachers, organized by CORE, picketed a breakfast hosted by a corporate group called Advance Illinois, which featured Arne Duncan as the main speaker. By then, Duncan was U.S. Secretary of Education and had declared war against public schools serving the nation's urban poor. Duncan was simply exporting to the entire USA the policies he had gotten away with in Chicago under "Renaissance 2010." Renaissance 2010, a corporate school reform program, claimed that "failing" schools (as measured by test scores) had to be closed and their teachers and principals fired. Ignoring the research that showed the link between the massive poverty and segregation in Chicago, Duncan closed African American schools, and fired African American teachers and principals, in 2002, 2004, 2005, 2006, 2007, 2008, and 2009 (the last of the purges took place based on a list Duncan created just before Barack Obama appointed him U.S. Secretary of Education. Substance photo taken June 19, 2009 at the Regency Hyatt Hotel in Chicago, where Arne Duncan was telling Advance Illinois and the city's corporate leaders the outlines of what would become the Race To The Top attack on public education. While the Duncan hagiography continues Harvard's tradition of being in the forefront of corporate school reform, it's worth reprinting here so that readers can get a sense of how such fairy tale narratives are constructed and how they become the dominant narrative not because of their truthfulness, but because of their melodrama.
But before the Harvard propaganda, readers should know that the most distinguishing thing about Arne Duncan's career as "Chief Executive Officer" of Chicago's public schools was the fact that during his term, between April 2002 and January 2009 (when he became Barack Obama's U.S. Secretary of Education) Arne Duncan achieved the distinction of firing more African American teachers than had ever been fired before in Chicago. In fact, Duncan's purges (always based on the claim that "low" scores on standardized tests meant the teacher and the school were a failure) rivals, in size and impact, the destruction of a generation of African American teachers and other educators during the final days of the "separate but equal" schools of the South in the late 1940s and early 1950s.
A number of Chicago researchers (including Substance) have exposed this nasty side of Duncan, but Harvard and other propagandists for corporate school reform consistently ignore both the practice of "turnaround" (and other destructive programs under "Renaissance 2010") and its impacts, long and short term. Over the coming year, Substance will continue to detail how Barack Obama's Secretary of Education deserves to be recognized as the Mr. Jim Crow of American education in the 21st Century. Arne Duncan's Jim Crow purges of Chicago's African American teachers is now national policy, under Race to the Top.
Commencement 2011 / 1986 Reunion Issue, Arne Duncan, U.S. Secretary of Education, By JULIE R. BARZILAY, CRIMSON STAFF WRITER, Published: Wednesday, May 25, 2011
Harvard was up by three or four points, but its lead against the Princeton men's basketball team was dwindling fast, recalls former guard Keith W. Webster '87.
Webster's teammate, current Secretary of Education Arne S. Duncan '86, suddenly caught the ball as it nearly soared out of bounds near the half-court line. The 6'5" Chicago native held the ball for only a split-second before releasing it towards the distant hoop.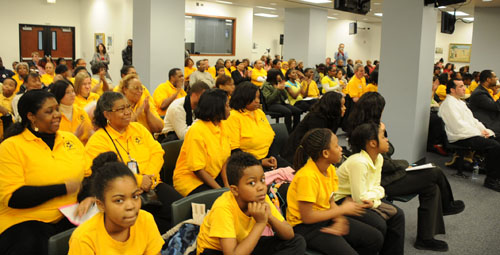 Throughout the early 2000s, Chicago held show trials against "failing" public schools. Most of them (from 2002 through 2009) were held when Arne Duncan was "Chief Executive Officer" of Chicago's public schools. Year after year, the scene was the same as in the photo above: More than 80 percent of those facing the attack were African American children, parents, teachers, and principals. The photograph above, taken on February 10, 2010 at the hearing on the closing of Chicago's Bradwell Elementary School (after Duncan left the "Renaissance 2010" policies in the hands of his successor, ex-cop and City Hall crony Ron Huberman). Substance photo by George N. Schmidt."When he shot it, I didn't even watch the ball, I just kept staring at him like 'What are you doing?'" Webster says. "It was the most absurd shot in the world."
With an elegant swish, it was also a game-changing three-pointer, leading Harvard to victory that night.
Close friends and eventual co-captains Duncan and Webster were heading back over the Charles River an hour later, loaded down with winter gear and athletic bags, when Webster turned to Duncan and asked, "By the way, what the hell was that shot?"
Webster says that he'll never forget Duncan's answer.
"I knew if I made it, it would break their backs," Webster recalls Duncan saying. According to Webster, Duncan's insight and confidence in that game were illustrative of his driven, perceptive nature.
"He was one of the smartest players that ever played," Webster says. "He knew exactly what he was doing."
Between Duncan's Sociology studies, a "Big Brother" mentoring role, and an indefatigable drive to improve on the court, Duncan impressed peers and teammates alike with his tireless work ethic and devotion to making those around him successful. These same qualities, friends say, have guided Duncan since his 2009 appointment to President Barack Obama's Cabinet.
"He loves education, he loves helping the community and society," Webster explains. "I knew that whatever he was going to do, he would cast a wide web and have a large influence on as many people as he could touch."
POUNDING THE PAVEMENT
Duncan arrived at Harvard in 1982 and went straight to basketball tryouts.
"When Arne came to Harvard, he wasn't a great player, he was a good player—but he had a tremendous work ethic," recalls Frank McLaughlin, one of Duncan's former coaches.
After a year on junior varsity, in which Duncan worked out at the gym early in the morning, ran drills late into the night, and often practiced between classes, Duncan made varsity in his sophomore year.
"I think the way he was wired, his DNA, said that in order to be successful you had to put the time in," Webster says.
Both McLaughlin and Peter Roby, another former Harvard coach, remember Duncan as a dedicated, unselfish player who always put the team first—and almost never missed a free throw.
Roby says Duncan transitioned from a quiet force to a more vocal leader over his undergraduate years, noting that he could break the tension in the locker room with witty one-liners, and that he loved to listen to music.
"I think the interesting thing is that Arne liked hip-hop music, which nowadays is much more mainstream," Webster says, with a laugh.
A REAL MORAL FORCE
Webster and Duncan became fast friends, and could often be found trekking across the river to practice—whether or not the team was scheduled to work out that day.
Sometimes a third individual would join Duncan and Webster on these walks: Duncan's "Little Brother," a mentee he worked with through a Phillips Brooks House Association program.
"That was a big part of his life," Webster recalls, noting that whether in high school, college, or playing professional basketball in Australia—which Duncan did from 1987 to 1991—the future Secretary always worked with youth in a mentorship role.
Indeed, before ascending to the national arena, he worked with students in Chicago charter schools like the Ariel Community Academy.
"The students adored him not only because they were fully aware and appreciated his concerns about improving their education, but also because he made them feel special and important as individuals," writes Kennedy School professor William J. Wilson—who knew Duncan in the 1990s—in an email to the Crimson.
His approach to working with young people resonates with the description of Duncan's values provided by his Resident Dean in Leverett House, Thomas A. Dingman '67, who is now the Dean of Freshmen.
"[Duncan] was a real moral force—everybody seemed to know him, and he created a real presence," says Dingman. "He cared a lot about trying to make a more even playing field and sticking up for underrepresented groups."
SOCIOLOGICALLY SPEAKING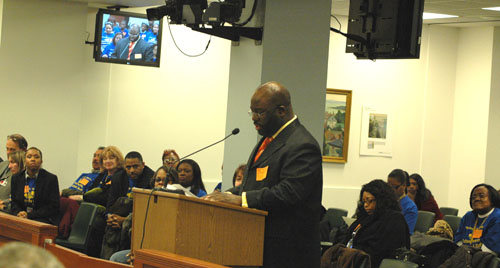 Two years before CPS officials destroyed Bradwell Elementary School, Fulton Elementary School in Chicago's Englewood community (one of the poorest in the USA) was targeted by Arne Duncan for "turnaround" because of "academic failure." The "failure" was measured by scores on standardized tests, which always show that poor children score lower than their wealthier age peers. In their praise of Arne Duncan, the wealthy at Harvard University ignore such facts, and the racism of Duncan's purges during his years ago Chicago's schools CEO. Above, Roosevelt Watkins testifies in opposition to the firing of the teachers at Fulton on February 11, 2008. As usual, the majority of teachers and others who lost their jobs when Duncan destroyed these schools were black, as the photo above shows. Duncan's corporate and university cheerleaders consistently ignored the realities of poverty to push the corporate school reform line. Substance photo by George N. Schmidt.Growing up as an eager scholar-athlete in Chicago's Hyde Park, Duncan was introduced to the world of education by both his father, a professor at the University of Chicago, and his mother, who ran an after-school program at which Duncan tutored.
Sociology professor Orlando Patterson notes that in Duncan's day, the department experienced an ideological shift away from the "prevailing wisdom" that class background was the decisive factor in a student's educational performance.
"Arne Duncan has strongly emphasized that schools make a big difference regardless of the background of the students," Patterson says. "I think that we, already [in the 80s], in our department were ... emphasizing that schools and neighborhoods can't be separated and that the two were very interrelated."
For his senior thesis, Duncan took a year off to research the aspirations and opportunities of the urban underclass in Chicago.
"It was an excellent study that revealed a sophisticated understanding of the structural and cultural factors embodied in urban inequality and that have profound implications for individual life chances," says Wilson of the thesis.
OBAMA'S TEAMMATE
In 2001, Duncan became Chief Executive Officer of Chicago Public Schools, and went on to close failing schools and advocate for performance pay for teachers.
"He's a realist, and he knows how to get things done," Webster says of Duncan. "He's just a problem-solver, and he's got this very unique skill set to be able to talk to different people and come up with a common solution."
After assuming office as the Secretary of Education in 2009, Duncan spearheaded the Race to the Top initiative, incentivizing reform in K-12 schools.
Roby says Duncan is "challenging people to think differently about the model of education in this country." For example, because more mothers work full-time today, Duncan advocates increasing the number of hours in the school day and the number of months in the school year in order to keep children engaged.
Duncan continues get his competitive juices flowing in pickup games at the White House—though with some new teammates, such as President Obama, with whom he played basketball on Election Day.
"I think by the time he's done he'll have really moved the needle," Webster says. "Similar to basketball, he's spending time at what he loves, and I bet you he doesn't consider it work."
—Staff writer Julie R. Barzilay can be reached at jbarzilay13@college.harvard.edu.
