SUBSCRIPT: New York Schools CEO Cathie Black makes a 'joke' suggesting school overcrowding can be solved by birth control... and doesn't know that New York high schools began distributing condoms in the 1990s
George N. Schmidt - January 18, 2011
Less than two months after she was forced on the school children and teachers of New York City as the latest "Chief Executive Officer" from outside education, New York Schools Chancellor Cathie Black, who came to New York from her executive position at McGraw Hill, has created a media firestorm by suggesting that school overcrowding could be relieved by birth control. Black, who was educated in Catholic schools in Chicago and Washington, D.C., has never publicly stated her position on birth control until she made the remark, which was reported on January 17, 2010. There has been no word from the Archbishop of New York as to whether Black's remarks are against Church teaching. Previously, some American Catholic bishops have threatened to refuse the sacraments to Catholics advocating birth control.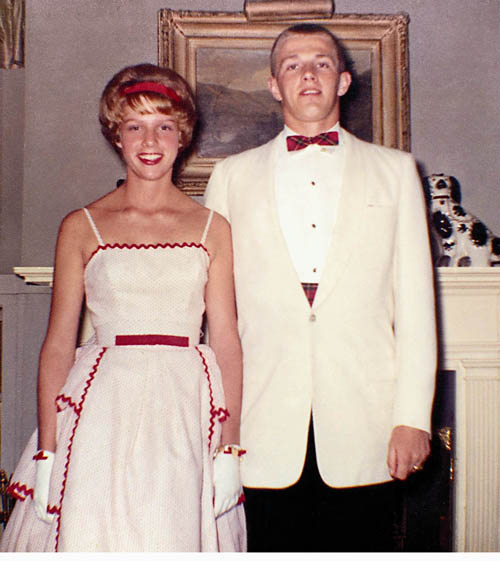 Future McGraw Hill CEO and then chancellor of New York City public schools Cathie Black in her high school prom picture from her Chicago days.New York Mayor Michael Bloomberg, who pushed through the Black appointment over widespread opposition from parents and teachers demanding an educator for the top job, quickly rushed to the defense of his fellow CEO (Bloomberg made his billions as CEO of Bloomberg news).
One of the jokes was certainly on Black and Bloomberg. As one New York blogger noted, New York's public schools — at least the high schools — went into the birth control business as early as the 1990s. According to a New York Times article (June 30, 1993) about the departure of (then) Chancellor Joseph Fernandez, "During his stormy three-and-a-half-year tenure as one of the highest-paid school officials in the country, he brought about dozens of reforms, large and small, at a rapid pace — from the distribution of condoms in high schools, to the creation of more than 30 small theme high schools scheduled to open by the fall..."
Condoms and small schools. For a time during the Bloomberg administration, the public was led to think that "small schools" mess had been an invention of Bloomberg and Black's predecessor, Joel Klein (who is now working for Rupert Murdoch's News Corporation on educational issues).
On report on the 2011 flap, from The New York Post, follows:
Mayor Bloomberg says schools chancellor 'made a joke' when saying birth control would solve school overcrowding, By DAVID SEIFMAN, Last Updated: 3:46 PM, January 17, 2011, Posted: 11:47 AM, January 17, 2011
Jumping to her defense, Mayor Bloomberg said today that Schools Chancellor Cathie Black had clearly made a joke when she said last week that birth control was one way of keeping school overcrowding in check.
"You know Cathie Black made a joke. Some people took it the wrong way," Bloomberg said following a breakfast at Martin Luther King Jr. HS on the Upper West Side. "She apologized. I think she'll learn slowly over time, as did I, that you can do some things in the private sector you can't do in the public sector."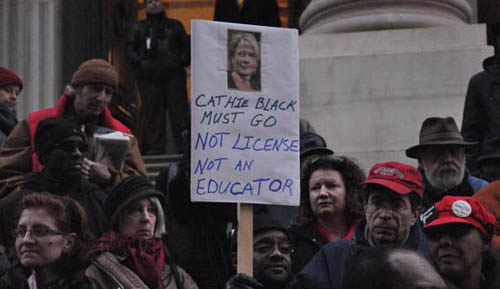 One of the many protests against Mayor Michael Bloomberg's appointment of Cathie Black.Bloomberg said Black, just two weeks into the job, still needs to learn the difference between working in the private sector and government.
BLACK APOLOGIZES FOR BIRTH CONTROL QUIP
"In the public sector, people parse what you say and take it in different ways than they would in the private sector," he said.
Black has never worked in government prior to her appointment in November to replace outgoing Schools Chancellor Joel Klein.
The comments comes after Black caused a firestorm last Thursday at a forum with parents.
"Could we just have some birth control?" Black said during a meeting of Assembly Speaker Sheldon Silver's school overcrowding task force in lower Manhattan.
"It would really help us out a lot," she added.
The joke drew some laughs from the audience and came after Eric Greenleaf, a PS 234 parent and NYU professor, presented findings that showed lower Manhattan will need another 1,000 elementary seats by 2015.
The speed bump came just as Black was trying to pick up steam after a rocky appointment process, raising new concerns about her lack of education experience.
"Overcrowding is not a funny subject," City Councilwoman Letitia James (D-Brooklyn) said on Friday. "Constituents have expressed concerns that Cathie Black is not qualified for this job, and my role is to stand with them always, as I do in this case."
