'Inappropriate tone at the top' from the IG report is an understatement... Mazany has to demand further investigations of expenses before talking 'deficit'
George N. Schmidt - January 05, 2011
According to the now famous Fiscal 2010 (July, 2009 through June 30, 2010) report of the Inspector General of Chicago's public schools, the financial antics of members of the Chicago Board of Education and top administrators set what the IG calls "an inappropriate tone at the top." As readers of the Chicago press now know, the Chicago Board of Education has — reluctantly — released the FY 2010 report of the Inspector General. A quick reading of the report shows that it's a hoot. But the material that has been produced so far in the press (Sun-Times, January 4; Tribune, January 5, 2011) is just the tip of the iceberg, and may actually prove a distraction from the magnitude of the corruption at the top of CPS during the final years of Arne Duncan (and Rufus Williams) and the years of Ron Huberman (and Michael Scott, followed by Mary Richardson Lowry).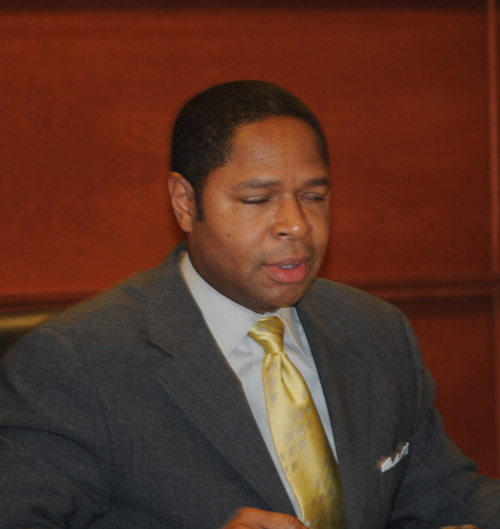 Board President Rufus Williams (above, at the Board's November 19, 2008 meeting, which expanded charter schools over growing public objections) spent tens of thousands of dollars during his time at the top of the city's school system without regard to the needs of the public. Substance photo by George N. Schmidt.But several problems arise for anyone reading the Orwellian language in the 56-page report itself. Instead of holding specific individuals accountable in this era of "Performance Management" and "Data Driven Management" (for teachers, principals, and students), the Inspector General is allowed to obfuscate responsibility for individuals who actually committed the acts in question. But readers can either download the entire report using the link above (or by going to CPS at cps.edu and wandering around to the IG office page -- the report is not displayed on the top of the CPS public site) or simply read the excerpt below to see the problem. Names are not named. And in an era when every Chief Area Officer (CAO) — most of whom are no longer experienced educators, but political hires, often from out of state — can harass principals and teachers, the scandal of CPS is that the corruption at the top is still being covered up as it is being exposed. Why?
Perhaps Terry Mazany will hold a press conference with the Inspector General and order that answers be more specific than "a Board member" or "a top administrator..." The IG accurately reports that an "inappropriate tone at the top" led to much of the corruption uncovered during the investigations. But an equally inappropriate tone in reporting these crimes (and several of them sound like crimes) in the Orwellian language of the IG's report itself simply adds to the public problem. The expose becomes a different kind of cover up.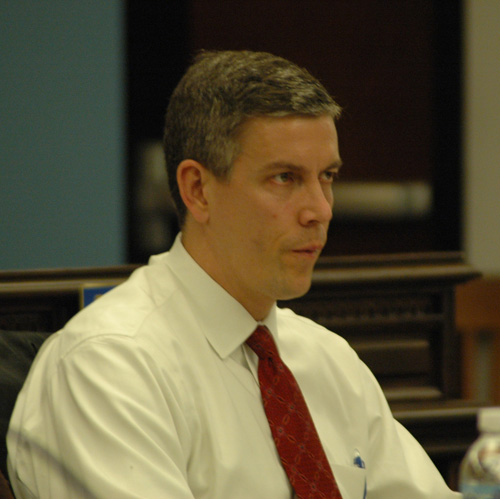 In March 2008, one year before he was to move in as U.S. Secretary of Education, Arne Duncan was expanding the CPS bureaucracy and privatizing public schools as quickly as he could. At the March 25, 2008, meeting of the Board, when the above photo was taken, Duncan had just completed another round of "Renaissance 2010" school closings and was preparing to hand over additional schools for so-called "turnaround." Substance photo by George N. Schmidt. Here is just a sample that hasn't appeared in print before today (from the Report of the Inspector General of the Chicago Public Schools for FY 2010): The following material begins on Page 14 of the IG report and is not even the most interesting, but is typical.
The same problem with allegations of corruption that is obvious from the information below is also true in the lengthy discussion of clout in admissions to selective enrollment high schools. When there is little revelation (one wonders why two principals, Whiney Young's Joyce Kenner and Lane Tech's Toni Labosco, were singled out) and specificity, anyone can be responsible. Substance has established, insofar as it is so far possible, that the majority of the Board members were not playing these games, just as the majority of CPS administrators and principals were not engaged in corrupt — or at least unethical — practices. But when the public doesn't know who did what to whom when, everyone gets tarred with a dirty brush. That's as unethical as the actions of Rufus Williams, Michael Scott, Arne Duncan, and Ron Huberman.
"P-Cards [Procurement cards, basically CPS credit cards for use by administrators and Board members] were used for donations to various organizations contrary to the CPS Procurement Card Program Cardholder Manual.
"The OIG investigation revealed that these donations included the following:
"-- Various donations totaling at least $7500.00 to the City Club of Chicago for events.
"-- A donation of $1,000 to a charter school fundraiser
"-- A $450.00 expenditure for a neighborhood civic organization awards banquet.
"-- A $3,500.00 expenditure for a Board charity gala.
"-- A $2,500.00 expenditure for a community action organization gala.
"-- An expenditure of $500.00 for a charitable board's gala. A Board official sat on the board of this entity.
"-- A $5,000.00 donation to a fraternity fundraising event. A Board official was a member of this fraternity. "
-- A $1,000.00 expenditure for a golf outing held by a hospital's foundation and a $3,000.00 expenditure for the hospital foundation's annual gala and dinner dance. A booklet for the foundation's annual fundraiser gala and dinner dance reflected that a Board official personally, and not the Board, was a ―Patron Sponsor - $3,000 Plus‖.
"-- An expenditure of $1,000.00 for an educational fund.
"-- A $1,500.00 expenditure for an event benefiting a home for boys and girls.
"-- An expenditure of $100.00 for an educational alliance.
"-- Expenditures totaling $3500.00 for the purchase of gift cards for two recent CPS graduates who had come from foster homes and overcame tough circumstances.
"-- A $200.00 expenditure for a school leaders organization awards gala.
"-- A $3,000.00 expenditure made on behalf of a Board official and his wife to a children's shelter organization annual gala.
"-- A $2,500.00 expenditure for a children's charity.
"-- A $1,000.00 donation to a university alumni association of which a Board staff person was a member.
"-- A $1,875.00 expenditure for five tickets to a children's disease foundation's fundraising gala.
The OIG also learned during the course of the investigation that a recent amendment to Board Rule 1-4 granted authority to give donations, however, some of the donations discussed above predate this rule amendment. The OIG further explored the concept of the Board making gifts, grants and donations in a subsequent investigation of Board expenditures that is summarized below.
"A Board office P-Card was used by other Board Office staff members in violation of the CPS Procurement Card Program Code of Conduct. Numerous P-Card expenditures by the Board officials and staff members demonstrated a lack of fiscal responsibility and set an inappropriate ―tone at the top.
"1. A Board office staff member's P-Card was routinely used to purchase refreshments and lunch for Board members and staff during the monthly Board meetings. The OIG investigation revealed that from July 2008 through October 2009, P-Card expenditures included purchases of food and refreshments purchased on Board meeting days totaling at least $10,473.00. These purchases were from restaurants and coffee shops and provided catering for up to 50 plates of food for consumption on days of Board meetings.
"2. TheP-Card was used to pay for refreshments at Soldier Field sky box suites at the Chicago Football Classic. The OIG investigation revealed that in addition to sponsorship fees paid by CPS for the Chicago Football Classic, P-Cards were also used to purchase food and refreshments totaling $6,080.10 at the event in 2008. The OIG found that this extravagant expenditure, which included alcohol as noted above, was clearly irresponsible especially when juxtaposed to the more modest $900.00 expenditure for refreshments at the 2009 event. Equally irresponsible, the OIG found, was the $800.00 spent on alcohol during the 2008 game, not only because such expenditure was prohibited by various CPS policies but because of the inappropriate tone at the top displayed to the whole of CPS and the fact that alcohol should never be present at any CPS function where students may be present.
"3. The P-Card was used to pay for a portion of the Board holiday parties held at a Board official's house. The OIG investigation revealed that in three consecutive years, a Board official hosted a holiday party and used CPS P-Cards to charge $10,639.00 in party expenses. It should also be noted that an additional $1,985.00 in party-related expenditures were made with CPS funds through purchase orders to vendors.
"4. Art work for Board official's office. A Board official used P-Cards to charge $5,333.33 for artwork to decorate an office, despite the fact that CPS has a cache of artwork available for office decoration. The OIG found this expense to be extravagant and unnecessary.
"5. A one-day $979.39 hotel bill in New York City. A Board official paid $979.39 for a one night stay in a New York hotel for a business related meeting. The OIG found that this expenditure reflected a lack of judgment and a lack of fiscal responsibility.
" 6. Limousine expenses in Washington, D.C. The OIG investigation revealed that a Board official charged $1,734.00 for limousine service in Washington D.C. for three days. Again, the OIG identified this expenditure as an extravagant expenditure which reflected a lack of fiscal responsibility.
"7. A Board official used a P-Card to purchase a $272.00 scarf from Burberry. The OIG investigation revealed that two months after the purchase of the scarf, the Board official reimbursed CPS for the expenditure.
"8. VariousotherP-Cards expenditures for meals. The OIG investigation revealed various other meals charged to the P-Cards that should not have been paid with CPS funds and that showed a lack of fiscal responsibility on part of the P-Card holder. These meals included the following:
An expenditure of $134.70 from a pizza restaurant for an Inauguration Day lunch in the Board office. An expenditure of $993.79 at a steak house for an interfaith luncheo with community groups to discuss summer programs.
"An expenditure of $312.73 at an Italian restaurant to debrief staff and prepare for back-to-school events.
"In summary, the OIG found that when the Board finds that it has enough funding to feed itself and its staff on Board meeting days or to lavishly cater Soldier Field suites during football games, not to mention ignore P-Card and reimbursement rules and polices for which disciplinary action would be issued if CPS employees ignored such rules, the Board sends mixed messages to the whole of CPS.
"On one hand, CPS departments and schools are being instructed to be fiscally responsible, to implement a hiring freeze, to endure unpaid holidays and the suspension of raises, and to find new ways to be fiscally creative to stretch funds. "On the other hand, the Board allows for double reimbursements, the purchase of alcohol with public funds, catered lunches, publicly funded holiday parties and other gratuitous expenditures. The message that budget cuts need to be made and furlough days need to be taken rings hollow when the Board itself uses CPS funds irresponsibly. The Board's failure to ensure that it, like the whole of CPS, tightens its belt only increases the frustration felt by the whole of CPS when continually called upon again and again to do more with less.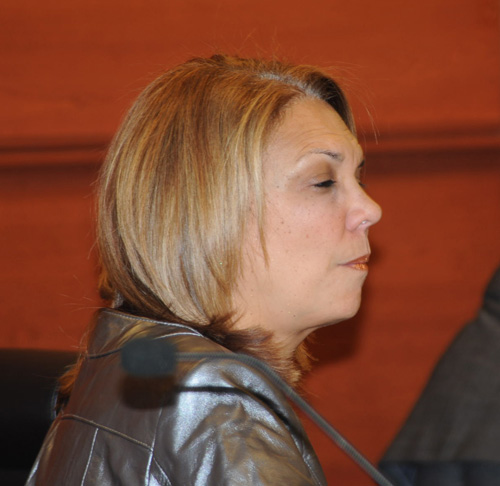 Roxanne Ward (above, at the November 2008 meeting of the Board, when Rufus Williams was still president and Michael Scott was still alive) voted in favor of every expense presented by the CEO, whether the CEO was Arne Duncan (2001 - 2009) or Ron Huberman (2009 - 2010). Substance photo by George N. Schmidt."Before the distribution of the OIG's report concerning the above-noted issues, the Board, with knowledge of the pending OIG findings, adopted Board Report 09-1216-PO4, which essentially mandated that Board members could be reimbursed for Board-related expenses on a monthly basis only upon the receipt of itemized receipts for such expenses and an explanation attesting to the fact that the expenditure is a Board-related expense and that Board members should not be reimbursed for expenditures for alcohol.
"Additionally, the OIG recommended the following:
"-- P-Card expenditure limits set forth by the Procurement Card and Corporate Credit Card Policy should be applied consistently to all CPS P-Card holders including all members of the Board and the Board Office.
"-- The Board should adopt consistent policies system-wide concerning the expenditure of public funds for food and flowers as memorials. For example, as noted in the OIG's report, expenditures for flowers as memorials are prohibited by the CPS Internal Accounts Manual, but these guidelines are not applicable to Central Office departments.
"-- In order to remove Board Office staff from being in the untenable position of reviewing superiors' P-Card usage, the Board should adopt a procedure whereby P- Card expenditures by Board officials and staff are reviewed by the Board, consistent with the amendments to the Policy on Reimbursement for Work-Related Expenses.
"-- The Board should establish a process to review and approve grants, gifts, and donations made under the authority of the Board President pursuant to Board Rule 1- 4.
"Following the OIG investigation, CPS cancelled P-Cards issued to Central Office employees and reduced the number of P-Card holders system-wide. An auditing firm was retained to perform an audit of the P-Card program and make recommendations to enhance controls. (8399)..."
Although the Chicago Board of Education was quick to issue a succinct statement from Interim Chief Executive Officer Terry Mazany after it became clear that the Chicago Sun-Times was going to do a major report on the nearly 50 page report of the Inspector General (which had been around for several months, hidden from the public), it's clear that what the IG is reporting about corruption under Rufus Williams and Michael Scott (at the Board offices) and under Ron Huberman and Arne Duncan (in the administration) is just the tip of the iceberg.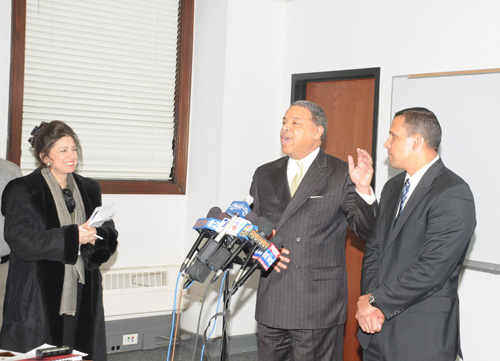 When the corruption of Rufus Williams became too great for the public, Mayor Richard M. Daley appointed two even more corrupt officials to the top posts at CPS. Above, Michael Scott (center, hand raised) and Ron Huberman (right) served as President of the Board of Education and Chief Executive Officer together from February 2009 (when the above photograph was taken) until Scott's suicide in November 2009. At the above press briefing, the only one Huberman and Scott tried during their year together, Rosalind Rossi, of the Chicago Sun-Times (above left) provided the usual gushing corporate spin on the stories about the two new leaders of CPS. Substance photo by George N. Schmidt. Specifically, nothing in the IG report mentions the fact that since Huberman took over, the CEO (Huberman) routinely made major appointments in personnel at enormous salaries without reporting them through the public agendas of the Board and in Board Reports, as required. Within a few months of his taking his job (in January 2009, after Arne Duncan was appointed U.S. Secretary of Education by President Obama), Huberman began expanding his executive staff without following procedures that had been in place for decades. Instead of public disclosure of every executive hiring about $90,000 per year, Huberman instituted a policy of cover up, then hypocrisy.
The cover up took place by stalling all Freedom of Information Act (FOIA) requests, with the help of Patrick Rocks and the CPS Law Department. The Freedom of Information Office was moved from the Office of Communications to the Law Department, and the answer to every FOIA request was a legalistic stalling.
The hypocrisy came when Huberman began his "Chicken Little" claims about soaring budget deficits, while simultaneously cutting teachers while claiming he was cutting "administration." Huberman even took that piece of his work to the Illinois General Assembly. After claiming that the CPS "deficit" would be nearly a "billion dollars" (hyperbole, to say the least) and refusing to provide any actual numbers that could be reviewed, he then told Illinois Senate President John Cullerton that Chicago schools would not be able to open in September 2010 unless Cullerton approved the raid on the Chicago Teachers Pension Fund.
Huberman got it during the infamous April night of the long knives, then returned to Chicago to double down on the hypocrisy end of things. Substance will continue reports on the findings of the Inspector General and other matters in future postings at www.substancenews.net and in the pages of the print edition of Substance. 