Unprecedented exposé of CPS mendacity... CTU leadership warns members against management deceptions, lists current problems with administration's praxis as Huberman's brief reign ends
George N. Schmidt - November 18, 2010
In an unprecedented letter to members of the Chicago Teachers Union, CTU President Karen Lewis on November 17, the day of the Board of Education meeting, warned teachers not to cooperate with management in a teacher review that is being used to trick classroom teachers into evaluating their colleagues so that management can refuse to hire those who are displaced. The CTU letter, was originally sent by e-mail to those union members who have signed up to receive e-mail alerts from the union. The notification has also been posted on the CTU website (www.ctunet.com).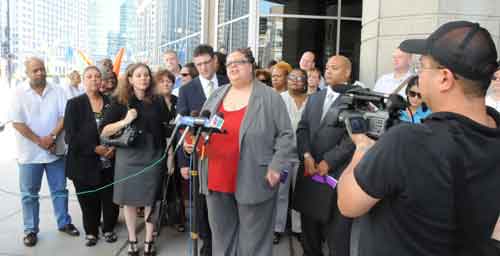 On July 23, 2010, CTU President Karen Lewis (above at microphone) began trying to negotiate with CPS officials as the Board of Education continued to make massive cuts in teachers and PSRPs. Lewis was standing in front of the Holiday Inn Mart Plaza, where the first attempt at negotiations with Board attorney James Franczek took place. Throughout the summer, CPS got rid of veteran teachers even after the Congress passed the Educator Jobs Bill that was supposed to allow the rehiring of teachers who had been cut because of budget problems. The Educator Jobs Bill brought an additional $104 million to Chicago, but CPS officials refused to rehire the veteran teachers they had laid off in June and July. Substance photo by George N. Schmidt.The message also lists four other things where CPS is being dishonest with those who work in the city's public schools. Lewis cites what she called "Rogue CAOs" (chief area officers) who are setting quotes for E-3s for teachers, the refusal of the Board to provide the pension fund with accurate information about retiring teachers, and the mess at IMPACT. The warning to CTU members is unprecedented in union history, short of those times when CTU was dealing with management disinformation during a strike. (The last strike was 23 years ago, in 1987).
The text of Karen Lewis's letter follows here:
Chicago Teachers Union E-mail Alert
November 17, 2010
Beware the "Job Fit Questionnaire for Teachers"
Sisters & Brothers:
Beware of a new and suspicious "Job Fit Questionnaire for Teachers" which likely arrived in your email inbox last week. The Chicago Public Schools hopes to lure 750 teachers into helping them develop a screening tool to identify attitudes, behaviors, and 33 "characteristics of teacher success." It smells just like a strategy used by CPS earlier this year which ended up hurting our colleagues.
Last summer, after it illegally terminated hundreds of teachers and other school professionals, CPS gave a cadre of National Board Certified Teachers a task. They were told that a principal had 4,000+ applications to wade through. "Let's provide them with the top 100," was the challenge presented by the CPS Human Capital Department. However, the board did not reveal that this teacher-assisted screening process would be used against hundreds of other outstanding teachers and paraprofessionals. The stamp of "not recommended" was placed in their personnel files and they were treated like new hires. Many principals who were eager to hire these outstanding Chicago Teachers Union brothers and sisters were faced with a roadblock since they were unwilling to override what seemed to be a mandate from the district. To make matters worse, the CPS tried to shield itself from Union criticism by saying "Well, this is what your own members decided."
So, now that we have been "once burned" we are "twice shy" about the school system's latest ill-conceived project: The Job Fit Questionnaire for Teachers. This sounds like another example of CPS taking advantage of teachers' eagerness to help. While the intention of the questionnaire seems reasonable, after last summer's debacle, let's beware of the Board asking for our "voice."
This also is matter of trust. We currently have a significant list of issues with CPS: (1) they don't seem to ever be able to get our regular payroll right; (2) they won't provide the Chicago Teachers Pension Fund with correct payroll information; (3) IMPACT is a nightmare to which we've been held hostage; (4) rogue CAO's have placed a quota on E-3s for tenured teachers; (5) the climate of terror and retaliation in the schools is palpable. The list goes on and on. Now, CPS claims they want teachers to tell them the "characteristics of a good teacher." Yet, we know that being a vocal advocate for students won't be what they want to hear. Challenging arbitrary directives won't make the list either. Certainly, our responses would include that the most important characteristics of a good teacher are willingness to fight for public education, but that won't make the grade in whatever measurement tool the school board creates.
When CPS is ready to honestly collaborate with us — with transparency and accountability over plans such as this — our union will be ready to help and recommend involvement. Until that happens let's not allow another CPS gimmick to harm our sisters and brothers.
In Solidarity, NBCT
Karen Lewis, President Chicago Teachers Union