Bloomberg's Lesson for Schoolchildren Everywhere: Democracy Is Embarrassing
Jim Horn - November 14, 2010
School boards have been seen as stumbling blocks to social efficiency engineers for a hundred years now, and Prince Bloomberg, Mayor of New York City, is just the latest and most visible representative of those who share a general disdain for democracy or even a semblance of public voice in choosing leaders for public institutions. Bloomberg's mockery of democratic process is well-established by the past eight years of using his elected office to turn New York City into a corporatocracy run by himself, a small covey of white, stony Brits, and a host of corporate welfare queens trained at Goldman Sachs.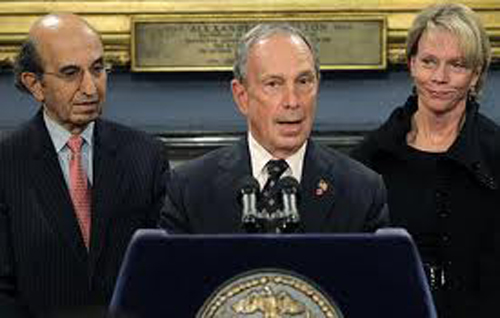 On November 11, 2010, New York Mayor Michael Bloomberg, center, announced the appointment of Cathleen Black (right), CEO of Hearst publications, to succeed Joel Klein (left) as Chancellor of New York's public schools. In 2004, for instance, he had his way on testing by firing and replacing three members of the dissenting members of his appointed "Panel for Educational Policy", which replaced publicly-elected Boards. Then his crowing could be heard all the way across the river in Jersey:
''This is what mayoral control is all about,'' Mr. Bloomberg said last night. ''In the olden days, we had a board that was answerable to nobody. And the Legislature said it was just not working, and they gave the mayor control. Mayoral control means mayoral control, thank you very much. They are my representatives, and they are going to vote for things that I believe in.''
By the way, the latest replacement on the toothless Panel went largely unnoticed this past week, but, then, who would care besides the appointee's mother— and Goldman Sachs, of course.
Also on Friday, Mr. Bloomberg announced that the chairman of the Panel for Educational Policy, David C. Chang, had resigned on Nov. 5. Mr. Chang, the chancellor of the Polytechnic Institute of New York University, was one of the original members of the panel, the successor to the city's Board of Education. The panel is controlled by the mayor and has no significant power. In Mr. Chang's place, Mr. Bloomberg named Robert Reffkin, an executive at Goldman Sachs.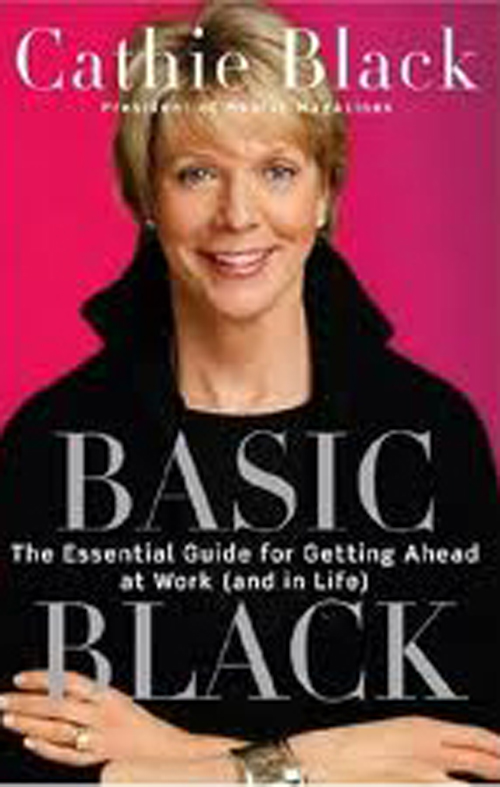 Black's How To book. And so now Bloomberg has put forward as Chancellor an iron-fisted blonde party pal plutocrat from the Upper East Side who has perfected the art of firing people and shrinking organizations. The top results when I did a quick Google search of "Hearst layoffs":
Hearst Layoffs Hit Esquire
Nov 7, 2008 ... The layoffs at Hearst this week have already hit Redbook and Good Housekeeping. So as not to be sexist, now they've come to Esquire.
gawker.com/5079506/hearst-layoffs-hit-esquire - Cached - Similar
►
'Major' Layoffs At Hearst?
A tipster tells us there have been "Major, across-the-board layoffs at ...
gawker.com/5077285/major-layoffs-at-hearst - Cached - Similar
Vogue Makes a Bid for Michelle, Layoffs at Hearst
Michelle Obama may end up on the cover of Vogue in the next few months: "It ...
gawker.com/.../vogue-makes-a-bid-for-michelle-layoffs-at-hearst - Cached
Show more results from gawker.com
Hearst Begins Layoffs To 'Cut Costs' [WWD] - Fashion, Beauty and ...
www.wwd.com/.../west-coast-worries-female-to-the-maximum-politics-and-media-1841483?... - Similar
Hearst rapped for unilateral Albany layoffs - The Newspaper Guild
Aug 23, 2010 ... O'Brien's protest to Hearst that the layoffs were inappropriate because the two sides had just started negotiating layoff criteria received ...
www.newsguild.org/index.php?ID=9522 - Cached
More Layoffs: Hearst Makes Company-Wide Cuts - Consumer @ FolioMag.com
Nov 5, 2008 ... Less than two weeks after saying it was exploring cost-cutting measures, Esquire publisher Hearst has confirmed that layoffs have been made ...
www.foliomag.com › Consumer - Cached - Similar
Hearst the Latest to Layoff Staffers Company-Wide - FishbowlNY
Nov 6, 2008 ... This time at Hearst. Folio: is reporting that Hearst has "Hearst has confirmed that layoffs have been made company-wide." No word yet on the ...
www.mediabistro.com/.../hearst-the-latest-to-layoff-staffers-company-wide_b10387
Hearst to Chronicle: Implement Massive Layoffs or be Shut Down ...
Feb 24, 2009 ... In yet another manifestation of the long, sad and widely-noted decline of the San Francisco Chronicle, Hearst Corporation has threatened the ...
sf.metblogs.com/.../hearst-to-chronicle-implement-massive-layoffs-or-be-shut-down/ - Cached - Similar
The most pathetic aspect of this attempted railroading of public education in New York comes from the Little Prince, himself. Instead of pointing a finger at Klein for any potential turmoil of changing chancellors in the middle of the school year, Bloomberg uses Klein's self-serving move to News Corp. suites as a fig leaf to cover his own anti-democratic machinations that are carried out, that's right, for the sake of the children: Discussing his choice this week of Cathleen P. Black, the chairwoman of Hearst Magazines, Mayor Michael R. Bloomberg said on his radio show on Friday that a more public search for chancellor would have been damaging.
"To go through a lengthy process in the middle of a school year is just not something in our kids' interest," Mr. Bloomberg said. Besides, he said, nobody would apply if the process were too public, because "it's too embarrassing to them if they don't get selected."
The lesson for you, boys and girls: Let the school principal appoint class president and prom queen. It is too embarrassing to risk not getting chosen by your fellow students. Could be very damaging. And not very efficient, either, with all the work we have to do before the test that gets us ready for the test. 